Anyone can now deposit and borrow GHST on Aave Polygon Market!
We did it #GotchiGang! GHST is now live on Aave Polygon Market 🚀
This was a historic listing not only for Aavegotchi but also for Aave, marking the first time that Aave's cross-chain governance has been fully utilized. This first class of Polygon Market listings includes GHST alongside CRV, BAL, LINK, DPI, and SUSHI.
The execution of this proposal required the decentralized coordination of multiple parties, with our own CoderDan leading the way.  As early as April 2021, CoderDan submitted an Aave governance "ARC" to list on Polygon Market. From there, the conversation began and eventually led to GHST now being available on Aave.com.
GHST token's innovative economic model, partially DAI collateralized with supply controlled via a bonding curve, offers a strong case for its use as collateral on DeFi protocols such as Aave. Recent sell offs in the wider market helped to again illustrate the unique nature of GHST as the token outperformed virtually all ERC20s during the sell offs. In addition, GHST continues to expand its utility with more details emerging about its role in the upcoming Gotchiverse DeFi RPG.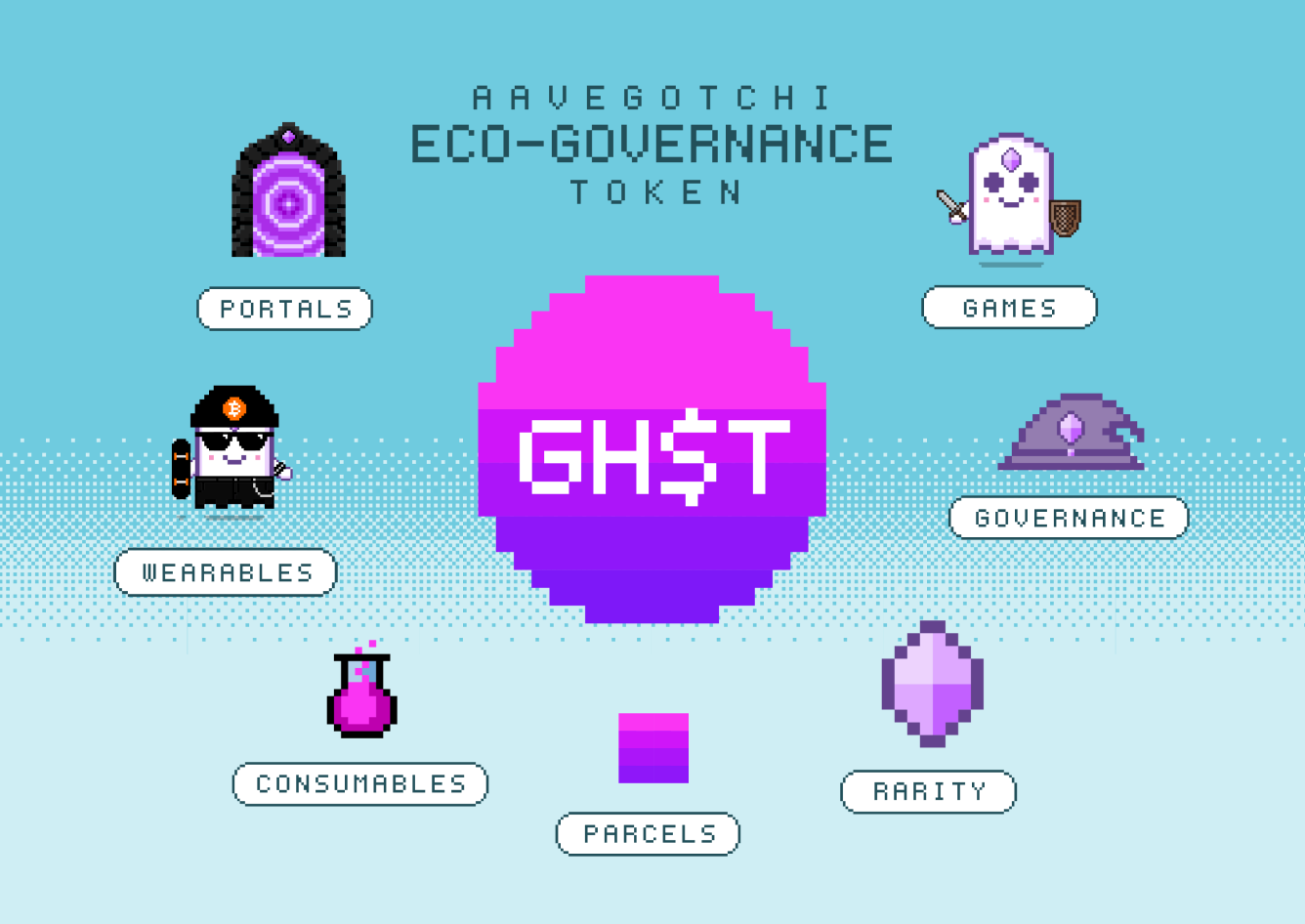 While we revel in the victory of GHST listing Aave.com, let's look back at exactly how this proposal came to be.
The Timeline
September 2020: GHST token goes live on Ethereum Mainnet via a continuous bonding (live at aavegotchi.com/curve)
January 2021: Aavegotchi migrates GHST from Ethereum Mainnet to Polygon
April 2021: Aave launches on Polygon
April 2021: Coder Dan creates an ARC to list GHST on the Aave Polygon Market
August 15, 2021: Aave Snapshot proposal to list GHST on AAVE Polygon Market goes live
August 16, 2021: The DeFi case for GHST is published
January 24, 2022: Coder Dan submits an AIP to list GHST on Aave Polygon, marking the very first cross-chain governance vote for Aave
January 25, 2022: AIP reaches quorum just over a day after going live for voting
The Proposal
In summary, the AIP proposes listing GHST, BAL, CRV, DPI, LINK, and SUSHI from the AAVE V2 Market onto the Aave Polygon Market. Additionally, GHST would be listed as a new collateral asset on the Polygon market.
Reaching Quorum
The AIP marked the first ever cross-chain governance vote of Aave and reached quorum rather quickly. The proposal went live at 1 am EST on Monday, January 24th and reached quorum sometime around 9 am EST on Tuesday, January 25th.
"The success of the first-ever cross-chain Aave AIP, lead by the Aavegotchi fam, will strengthen the natural synergies between Aave and Aavegotchi. It's a great example of inter-protocols mutual cooperation"
– Marc Zeller

What's Next
Because all Aavegotchi NFTs carry deposits of specific Aave listed tokens, today's news introduces the possibility of using amGHST as Spirit Force in a theoretical future Haunt. This could be implemented as part of any possible Aavegotchi NFT generation event. Of course Haunt 3 would first need to be approved by the AavegotchiDAO, but amGHST themed Aavegotchis are now a real possibility. Call it Gotchi-ception.
The successful community led demand for GHST on Aave Polygon Market is the most exciting part of this story. AavegotchiDAO and Aave governance both had major roles to play in the leadup to this first of its kind vote and the result is a case study in DAOs Doing It Right.
A special thanks goes to all individuals and parties who coordinated to make GHST on Aave a reality!
---
About Aavegotchi

Aavegotchis are on-chain collectible ghosts staked with Aave's interest-generating aTokens.‌
‌‌
‌Compete for player rewards by earning XP, leveling up, and increasing the rarity of your Aavegotchi fren. Owned by the community, Aavegotchi is governed by the AavegotchiDAO and the native eco-governance token GHST. Visit Aavegotchi.com today and join the future of DeFi-staked NFT avatars!
Resources: ‌
‌Official Website: https://aavegotchi.com/‌
‌Gotchiverse Website: https://verse.aavegotchi.com/
‌Official Wiki: https://wiki.aavegotchi.com‌
‌Medium: https://aavegotchi.medium.com‌
‌YouTube: www.youtube.com/c/Aavegotchi
Community: ‌
‌Twitter: https://twitter.com/aavegotchi‌
‌Discord: http://discord.gg/aavegotchi‌
‌Telegram: https://t.me/aavegotchi‌
‌Reddit: https://www.reddit.com/r/Aavegotchi/
---
Subscribe
Join the newsletter to get the latest updates.
---