The second season of Aavegotchi's original play-to-earn experience distributed more than $3M USD worth of GHST! It's now time to crown the champions with exclusive NFT trophies.
In addition to more than $3 million USD worth of GHST token rewards distributed to Aavegotchi owners during Rarity Farming Season 2, the leading Aavegotchis in their respective categories have earned exclusive NFT baadges to commemorate their achievements. Programmed to be non-transferrable, these rare baadges cannot be purchased or sold in the Baazaar or any other marketplace. Instead they must be earned by ranking in the Rarity Farming leaderboards!
Overall, 27 types of baadges are being distributed today:
15 Rarity Trophies (Top 3 of each leaderboard)
10 Top 10 and Top 100 Badges for Rarity, Kinship, XP, Rookie Kinship, and Rookie XP
1 Rookie of the Year Baadge
1 Raanked Participation Baadge!
NFT Baadges and "The Pocket"
You may recall that Aavegotchis became the first NFT wallet on Polygon back in 2021 with the advent of "The Pocket". Aavegotchi's as NFT wallets take Aavegotchi web3 avatars to a whole new level.
Aavegotchi NFT Baadges can be found in an Aavegotchi's Pocket and are the ultimate personality builder for any Aavegotchi. Unlike wearables which can be equipped or unequipped, baadges are NFTs that, once deposited, live with that particular Aavegotchi forever.
Make sure to check your Aavegotchi's Pocket and see if any SZN 2 baadges have been earned. The SZN 2 Raanked badge, for instance, is being earned by more than 10,000 Aavegotchis! This baadge goes to any Aavegotchi that made any of the leaderboards. That's a lot of happy farming Gotchis!
Have a look at the full list of baadge winners here!
NFT Trophies
The pinnacle of Aavegotchis Baadges must be the Rarity Farming Trophies, signaling absolute superiority in a particular season's competition. Like any other baadge, these NFTs are deposited directly into specific Aavegotchi's "pockets". The top three Aavegotchis across the categories of Rarity, Kinship, XP, Rookie Kinship, and Rookie XP during Rarity Farming Season 2 will receive these unique trophies. These non-transferrable NFT baadges will stay with your Aavegotchi within its Gotchi pocket forever.
Without further ado, let's meet our winners!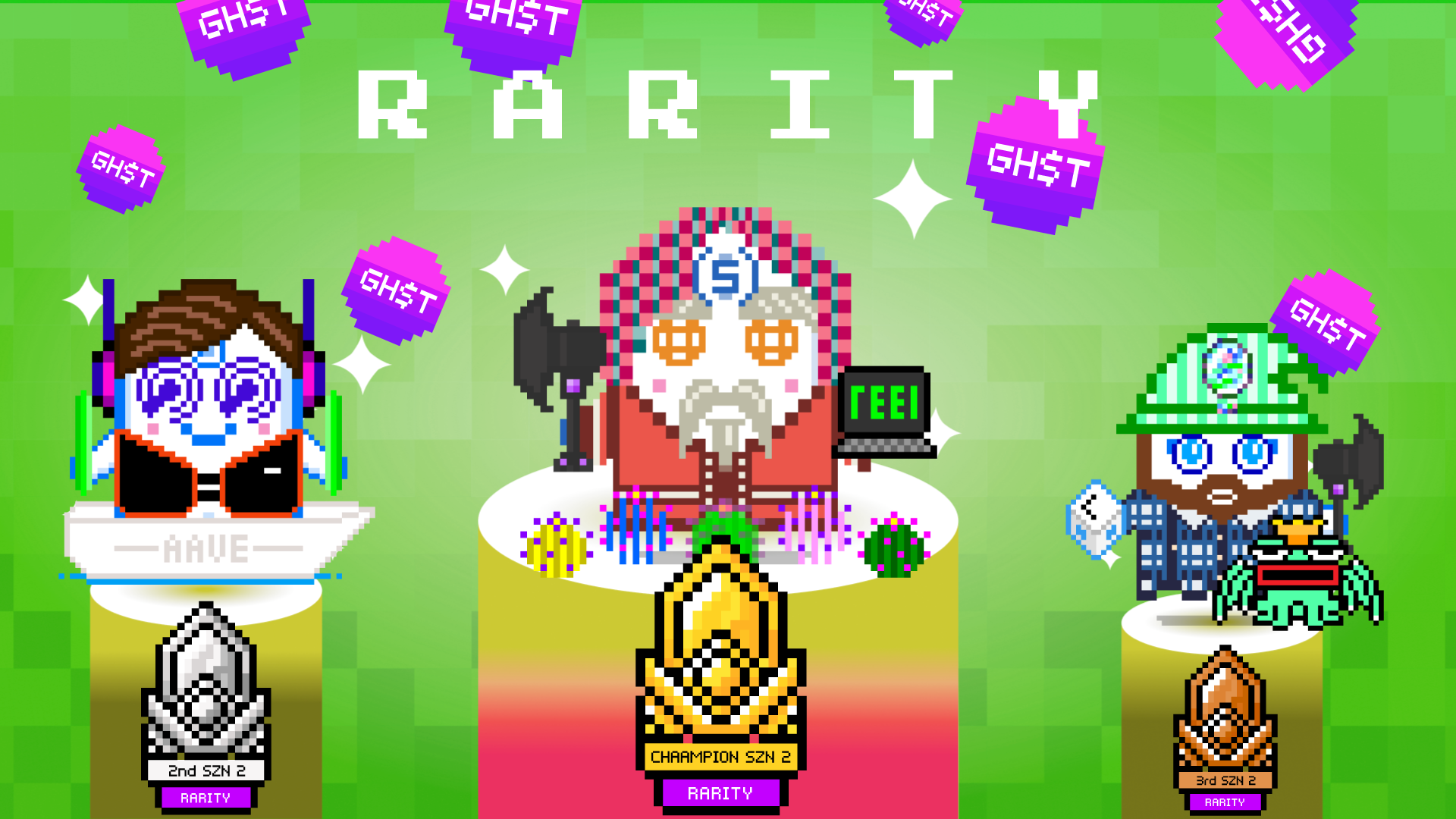 Rarity
1st Place - Felon
2nd Place - Rocinante
3rd Place - Winklevoss
The Chainlink VRF gods shined brightly on these Gotchis. They start with envious base rarity scores straight out of their Portals and follow through with the absolute greatest ensembles of wearables equipped. Season 2 seels Felon return and take the pole position, featuring relatively new Godlike wearables such as the Taoist Robe and Godlike Cacti. The variety of wearables contributing to the top is markedly improved compared to Season 1.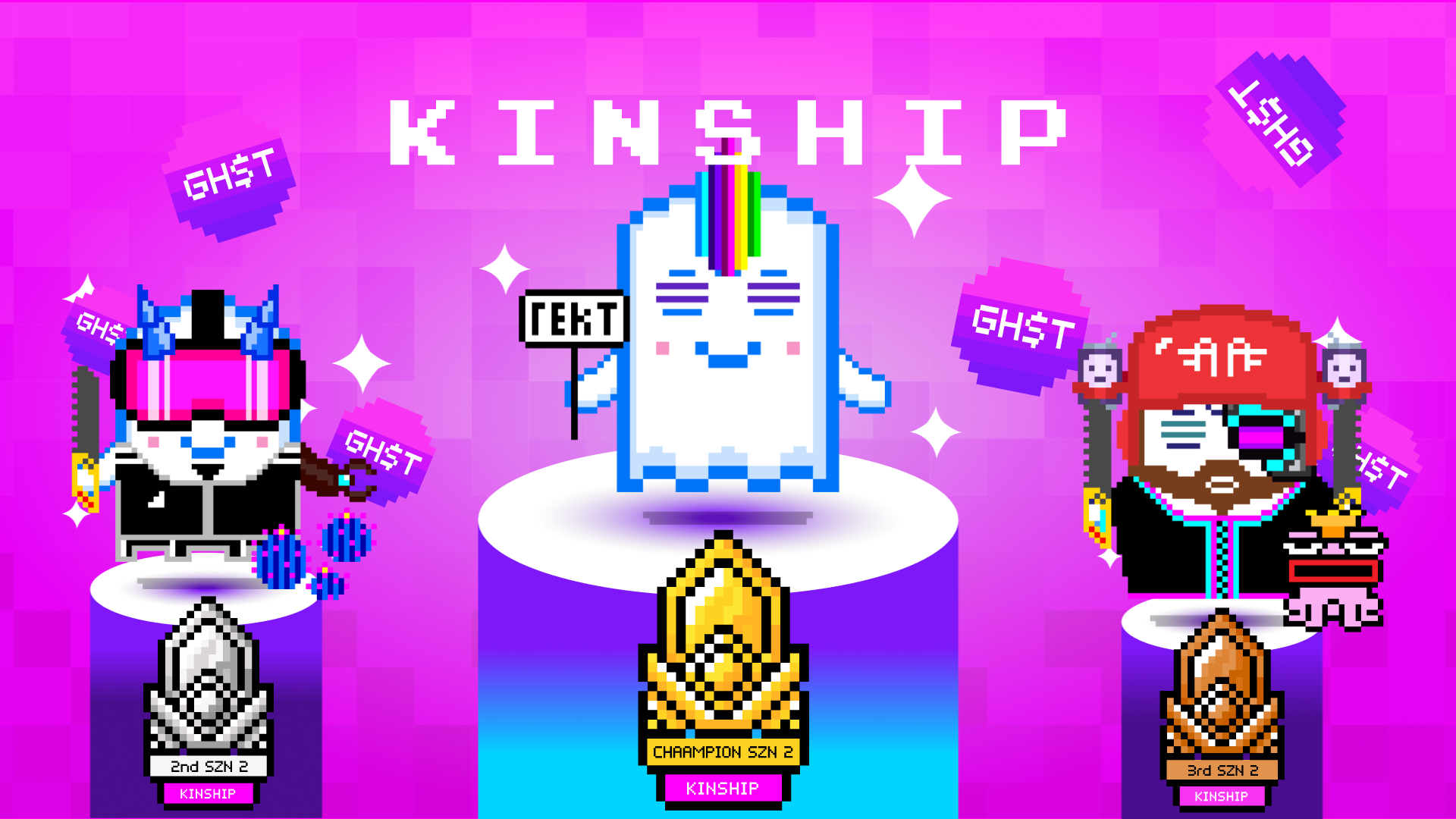 Kinship
1st Place - Metaguild.com
2nd Place - Kinship
3rd Place - Blind

Are you petting your Gotchi twice a day? If you have been, you should be reaping great kinship rewards. The trophy winners for Season 2 showcase amazing affection. Congrats to Metaguild.com for winning the highest kinship trophy of Season 2!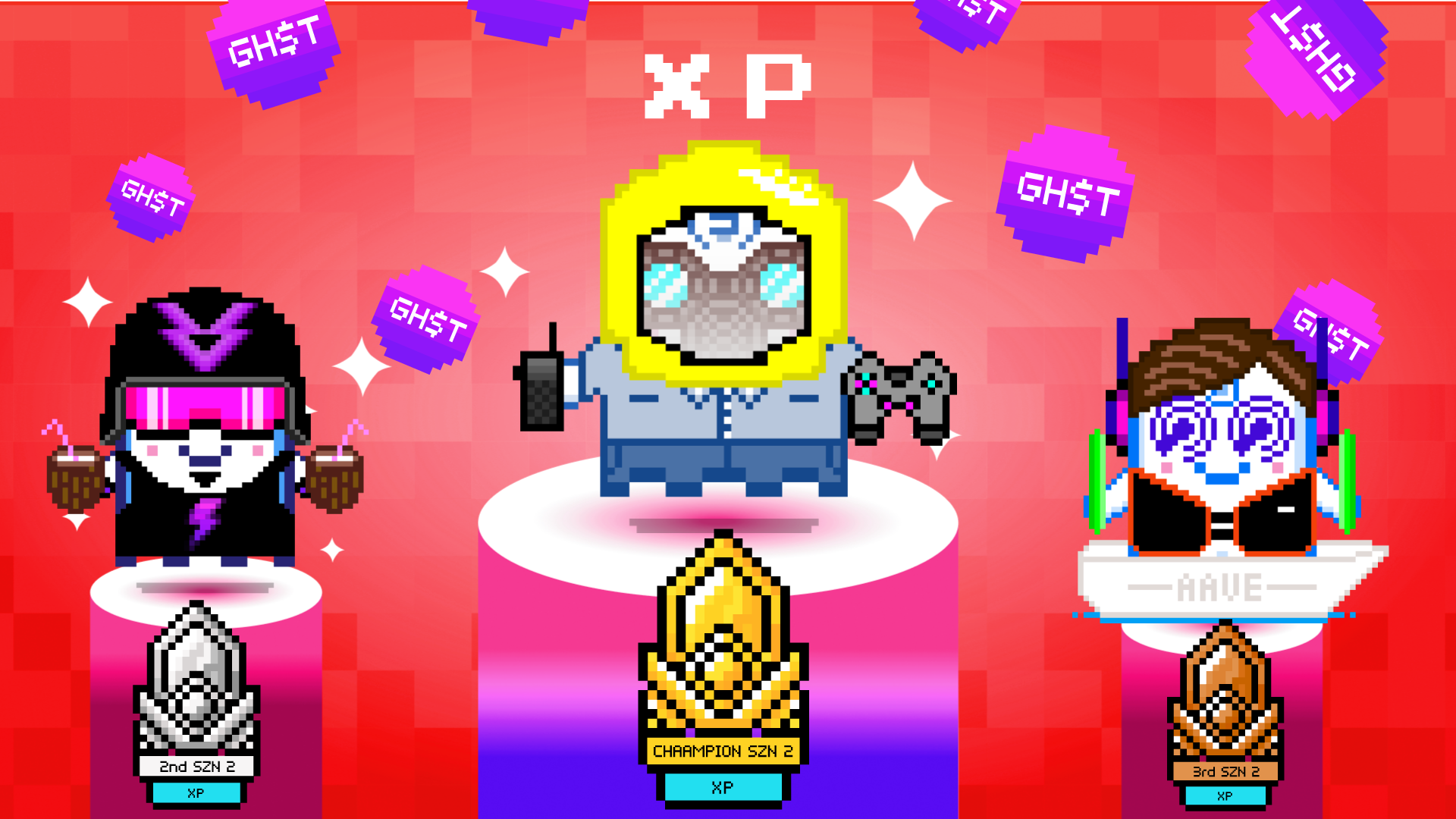 XP
1st Place - XP Number One
2nd Place - Maaniac
3rdPlace - Rocinante
XP leaderboards are where we find the most active DAO voters, minigame players, and community Ambassadors. Sometimes these are the same Gotchis, sometimes not. If your Gotchi is ranking in the top three, chances are your Gotchi is both an active DAO member and minigame baller. Big hype for the aptly named "XP Number One" for winning it all in the XP category!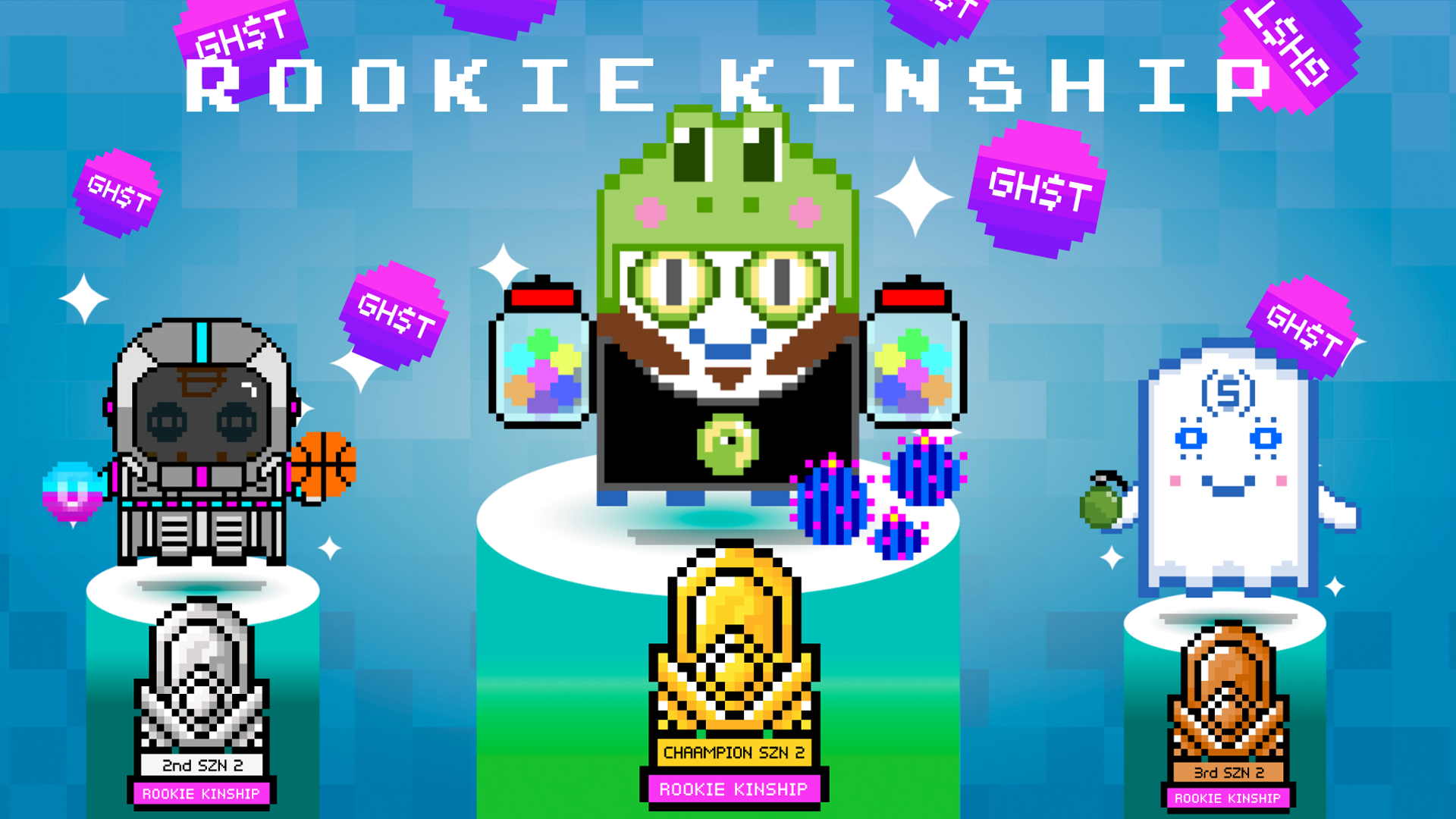 Rookie Kinship
1st Place - SuperKinship GeckoGotchi
2nd Place - Christofilis
3rd Place - H2 - Kinship Top #2

And now for the Rookie leaderboards. Only Haunt 2 (gen 2) Aavegotchis were eligible here, giving the first-timers a chance to get their feet under them. Figuratively speaking.
Fully fitted in the CoinGecko themed set is our Rookie Kinship champ: SuperKinship Gecko Gotchi!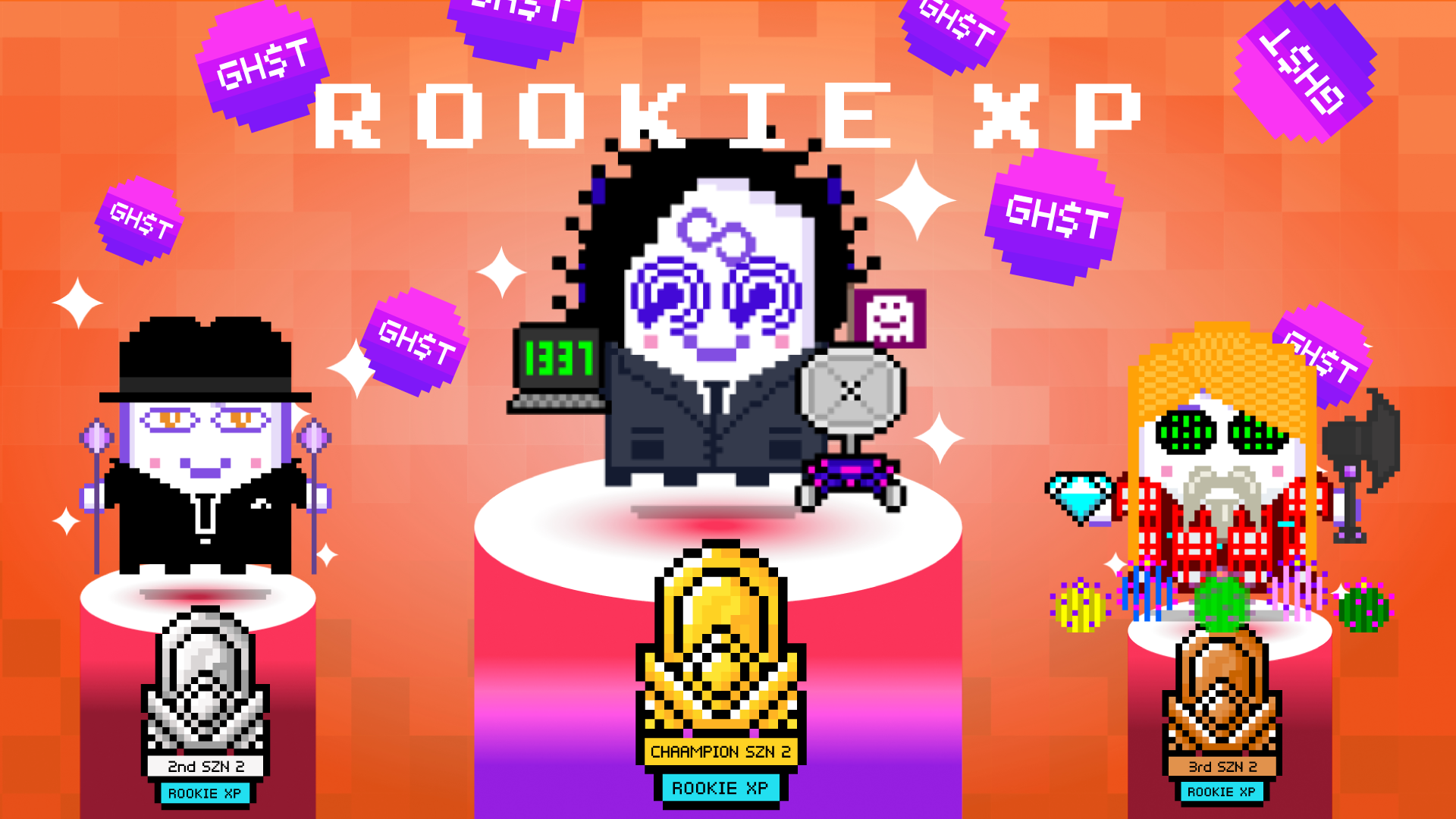 Rookie XP
1st Place - Hedge
2nd Place - Al "Chemica" Capone
3rd Place - Godlike
Rookie XP's gold trophy goes to "Hedge" who beat out stiff competition from Al "Chemica" Capone and "Godlike."
Rookie of the Year
The Rookie of the Year Baadge goes to the best-performing Gotchi overall — that is, the one that scored highest in all categories.

That award goes to Gotchi #13536 Bearded. Congratulations ser!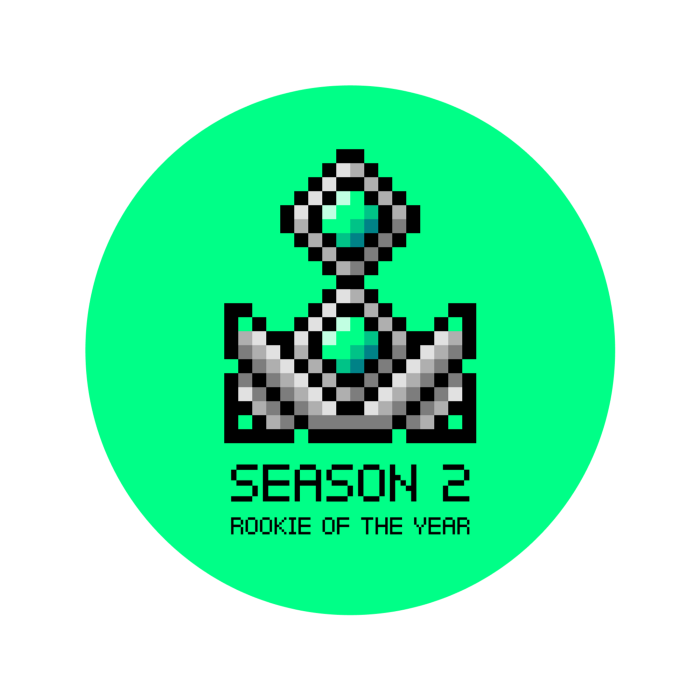 Raanked Baadge
The Raanked Baadge is being distributed to 10,000+ Aavegotchis who ranked in the top 5000 in any of the leaderboards during Season 2. This design, along with all other baadges in this series are designed by the one and only Xibot.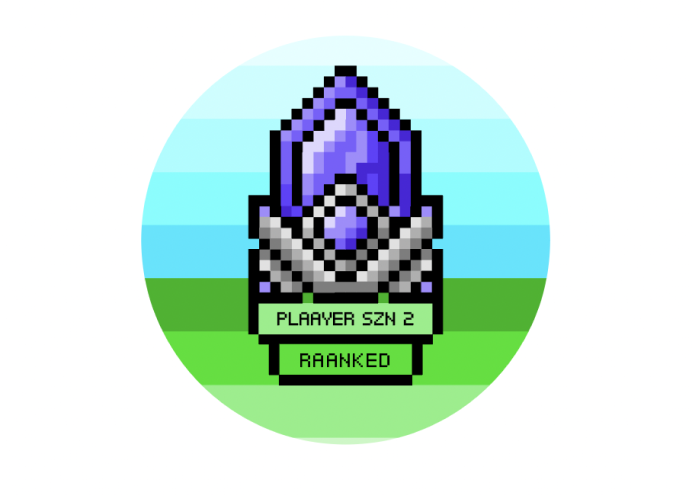 You Just Win
Rarity Farming has now had two massively successful seasons. Each season brings 8 weeks of competitive leaderboards to gotchigang and where we all ultimately win just for participating. No matter how many baadges you find in your Gotchi's pocket today, we are all winners simply by being here and Being. So. Early. (!)
The DAO Forums are already alive with Season 3 planning so make sure to join the conversation and get your Gotchis in top shape.
Congratulations to the champions and all Baadge earners, and thank you for an ebic Rarity Farming Season 2!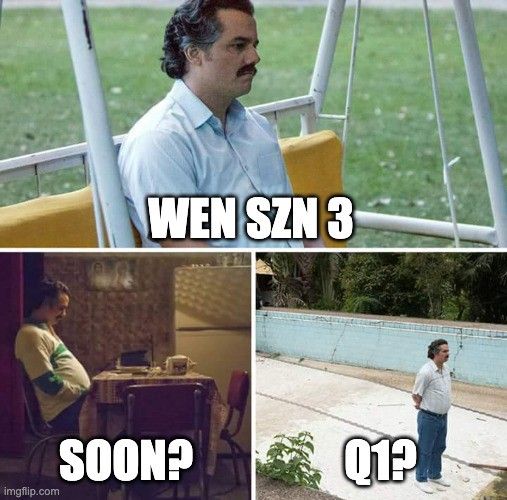 ---
About Aavegotchi
Aavegotchi is an open-source, community owned NFT gaming protocol, enabling true asset ownership for gamers. Aavegotchi NFTs are on-chain collectible ghosts staked with Aave's interest-generating aTokens.
Compete for player rewards by earning XP, leveling up, and increasing the rarity of your Aavegotchi fren. Aavegotchi is governed by the AavegotchiDAO and the native eco-governance token GHST. Visit Aavegotchi.com today and join the future of DeFi-staked NFT avatars!
Resources:
Official Website: https://aavegotchi.com/
Gotchiverse Website: https://verse.aavegotchi.com/
Official Wiki: https://wiki.aavegotchi.com
Medium: https://aavegotchi.medium.com
YouTube: www.youtube.com/c/Aavegotchi
Community:
Twitter: https://twitter.com/aavegotchi
Discord: http://discord.gg/aavegotchi
Telegram: https://t.me/aavegotchi
Reddit: https://www.reddit.com/r/Aavegotchi/
---
Subscribe
Join the newsletter to get the latest updates.
---