GotchiGang summer keeps getting hotter and hotter! Now we're turning the heat up to MAX with the much anticipated Gotchiverse farming release. This means new Installations and new ways to play-to-earn are coming to a REALM parcel near you!
At their core, Aavegotchis are humble farmers, and the farming release allows Aavegotchis to get back to their roots without the risk of liquidation.
Read on for all the juicy alpha on this major gameplay update.
Three New Installations
The Prophecy was uttered, and Gotchi technologists are heeding its words!
They've been hard at work researching and developing cutting edge machinery to survey, harvest, and extract Alchemica from deep within the Gotchiverse, to help gather resources in preparation for the future invasion of the Lickquidators.
Let's look briefly now at each of these new ERC1155 Installations available for crafting and upgrading in the Gotchiverse.
Haarvesters
Haarvesters are Installations that allow players to extract Alchemica from beneath the surface of their Gotchiverse REALM parcels. Each harvester is capable of harvesting one type of Gotchus Alchemica, and each upgrade increases the harvest rate, allowing the player to harvest Alchemica faster.
Reservoirs
Reservoirs hold the Alchemica harvested by the Haarvesters. Like Haarvesters, each Reservoir Installation is able to hold one type of Alchemica. As the level of a Reservoir increases, the Reservoir's capacity increases, and the spillover rate and radius decrease.
Keep in mind that the AavegotchiDAO recently voted to have Alchemica spillover remain turned off until a later date. Spillover is dropped across the Gotchiverse from 10am-12pm EST during our weekly hangouts in the official Aavegotchi Discord server.
To prevent excess load on the Polygon blockchain, each parcel can only have its Reservoirs emptied once every eight hours. The timer begins after a successful emptying transaction occurs and will not be reset by equipping or unequipping Reservoirs.
Maakers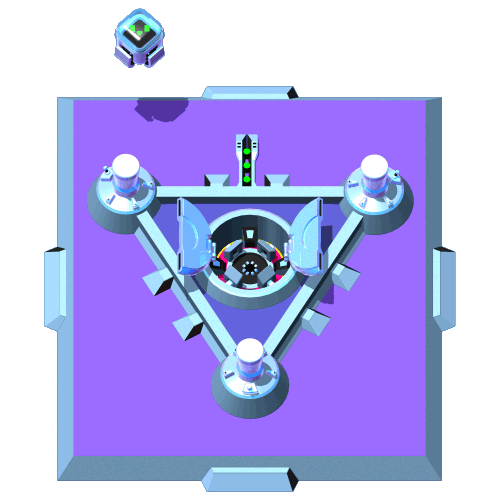 By default, players are only able to upgrade one Installation per parcel at a time. Equipping a Maaker Installation adds Maakerbots to your parcel, increasing the number of simultaneous upgrades that can be performed. The higher the Maaker level, the more upgrades that can be performed at the same time. Keep in mind that only one Maaker can be equipped to each of your parcels.

For recipes, harvest rates, capacities, and spillover rates, you can explore the recipes in the Gotchiverse Docs.
New Ways to Play-to-Earn
The farming release offers a totally new way to play and earn in the Gotchiverse! Players can optimize their farming setup and earn Alchemica by emptying their reservoirs every eight hours.
The release also offers a new opportunity to scholars. With the recently added access rights feature, parcel owners can grant permissions that allow scholars borrowing their Aavegotchis to empty their reservoirs, channel Alchemica from their Aaltars, and even equip Installations.

If you don't own an Aavegotchi, there has never been a better time to borrow one on the open lending market, or join the GotchiGang and find a manager!
---
Extracting Alchemica from your Parcel
So how much Alchemica lies within each Gotchiverse REALM parcel? Well, that depends on a few factors: parcel size, boosts, and luck. Larger parcels have higher base stores of Gotchus Alchemica; however, exact amounts are determined via the surveying process. Surveying is carried out with an on-chain call to Chainlink VRF, a random number generator ensuring verifiable randomness.

To survey your parcel simply walk up to your Aaltar, click "Survey Parcel," and confirm the transaction. Chainlink VRF will immediately be called and your Alchemica totals will be revealed within a few minutes!
Once you place a Reservoir and Haarvester on your parcel, you'll now have the option to empty your Reservoirs from your Aaltar.
The Aaltar acts as the main dashboard for your parcel, allowing you to perform all important actions on that particular parcel with just a few clicks.
Parcel Size and Chainlink VRF
Average base Alchemica per parcel throughout Act I can be reviewed above. Note that these are the averages throughout Act I, which is divided into ten separate rounds.
For more information on Parcel Sizes, Boosts, and Rounds, please check out the Gotchiverse Bible chapter on this topic.
Typically, smaller parcels will have less Alchemica than larger parcels. However, some players will have to deal with variance and could see higher or lower base amounts. Per AGIP26, the base amounts per parcel will follow a binomial distribution, allowing the possibility for players to win big, but making it impossible for anyone to get completely rekt.
Ready to Farm
The farming release is just around the corner! The action will kick off on Wednesday, July 13th at 10am EST with testnet launch on Mumbai Testnet!

One week later, on Wednesday, July 20th at 10am EST, we'll be partying in Discord again when farming officially goes live on Polygon Mainnet 🚀

Ready your GotchiGang and enter the Gotchiverse!
About The Gotchiverse
The Gotchiverse is Pixelcraft Studio's flagship title that celebrates the best of blockchain technology. The metaverse is built on Aavegotchi, an open-source, community owned, NFT gaming protocol that unlocks true asset ownership for gamers. In this spirit, The Gotchiverse is co-created with direct input from the community via AavegotchiDAO. Summon your first Aavegotchi today and meet us in the Gotchiverse!
Resources:
Official Website: https://aavegotchi.com/
Gotchiverse Website: https://verse.aavegotchi.com/
Official Wiki: https://wiki.aavegotchi.com
Blog: https://blog.aavegotchi.com
YouTube: https://www.youtube.com/c/Aavegotchi

Community:
Twitter: https://twitter.com/aavegotchi
Discord: https://discord.gg/aavegotchi
Telegram: https://t.me/aavegotchi
Reddit: https://www.reddit.com/r/Aavegotchi/
---
Subscribe
Join the newsletter to get the latest updates.
---