Halloween is just around the corner, and it's an oh-so-scary reminder that Aavegotchi is already FOUR YEARS OLD!
That's right frens, this is our FOURTH ever Halloween together as a community, and in keeping with Gotchi tradition, we're throwing an ebic party in the Aavegotchi Discord!
Save the date below, then keep reading to learn what we're planning for this year's spooky festivities 🔥
SAVE THE DATE
WEN: Saturday Oct 28 (2pm UTC / 10am EST / 10pm SGT)
WHER: Aavegotchi Discord
WAT: IRL Costume Contest / Online Art Contest / First 3D playtest / GHST Airdrops
---
HOUR 1 (2PM UTC - 3PM UTC)
GHST Tipping Galore
OG Gotchigang remember the tip bot frenzies from days gone by! Well, this Halloween the tip bot is back with a vengeance and loaded with $GHST. Get your thumbs ready to type the secret phrases to unlock wave after wave of spooky airdrops!
Director Hot Seat
Our two esteemed Game Directors Andy Tudor and Jason Slama will be on the mic, dropping the latest alpha about Gotchiverse3D, the Aarena, and Gotchi Guardians.
Spooky Aavegotchi Art Contest
It wouldn't be Halloween at Aavegotchi without our traditional Aart contest!
Grab your favorite art-creating appliance and create some art with the theme of "Gotchis Dressed up for Halloween" for a chance to win some truly aavesome prizes:
First prize: 2 FAKE Gotchi Cards* and $100 worth of Alchemica**
Second prize: 1 FAKE Gotchi Card and $50 Alchemica
Third prize: 1 FAKE Gotchi Card and $25 Alchemica
4-5th: $10 Alchemica
6-10th: $5 Alchemica
All entries should be emailed to jesse@pixelcraftstudios.io at least twenty-four hours before the event begins with the subject: Spooky Art Contest. Everyone is welcome to send one submission each.
During the event, we'll reveal them one-by-one as a live "catwalk" and the community will react with 🔥 emojis to their favorite entries.
The entries with the most fire emojis win!
*A FAKE Gotchi Card is an NFT that bestows the holder with the right to publish one work on the FAKE Gotchi cryptoart platform. This means the top 3 winners will have the option to mint their contest-winning piece at FakeGotchis.com
** Alchemica is the collective name for four different on-chain resources farmed from the Gotchiverse. Individually Alchemica is made up of $FUD $FOMO $ALPHA and $KEK ERC20 tokens.
Excited already? We're just warming up frens… Wait til you see what's happening in the second hour! 👇
---
SECOND HOUR (3PM UTC - 4PM UTC)
First community playtest for Gotchiverse3D Aarena
Last Halloween, Gotchigang gathered for the first epic PvE experience in our 2D Phaser build of the Gotchiverse.
Now, just one year later, we're jumping into the 3D Unity version of the Aarena!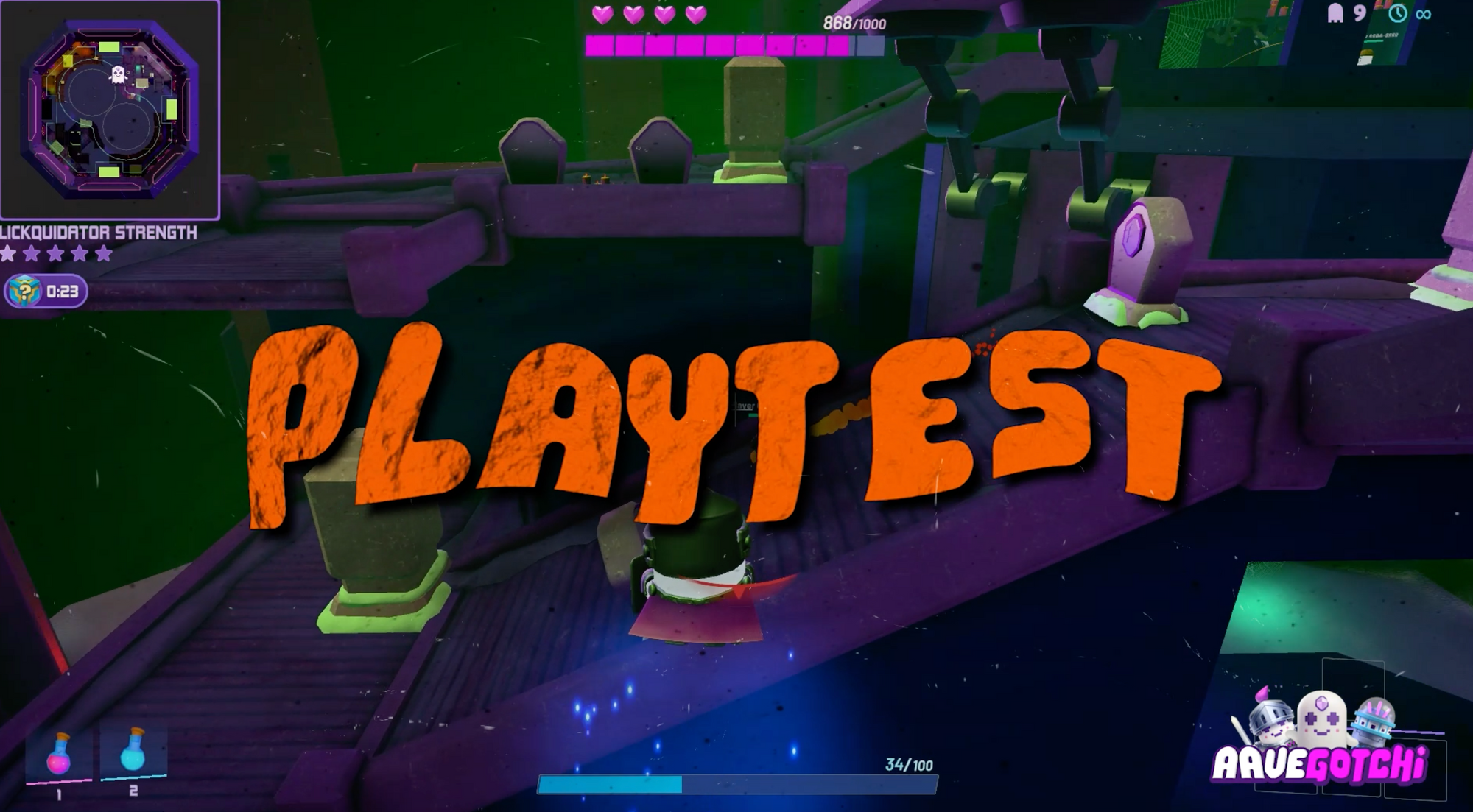 Get your first taste of 3D Gotchis while compete and climb the leaderboard. But watch out for the Lickquidators – they are SCARY!
The 3D Aarena is a completely different experience from the former Phaser build, and Game Director Andy Tudor couldn't be more excited to showcase all the progress his team has made over the past few months.
…if things are going well, we may even get a sneak peek at the GOTCHIVERSE3D 👀
Can't make it to the party? NP! The playtest will be continuing for an entire week before we shut 'er down for some final polishing.
No matter your timezone, everyone will have a chance to play. In fact, we have some great prizes ready for those who want to play all week long.
It's raining $GLTR on the Aarena leaderboard's Top 20.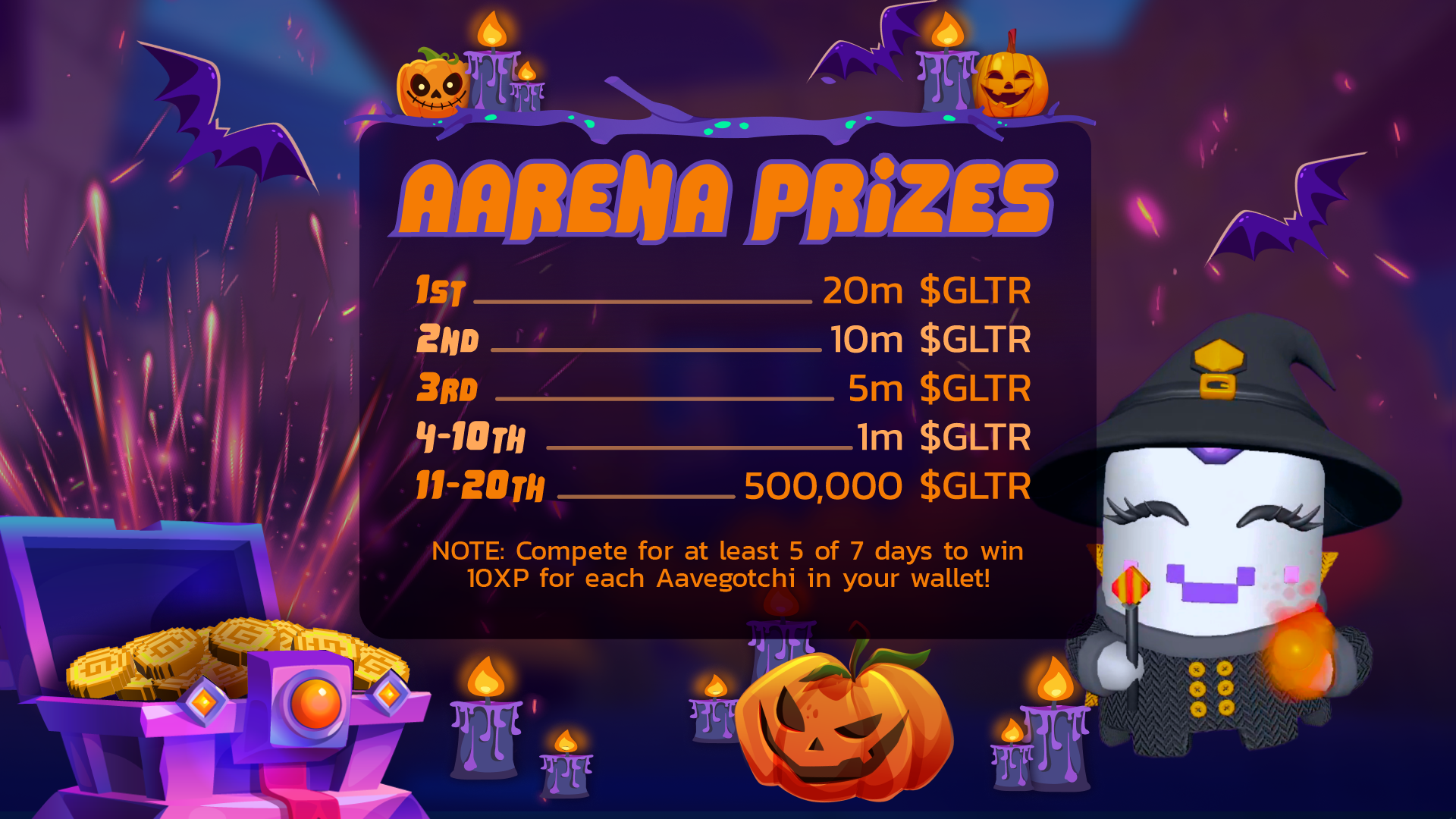 ---
That's the tl;dr of what to expect at Gotchigang Halloween 2023 frens! But it's really only a preview. We look forward to having you there and making this the most ebic of all our Halloween parties.
But there's ONE. LAST. THING. we dare not to forget!
---
NEW IN 2023: IRL Costume Contest
Inspired by some hilarious posts last year on X, this year we're holding a contest for Gotchigang who are more creative in meatspace.
Love dressing up for Halloween? Here's your chance to earn some GHST, in what may be the world's first-ever "dress-to-earn" competition!
To qualify, simply:
Create an aavesome Halloween costume or decoration with an Aavegotchi theme
Wear it! Show it! Photograph it!
Tweet/X an image of your creation by November 1st, 4pm UTC and @aavegotchi with the hashtag #GotchiHalloween
Winners will be chosen by Pixelcraft Studios leadership team and contacted directly via Twitter.
Low effort submissions (as deemed by Aavegotchi team) will not be eligible!
Prizes are GHST tokens:
First prize: 500 GHST
Second prize: 200 GHST
Third prize: 100 GHST
4-5th: 50 GHST
All other participants: 10 GHST each
---
Gotchi Halloween, Game ON!
The fun begins at 2PM UTC (10AM EST) in the Aavegotchi Discord.
Don't fumble your Halloween bag anon! See you at the party.
To learn more about Aavegotchi follow us on Twitter @Aavegotchi or get started today by visiting aavegotchi.com
Stay spooky frens!
Aavegotchi team

---
Subscribe
Join the newsletter to get the latest updates.
---