Having successfully developed advanced Alchemica harvesting machinery, the Gotchis now found themselves with a surplus of Alchemica and leisure time.
With the Prophecy still fresh in their spectral consciousness, they set out to build a new Installation – one that could transmit the signal of their existence far beyond the Nether Realm.
For against the hordes of Lickquidators, one can never have too many frens…
---
The Gotchiverse continues blazing through its Roadmap, with the Art Release just around the corner!
This major Release introduces three exciting new features to the Gotchiverse, specially designed to promote creativity and social engagement within our unique hybrid metaverse-game.
Combined with the recent announcement of the cryptoart collection, FAKE Gotchis, we're thrilled to experience what some players have deemed the "Gotchi Renaissance", or Gotchissance for short.
Keep reading for full details on the three new features coming in this ebic release!
---
Showcase your Art with NFT Displays
Introducing NFT Displays: the innovative new way for Aavegotchi asset owners to show off their favorite NFTs in the Gotchiverse!
Customize your NFT Display to showcase NFT art in your wallet, from collections including:
FAKE Gotchis Art
Aavegotchis and Portals
REALM Parcels
Gotchiverse Installations
Raffle Tickets
Tiles
…and many Gotchi art collections created by our talented Aavegotchi community artists!
Passersby can view the art while they're roaming around the Gotchiverse, and standing on the NFT Display reveals more details about the piece, accompanied by a "BUY NOW" button!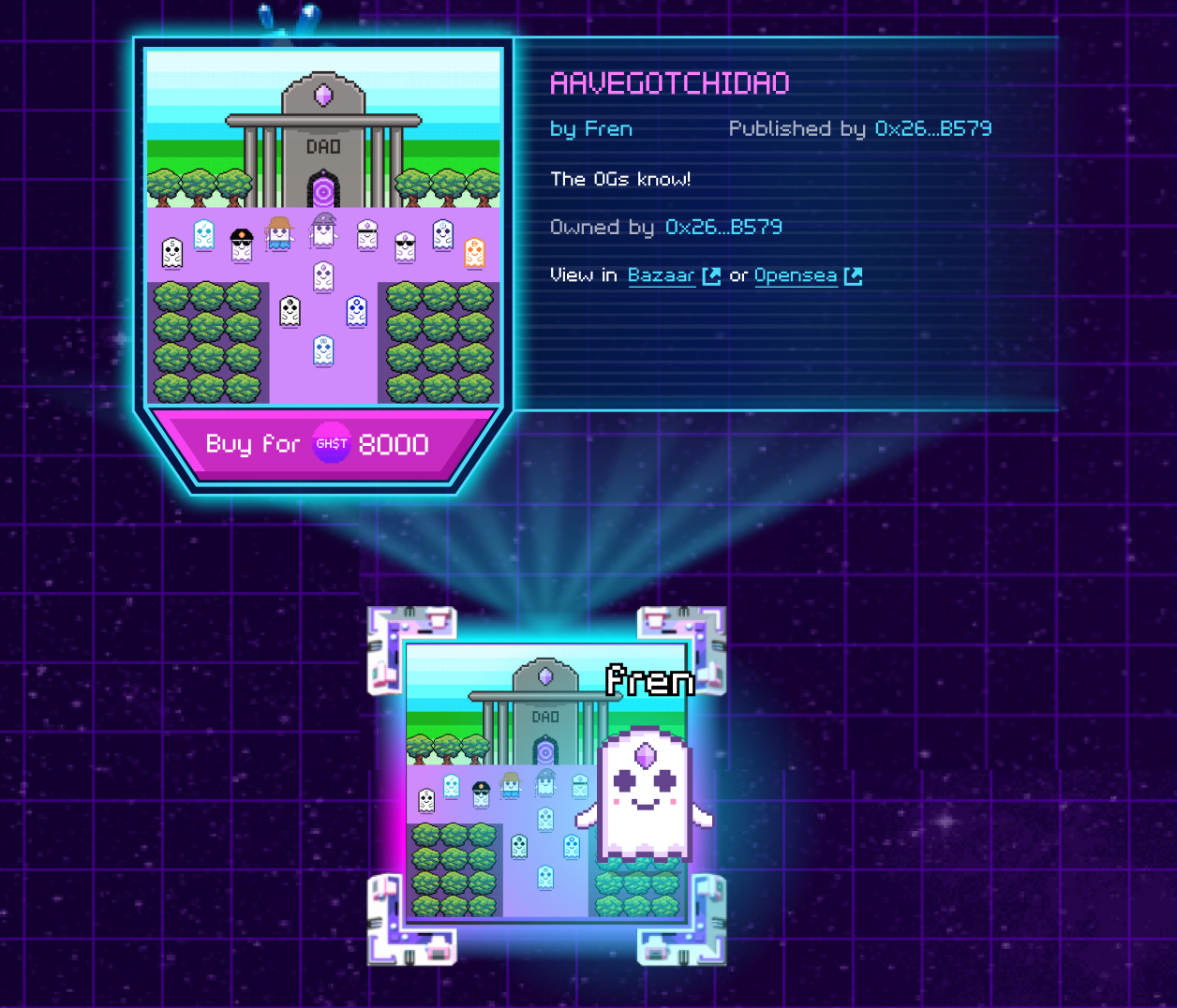 That's right frens, NFT Displays double as a frame to sell your art in the Gotchiverse!
Any NFT collection whitelisted in the Aavegotchi Baazaar (such as FAKE Gotchis) can be listed and purchased directly in the Gotchiverse, without leaving the game.
For collections not available yet in the Baazaar, a link to OpenSea will also be available.
Finally, the NFT Display will also track how many times it's been viewed, to give you a deeper understanding of the traffic on your parcel.
NFT Display Crafting Recipes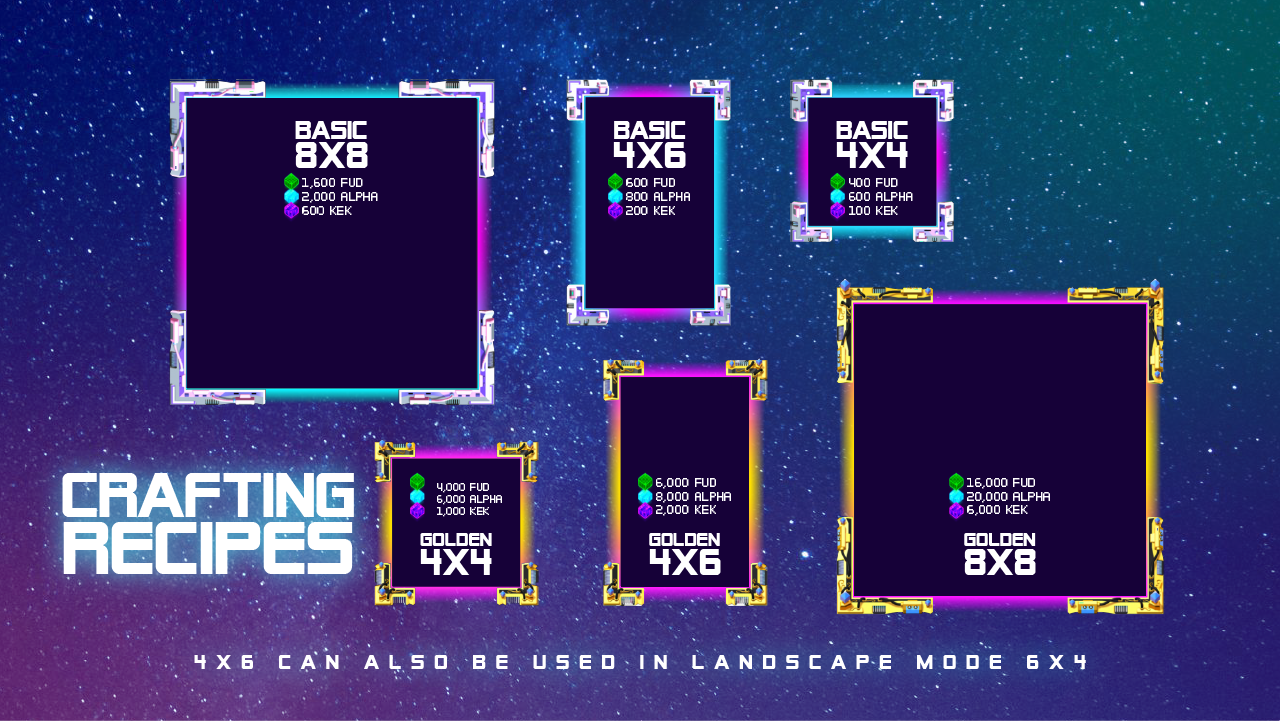 NFT Displays initially come in four sizes: 4x4, 8x8, 4x6, and 6x4, with two skins: Basic and LE Golden (available for a limited time only!).
Recipes for each type will be as follows:
4x4 NFT Display: 400 FUD, 600 ALPHA, 100 KEK
4x6/6x4 NFT Display: 600 FUD, 800 ALPHA, 200 KEK
8x8 NFT Display: 1,600 FUD, 2,000 ALPHA, 600 KEK
4x4 LE Golden NFT Display: 4,000 FUD, 6,000 ALPHA, & 1,000 KEK
4x6/6x4 LE Golden NFT Display: 6,000 FUD, 8,000 ALPHA, 2,000 KEK
8x8 LE Golden NFT Display: 16,000 FUD, 20,000 ALPHA, 6,000 KEK
Following the theme of $ALPHA = Social, NFT Displays are heavy in ALPHA and KEK, the two scarcest resources in the Gotchiverse!
So you've installed NFT Displays on your parcel. Now what? How do you attract new frens to view your beautiful displays? Keep reading fren, the next feature is for you!
---
Jump Around the Verse With Bounce Gates
No, this isn't the latest celebrity scandal… it's a Bounce Gate – the latest brainchild of the mad Gotchi scientists.
A Bounce Gate is two parts trampoline and one part wormhole. We don't know exactly how they work, but the scientists swear they're safe…
Just choose your destination Gate and hop in! Your Gotchi will be shot through the Nether, erupting out the other side like a trampoline diva.
Light up your Paarty with GLTR
Bounce Gates are free to craft, but they aren't cheap to maintain! Bounce Gates must be fed with GLTR to stay charged. 1 GLTR = 1 block (~2.2s) of charge, so to charge one year requires a Parcel owner to burn roughly 15,768,000 GLTR.
Parcel owners can set an onchain "Event Name" and a special image to be displayed alongside the event. All current events will be displayed on the Gotchiverse spawn screen, where anyone can discover and hop in.
However, this real estate is limited, so for maximum exposure, players can also choose to spend Alchemica to boost the priority of their event, and ensure it's pinned to the top. Spending 1 FUD, FOMO, ALPHA, or KEK adds 1, 2, 4, and 10 priority points, respectively (this number may change based on demand).
Bounce Gates are perfect for events like Summits, Guild Meetups, Art shows, and just casual hangouts!
And they'll be especially appreciated by all the new frens we're welcoming into the Verse, with the last feature of this major release……
---
Explore without a Gotchi in Observooor Mode  👀
They came, they watched, they liked what they saw, so they stayed.
No Gotchi, but wanna enter the Gotchiverse and take it all in? No sweat, fren. The new Observooor character is here to fulfill all your voyeuristic needs.
Players without Aavegotchis will now be able to enter the Gotchiverse, spawn at parcels via the Bounce Gates, view NFT displays, chat with other players, and even build within the Gotchiverse!
However, as they have neither hands nor pockets, they are sadly unable to collect or harvest Alchemica. Don't send an Observooor to do a Gotchi's job!
To join as an Observooor, simply sign in to the Gotchiverse with a Web3 wallet connected, and choose Observooor mode when prompted.
---
Commence the Gotchissance!
We as a society are on the cusp of the Web3 revolution, and like any good revolution, it must have art! FAKE Gotchis and NFT Displays bring the culture, while Bounce Gates and Observooor Mode bring the convenience.
The Gotchiverse Art Release is coming in late September/early October, so there's never been a better time to get in on Aavegotchi and join Gotchigang – the frenliest community in crypto. Join us at discord.gg/aavegotchi, say hi, and see what Aavegotchi is all about!
About the Gotchiverse
The Gotchiverse is Pixelcraft Studio's flagship title that celebrates the best of blockchain technology. The metaverse is built on Aavegotchi, an open-source, community owned, NFT gaming protocol that unlocks true asset ownership for gamers. In this spirit, The Gotchiverse is co-created with direct input from the community via AavegotchiDAO. Summon your first Aavegotchi today and meet us in the Gotchiverse!
Aavegotchi Resources:
Website: https://aavegotchi.com/
Blog: https://blog.aavegotchi.com/
Official Wiki: https://wiki.aavegotchi.com/
Twitter: https://twitter.com/aavegotchi
Discord: https://discord.gg/aavegotchi
YouTube: https://www.youtube.com/c/Aavegotchi
Reddit: https://www.reddit.com/r/Aavegotchi/
Telegram: https://t.me/aavegotchi
Gotchiverse Resources:
Website: https://verse.aavegotchi.com/
Gotchiverse Docs: https://docs.gotchiverse.io/
FAKE Gotchis Resources:
Website: https://www.fakegotchis.com/
Twitter: https://twitter.com/FAKEgotchis
Instagram: https://www.instagram.com/fakegotchis/
---
Subscribe
Join the newsletter to get the latest updates.
---