HAPPY 3RD AAVEGOTCHI BIRTHDAY FRENS!
It's been three years since the first Aavegotchi was imagined and brought into this world by the maestro himself XIBOT.
In crypto, time doesn't just fly – it teleports! Seems like just yesterday we were announcing the Whitepaper, Discord Aagent missions, and bridging to Polygon.
And now here we are, on the cusp of a new journey – bridging Aavegotchis to Gotchichain, realizing Aavegotchis in 3D, and welcoming the countless new frens that will join us along the way.
It feels like we're taking the next step in our evolution as a decentralized gaming protocol, which begs the question:
Is "Aavegotchi" itself ready for the transition?
Why Brand Refresh?
The original pixelated "Aavegotchi" wordmark and "Gotchi sun" logo have been with us since the beginning, and we adore them. They are simple and iconic, and did their job of representing Aavegotchi perfectly, for a while.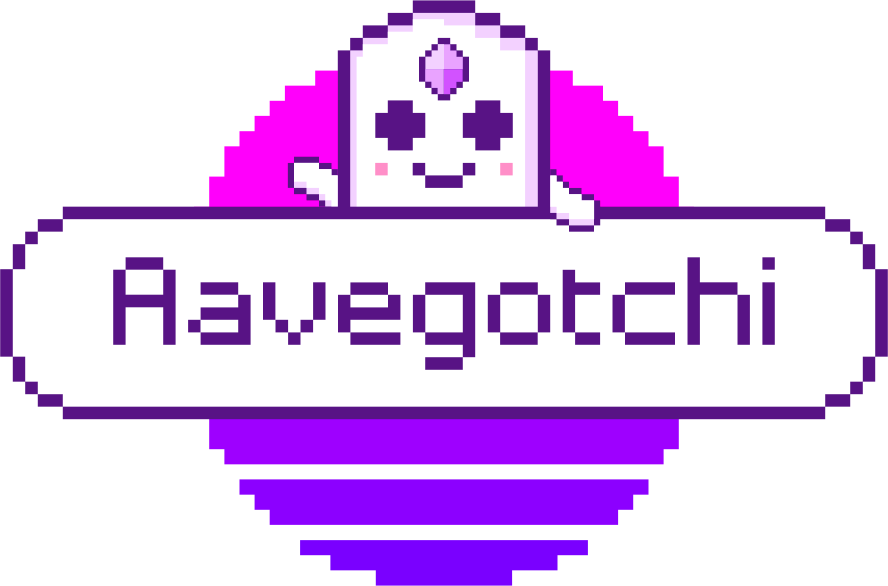 But as we entered 2023, with Gotchichain, 3D Aavegotchis, and many new games in the pipeline, we started to feel a bit held back by the old logo and our reliance on the Pixelar font:
It's HARD to design beautiful, modern UIs with pixel fonts. Like, very hard. A distinct lack of light and bold styles restrict the creativity of our designers, making every UI update a stressful and friction-filled task.
As we expand into 3D, VR, and AR, the current branding doesn't adequately convey the breadth of our ecosystem's offerings.
While we love the Pixelar font, we've never felt like we owned it. We've always wanted something more custom, but didn't know what.
With the launch of Gotchichain, we wanted a new fresh style to use in other verticals, such as Gotchichain, Gotchi Guardians, and Gotchiverse, and usable by other game developers.
Aavegotchis are iconic, but the wordmark for "Aavegotchi" is not. We want to celebrate our unique mix of crypto and gaming directly in the wordmark itself.
These pain points have been thorns in our sides for months (in some cases, years), but there were always other priorities.
Now, with the advent of Gotchichain and multiple games on the horizon, it's the perfect time to  bring our branding in line with the full vision of Aavegotchi – a decentralized gaming platform created around our lovable IP.
Introducing The New "Aavegotchi" Wordmark
Starting at the beginning of this year, our design team went to work researching and prototyping new logos that might fit the bill.
We tried many options, but none of them really felt right.
After an exhausting amount of iterations, our team hit a breakthrough that we finally knew was it.
We looked far and wide for the perfect font to fit our vision for Aavegotchi. It had to be cool and stylish, while also being playful. And it had to be unique, just like our community.
Starting from "Many Years Ago", a retro sci-fi font bursting with personality, we made major structural changes to make it truly "Aavegotchi".

The AA is a core part of our branding legacy, and something we knew we wanted to emphasize. The circular top of the "A" with the eye in the middle has a spooky yet playful vibe, which reminds us of an Aavegotchi. The asymmetry of the A lends itself perfectly to being flipped to symbolize two Aavegotchis leaning on each other for support, representing the frenliness and closeness of our community,
The tops of the font are rounded, whereas the bottoms are more square, a customization we made directly to the base font, representing the shape of the Aavegotchi, and also the two dynamics of our project – fun yet grounded, gaming powered by cutting-edge technology.
Overall, the "Aave" part of the font looks playful yet a bit spooky. In two-toned versions of the logo, the "Aave" part is also white, symbolizing its spectral connotation (for those not aware, Aave means "ghost" in Finnish!)
The "Gotchi" half of the wordmark features a custom lowercase "i", symbolizing the flat, decentralized nature of our community. The "i" is dotted with a spirit force diamond that shows the connection between individual members of the community and their Aavegotchis.
The custom "Aavegotchi" font has also been uploaded to our Github where it's available for download!
A Fresh New Landing Page
Shipping a new beginner-frenly landing page has been on our agenda for many months now.
Equipped with the gorgeous new Aavegotchi display font and body font Kanit, our designers have crafted a brand new landing page that can better welcome frens old and new to Aavegotchi.
We're also putting final touches on an update to the Aavegotchi dApp that will finally achieve our vision of Aavegotchi.com becoming an all-in-one platform for trading, gaming, and discovering tools!
This update is near completion and will be going live within the next few weeks!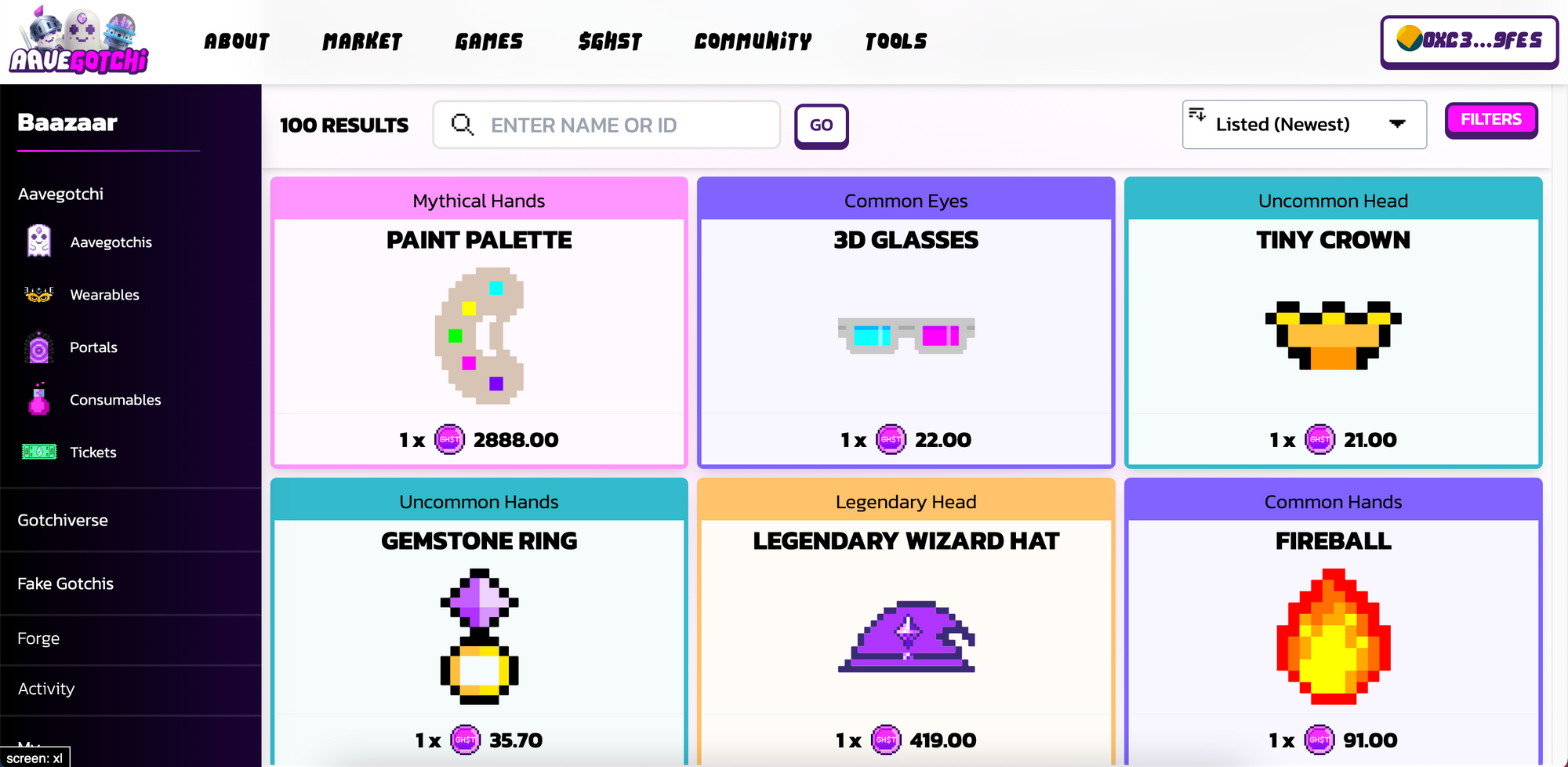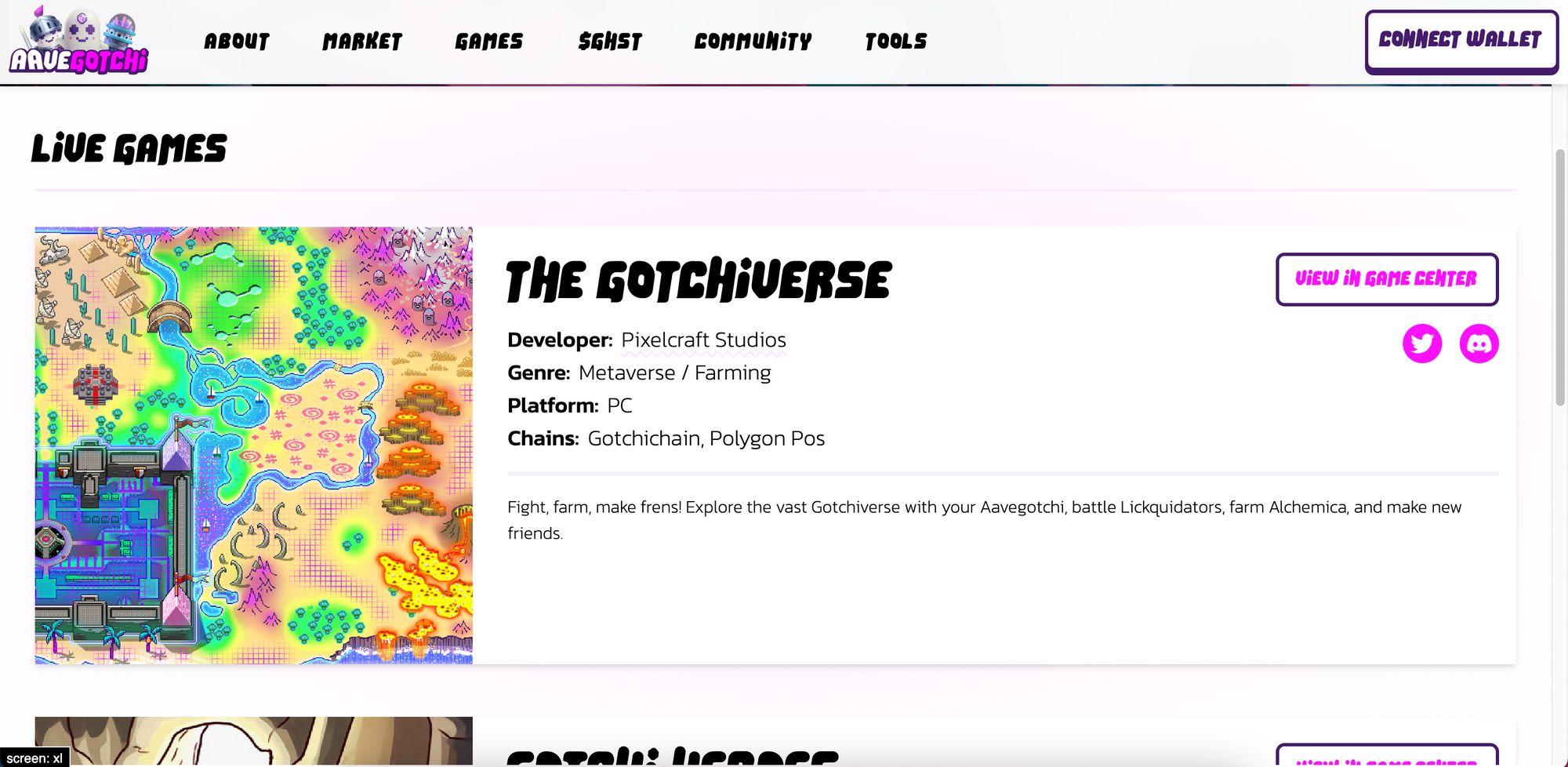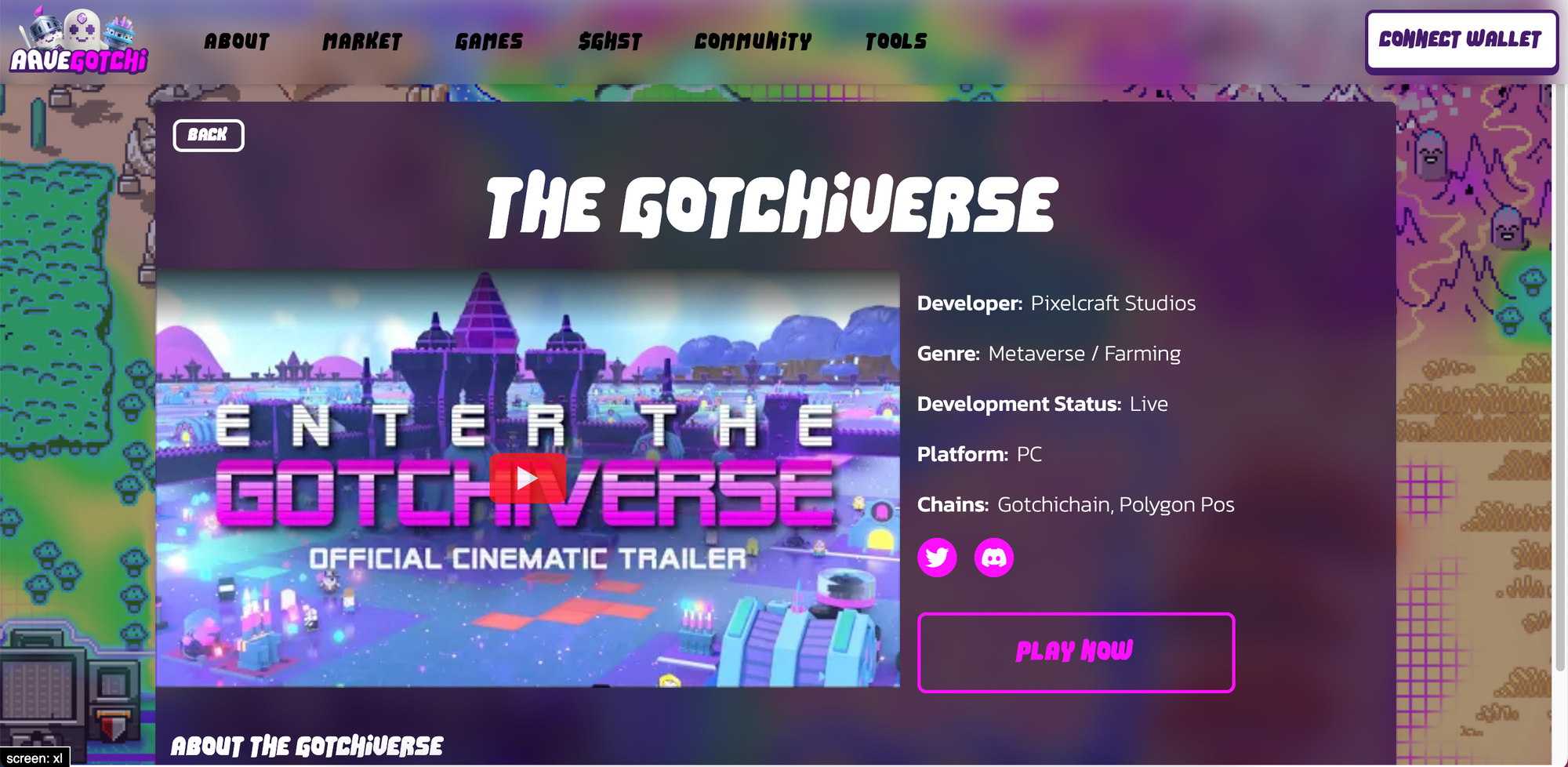 An Updated Color Palette
Pink, purple, cyan and yellow are the core colors of the Aavegotchi brand. We made slight adjustments to enhance their brightness, but in general very few touchups were needed for our core color palette!
GHST Token Levels Up
This brand refresh wouldn't be complete without revisiting the governance token at the center of it all: GHST!  
When the token was first designed, Aavegotchi was a far smaller protocol in terms of user base, treasury and accomplishments.
Today, GHST deserves a design that acknowledges the token's ascending significance as well as its forthcoming role securing Gotchichain as the sole gas token.
This updated logo will serve as the official icon for both GHST (on exchanges and other locations) as well as Gotchichain.
Bringing it all together
Creating a forward-looking logo while still remaining true to our pixel roots wasn't an easy task, but we're extremely excited about how it turned out, especially our "full cast" logo, featuring the Aavegotchi, Citaadel Knight, and Lickquidator.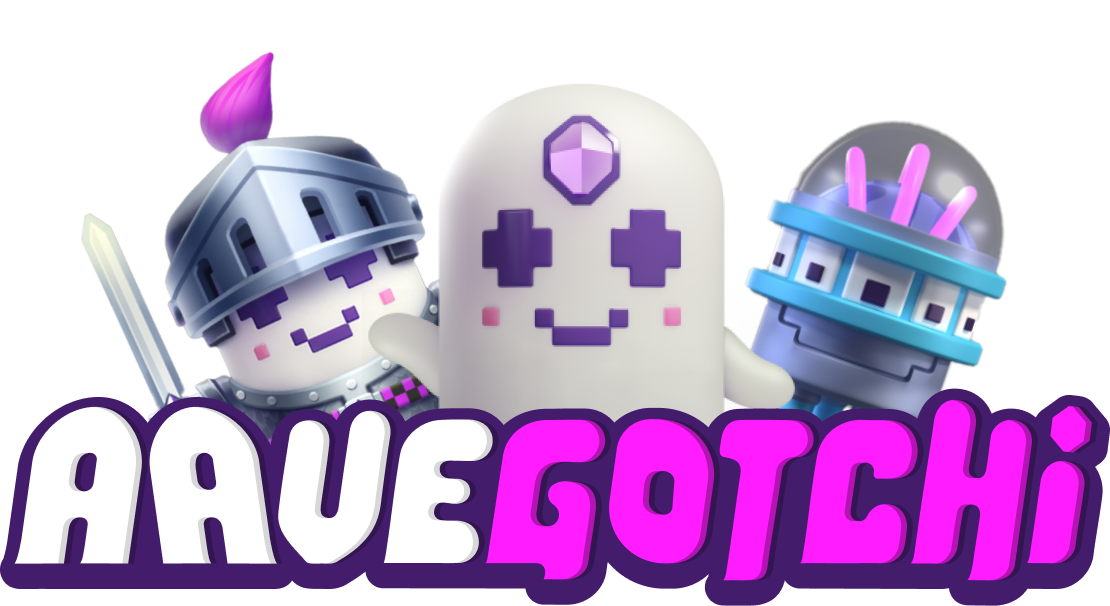 Keep your eyes peeled at upcoming Gotchigang IRL events to snag some sticker swag and merch using the new brand.
And speaking of merch…
The Aavegotchi Store is Stocked!
If you love the new branding and want to rep it in the streets, visit the Aavegotchi Merch Store now to grab some official Aavegotchi merch with the new branding.

Finally, a challenge
We went through several iterations of a new AavegotchiDAO logo (one which is currently featured in the landing page), but ultimately realized it would be even more aavesome if the Aavegotchi community itself designed the logo for AavegotchiDAO using the new wordmark as inspiration!
We're holding a design contest for the next 30 days to create the wordmark and logo for AavegotchiDAO.
Full details will be posted as a thread in the DAO forum and announced in the official Aavegotchi Discord, so join if you haven't already!
Closing Thoughts
This brand update has been a huge endeavor for the Pixelcraft Team, and we're extremely excited to finally reveal this next chapter of Aavegotchi to you.
Now that it's finally complete, we're ready to get back to our regular programming – shipping, shipping, and moar shipping!
What do you think of the new branding? Drop a comment on the official @aavegotchi twitter, or even on this blog post.
Stay aavesome #Gotchigang!
Pixelcraft Team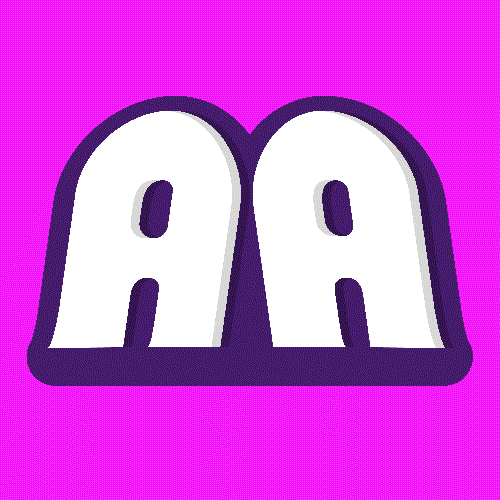 ---
BONUS CONTENT: A new outlook on life
an essay by Coderdan
Alongside this brand update, we did a lot of thinking about the "psyche" of an Aavegotchi.
What does it want? How does it feel? What is it afraid of?
And the answers were…frankly, a little scary.
As we all know, Aavegotchis are the spirits of liquidated yield farmers. We say that often, but when you really think about it, it's actually pretty dark. I mean, imagine a trader longing a token max leverage, risking it all for that sweet profit. But then tragedy strikes – BOG makes a call, and in a blink of an eye, they're liquidated. They've lost everything.
At that moment of max greed, max desperation, a new Aavegotchi is born in the Nether Realm…
…and yet, Aavegotchis are always smiling that little Mona Lisa-esque smile.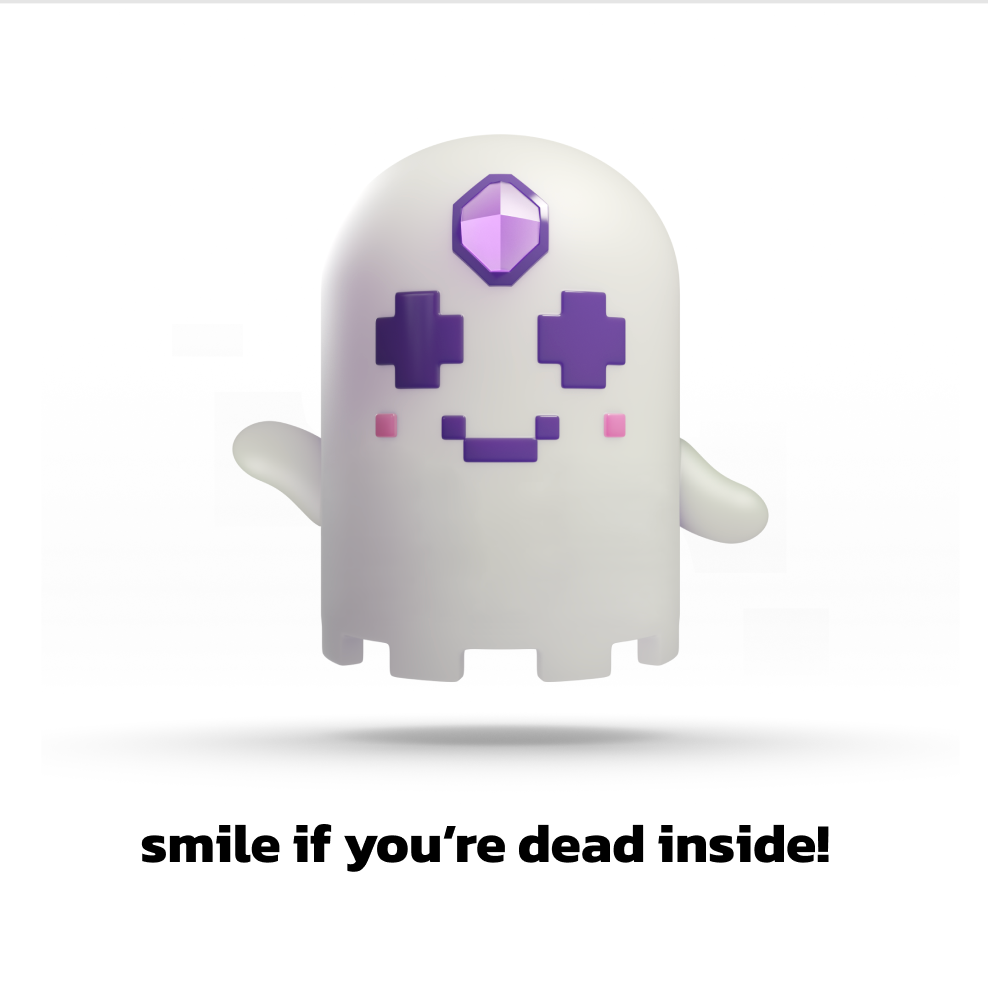 Why is that? Is it because they don't feel the sting of their former self's losses?
Or they do feel it, but manage to hide the pain?
And how about being trapped on the blockchain forever? Because that's what they are – trapped. They're shadows of their former selves, dropped into this nether world populated by other broken degens like themselves.
I think that explains why they love playing games so much. It distracts them from their existential dread.
And to me, that's something I can relate to a lot. We're only 3 years into the 2020's, and we've lived through a worldwide pandemic, massive government surveillance, and now the real possibility of AI taking over everything.
TBH If you're not feeling a bit of existential dread, you're probably not paying attention… 😅
But if humanity really is on a collision course with the Singularity, I think Aavegotchis are a good role model for how to deal with the emotional rollercoaster of life. The next decade is going to be insane, probably more insane than any decade humanity has ever experienced. Just like the Aavegotchis are fearful of Lickquidators devouring the Gotchiverse, humans are worried that AI will make them irrelevant.
Despite this clinging fear, the Aavegotchis still try to make the best of things – they tend to their farms, train for battle against protolicks, and play games with their new human companions.
I think the Aavegotchis have a lot of wisdom to share with us, and I look forward to conversing with them soon in the future 👻
---
Subscribe
Join the newsletter to get the latest updates.
---