The voice of the AavegotchiDAO once again rumbled through the Gotchiverse, confirming a 7th season of Rarity Farming to begin on October 31. It is time for your Gotchis to win GHST tokens by simply dressing up and being taken care of!
As with previous seasons, this season of Rarity Farming takes place over an eight week period that includes four, two week rounds. At the end of each round on-chain snapshots of the leaderboards are taken and then prizes are awarded. This includes GHST as well as NFT badges and trophies.
Read on for all the detailed information including a surprise new category for prizes related to a certain idle battler game.
Rarity Farming FAQs

What is Rarity Farming?
Rarity farming is a play-to-earn mechanic that rewards players for making their Aavegotchi NFTs as rare as possible. Equipping them with Wearable NFTs, petting them twice daily, and participating in XP events can lead to GHST token rewards for Aavegotchis across the categories of Rarity, Kinship, and XP.
Show Me the Money!
This season 1.6 million GHST (roughly $1.3 million USD) is up for grabs during the eight-week Rarity Farming period.
How to Participate?
To participate in Rarity Farming Season 7, you just need to own an Aavegotchi. Alternatively you can borrow one from a player that is offering a split on GHST earned during the borrowing period with Gotchi Lending.
AavegotchiDAO Funded
The most active gaming DAO in the world has once again stepped up to the plate. Not only did the proposal for Rarity Farming SZN 7 pass with ease, but player rewards will once again be fully funded by the AavegotchiDAO!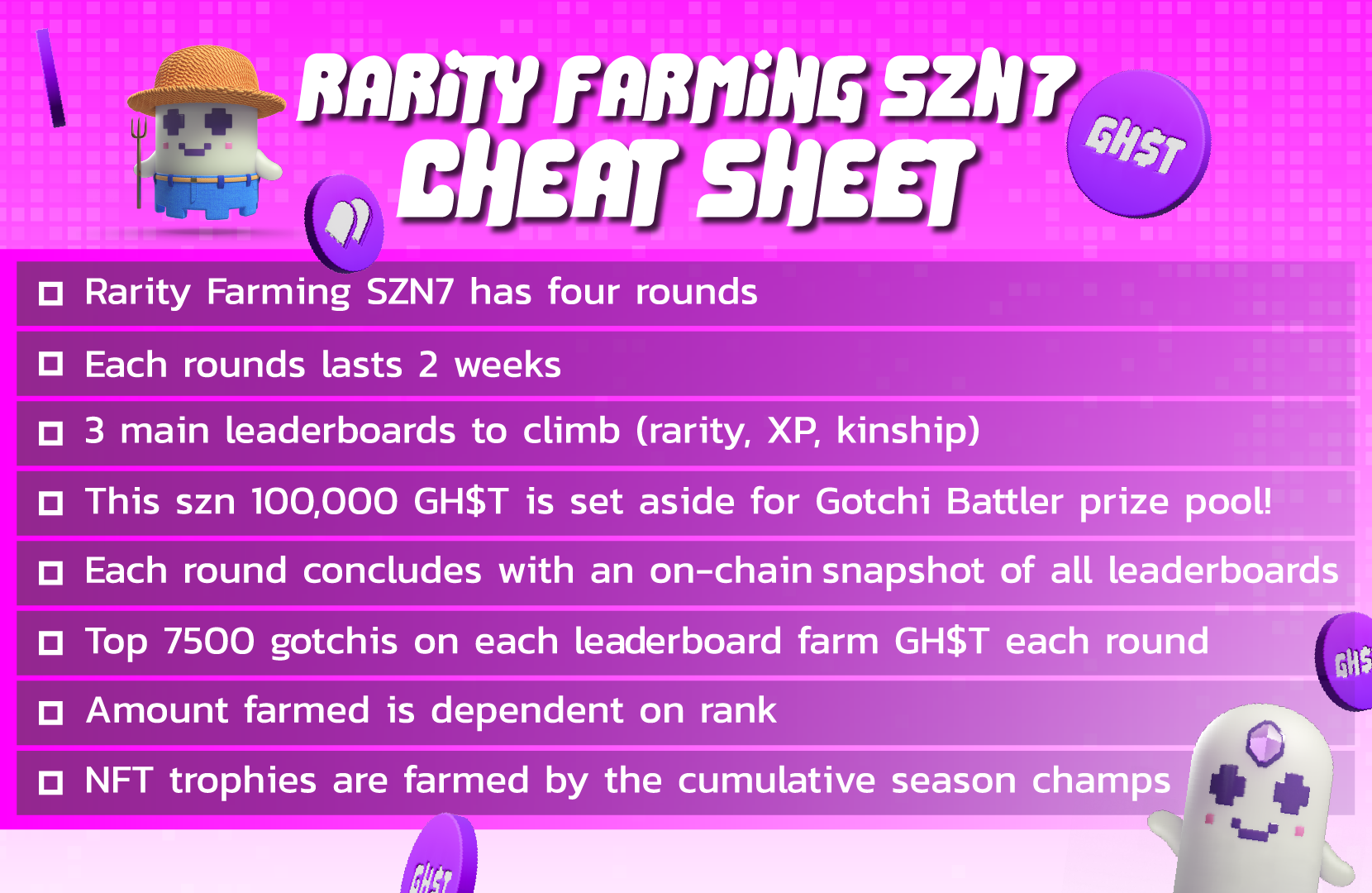 Payout Allocations
There have been no major changes to Rarity, Kinship, or XP systems since the preceding season, however, the DAO has decided that 100k GHST be added to the reward pool in order to support a concurrent Gotchi Battler tournament (a new Aavegotchi idle game) featuring teams of 5 Gotchis.
As such, this season will have the same payout percentages to each category.
1.5M GHST rewards will be allocated as follows:
Rarity (70%)
Kinship (20%)
XP (10%)
PLUS, for the first time, an additional 100k GHST going to players of Gotchi Battler (tournament details below)
As always, all participating Aavegotchis have the chance to win non-transferable badges and trophies designed by Xibot, the summoner and lead artist of Aavegotchi. These rare "baadges" are deposited directly into your Aavegotchi to forever prove its unique history of successes. Take a look at the NFT baadges your Gotchi could be winning.
Four Ways to Win
Rarity
Rarity is the main rewards pool with 70% of player rewards allocated to this leaderboard. An Aavegotchi's rarity score is determined based on a number of factors including:
Randomly generated traits when the Aavegotchi is summoned
Points earned from equipping Wearables and Wearable sets
Changes to trait scores earned by leveling up
Changes to trait scores made possible by the aging mechanic
To climb this leaderboard, either purchase or summon the rarest Aavegotchi you can, then continue to boost their rarity using the right combination of Wearables and Wearable sets.
Kinship
Climbing the kinship ladder is less capital intensive than rarity. To increase your Aavegotchi's kinship simply pet it twice a day (once every 12 hours) or feed it kinship potions. Each time you pet your Aavegotchi their kinship score will increase by one. It's also important to note that for each 24-hour period that passes without petting your Aavegotchi, its kinship score will decrease by one. To climb this leaderboard, make sure you interact with your GotchiGang every 12 hours!
XP
XP (Experience Points) is the final leaderboard which allows anyone with an internet connection the ability to earn XP on their Aavegotchi's behalf. Players can earn XP by voting in the AavegotchiDAO, attending community events, participating in minigame leaderboard competitions, and by drinking XP potions. To climb this leaderboard, stay active in the Aavegotchi community and keep an eye on our social media platforms so you know how and when you can earn XP!
Gotchi Battler
Craft your ultimate Aavegotchi squad, fine-tune their formation, and deploy unique special moves and leader skills to secure victory in thrilling battles to the death!
This first tournament coincides with Rarity Farming and can support over 4000 teams entering with each team consisting of 5 gotchis, this means a total of 20,480 gotchis total have the potential to enter!
This is a single elimination tournament with 1 round each day. To participate you simply need to enter your team during the registration period at the start of the tournament, then your team will automatically progress through each round. Powered by Chainlink's VRF random number generator, each day you can view all the battles on the Gotchi Battler website.
The prize pool for this tournament is 100k GHST, so significant prizes await those most aptly managing their Aavegotchi squads!
Structure of Season 7
Get ready for 8 weeks of all eyes on Aavegotchi. Our favorite on-chain ghosts are about to compete for those bi-weekly snapshots!
>> View the Rewards Breakdown for Season 7
After each snapshot, rewards are allocated and an announcement will be made once GHST is distributed. Rewards will be dropped directly into your Aavegotchi's individual pockets and can be viewed and withdrawn by visiting your Aavegotchi's interface at dapp.aavegotchi.com > My Profile.
After one snapshot is taken, the next round immediately begins and lasts for another two week period, repeating like this until the conclusion of the fourth and final round.
Get Ready, Get Dressed, GO!
Rarity Farming Season 7 will commence on October 31st, 2023 at 10am EST/2pm UTC, with the first snapshot happening two weeks later on November 14th, 2023 at 2PM UTC, so make sure to have your GotchiGang's outfits ready to go if they want to win those tasty GHST rewards.
With over $1.3M USD in GHST at stake, it's going to be another EBIC eight-weeks of OG Gotchi farming.Remember frens, take care of your Gotchis and they'll take care of you!
See you on the leaderboards, Gotchigang!
About Aavegotchi
Aavegotchi is an open-source, community owned NFT gaming protocol, enabling true asset ownership for gamers. Aavegotchi NFTs are on-chain collectible ghosts that hold staked interest-generating "aTokens" from Aave. These avatars are used to participate in all facets of our ecosystem such as Rarity Farming and entering our flagship game, The Gotchiverse and moar!Compete for player rewards by earning XP, leveling up, and increasing the rarity of your Aavegotchi fren. Aavegotchi is governed by the AavegotchiDAO and the native eco-governance token GHST.Visit Aavegotchi.com today and join the future of DeFi-staked NFT avatars!
Resources:Official Website: https://aavegotchi.com/Blog: https://blog.aavegotchi.com
Gotchiverse Website: https://verse.aavegotchi.com/Official Wiki: https://wiki.aavegotchi.comYouTube: https://www.youtube.com/c/AavegotchiGotchiverse Docs: https://docs.gotchiverse.io/
Community:Discord: https://discord.gg/aavegotchiTwitter: https://twitter.com/aavegotchiReddit: https://www.reddit.com/r/Aavegotchi/
---
Subscribe
Join the newsletter to get the latest updates.
---