The Aavegotchi Protocol recently introduced a brand new, fair-launch token, called the GAX Liquidity Reward Token (GLTR), to reward liquidity providers on the upcoming Gotchus Alchemica Exchange (GAX). Unlike most DEXes that reward liquidity providers with a native token that does nothing more than govern the DEX, GLTR will have loads of utility, while governance of the GAX remains tied to GHST.

GLTR staking is already live, allowing players to start staking their wapGHST or Quickswap/Sushiswap LP Tokens and begin accruing GLTR rewards. With the launch of GLTR Spending you will now be able to use your GLTR to speed up the crafting and upgrading of Installations in the Gotchiverse!
Utility Unlocked
Some community members have coined GLTR as "tokenized time." It's a fitting moniker, as GLTR's primary utility will be to allow players in the Gotchiverse to speed up the crafting and upgrading of their Installations by burning GLTR. Doing this will allow players to level up and improve the performance of their Installations much quicker, leading to a more fruitful Gotchiverse experience.
GLTR's secondary utility, to be released at a later date, will be as the main token utilized for Guilds to compete for Guild Channeling.
GLTR's utility is not capped to these two sinks. In the future, more in-game utility may be introduced as the AavegotchiDAO sees fit. There's even an ongoing discussion about replacing FRENS with GLTR 👀👀👀
Tokenomics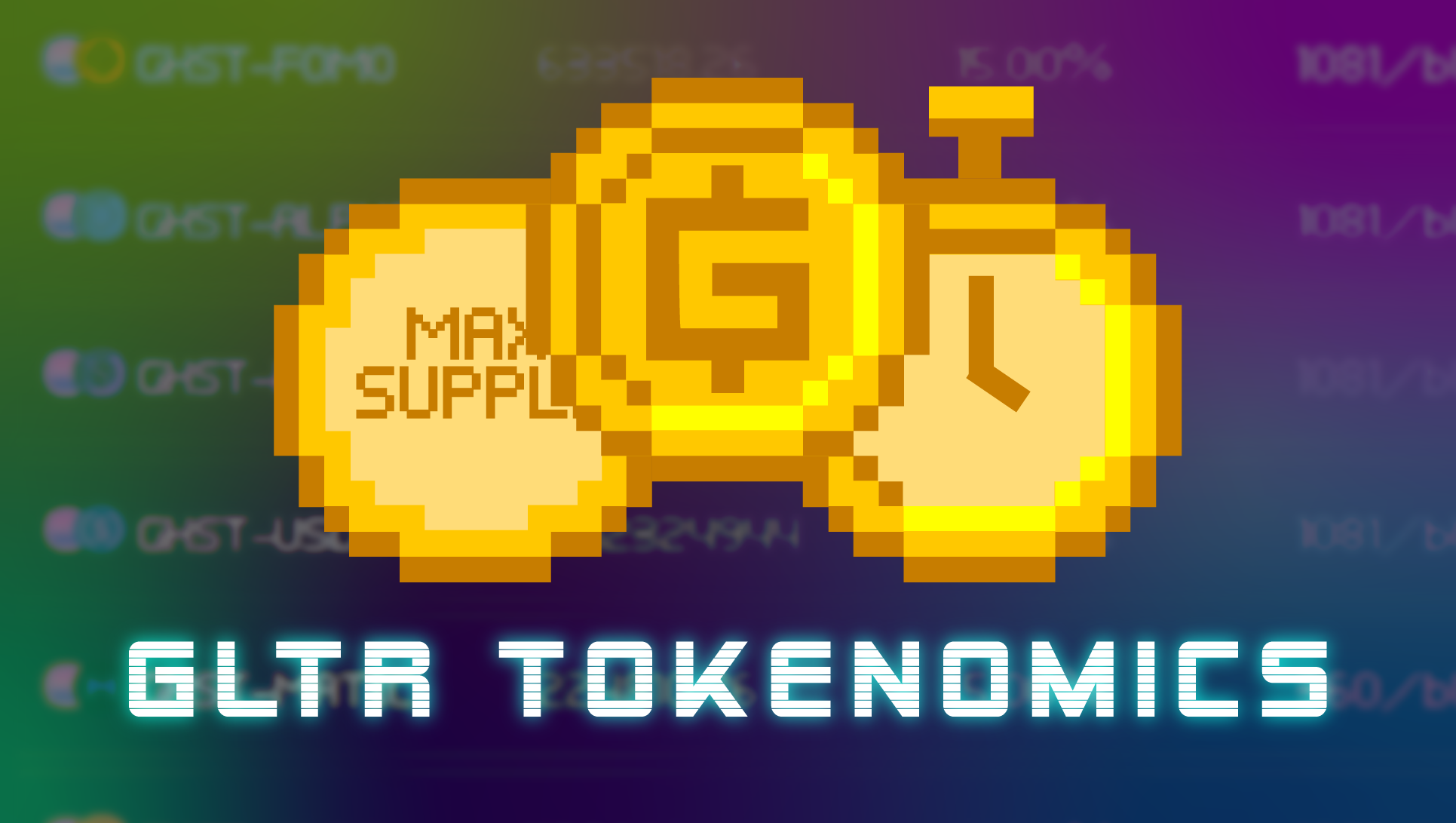 GLTR Tokenomics remain unchanged from the outline first released in Chapter 3 of The Gotchiverse Game Bible. The max supply of Glitter is 1,000,000,000,000 (1 Trillion).
The distribution will go 100% to liquidity rewards over a 30 year period. The vesting schedule for the rewards will distribute 10% of the total supply to stakers in the first year, with the remaining 90% to be distributed over the next 30 years. With this schedule, halvings will occur roughly every four years.
GLTR Burn
All GLTR spent on upgrades in the Gotchiverse will be burned from the total supply. In the Gotchiverse, 1 GLTR = 1 Block on Polygon. Crafting and Upgrading times are set in blocks. For example, spending 1,000 GLTR will reduce upgrade time by 1,000 blocks, and the 1,000 GLTR will be sent to the burn address.
GLTR FAQ
Q. What is GLTR?
A. GLTR (GAX Liquidity Reward Token) is a 100% fair launch token that can be spent to reduce Craft and Upgrade time in the Gotchiverse.
Q. What is the Official GLTR Contract Address?
A. 0x3801C3B3B5c98F88a9c9005966AA96aa440B9Afc
Q. What is the Official GLTR Staking Contract Address?
A. 0x1fE64677Ab1397e20A1211AFae2758570fEa1B8c
Q. How do I stake to earn GLTR?
A. Visit https://app.aavegotchi.com/stake-gltr and deposit your wapGHST or Quickswap/Sushiswap LP tokens into the staking contract. You'll start accruing GLTR tokens on each Polygon block, according to your share of the pool!
Q. Are there any risks with staking?
A. All smart contracts have inherent risk, and all tokens have inherent volatility. Please be responsible and do not overextend yourself.
Q. How do I spend GLTR in the Gotchiverse?
A. Enter the Gotchiverse, go into build mode, and click on an Installation to upgrade. In the Uprgade popup, enter the amount of GLTR you'd like to spend and then hit Confirm!
Q. When will the GAX launch, and what happens when it does?
A. The GAX is a work in progress, but rest assured we are working to launch it as quickly as possible. Once it goes live, a portion of GLTR rewards will be allocated to liquidity providers on the Aavegotchi-owned DEX.
Spend GLTR NOW
What are you waiting for, frens? Enter the Gotchiverse now at verse.aavegotchi.com and spend some GLTR to speed up your crafting/upgrading times! We can assure that your Gotchis will thank you for speeding up the process and leveling up their home.
About The Gotchiverse
The Gotchiverse is Pixelcraft Studio's flagship title that celebrates the best of blockchain technology. The metaverse is built on Aavegotchi, an open-source, community owned, NFT gaming protocol that unlocks true asset ownership for gamers. In this spirit, The Gotchiverse is co-created with direct input from the community via AavegotchiDAO. Summon your first Aavegotchi today and meet us in the Gotchiverse!
Resources:
Official Website: https://aavegotchi.com/
Gotchiverse Website: https://verse.aavegotchi.com/
Official Wiki: https://wiki.aavegotchi.com
Blog: https://blog.aavegotchi.com
YouTube: https://www.youtube.com/c/Aavegotchi
Community:
Twitter: https://twitter.com/aavegotchi
Discord: https://discord.gg/aavegotchi
Telegram: https://t.me/aavegotchi
Reddit: https://www.reddit.com/r/Aavegotchi/
---
Subscribe
Join the newsletter to get the latest updates.
---