Get ready to dig deep in the world of Gotchi Miner! Join the first ever public tournament from March 28th to April 4th, 2023 and earn for your in-game achievements. The top players will receive amazing rewards, including NFT wearables and FAKE Gotchi NFTs from the popular Hall of Fame series.
Developed over the course of a year, Gotchi Miner is a community-developed game starring Aavegotchi NFTs. Join us in the search of ancient treasures hidden under the surface of the Gotchiverse.
Gotchi Miner Rocks!
In Gotchi Miner, you'll need to dig for Crypto Crystals using your drill, refine them in the refinery, make sure your jetpack has enough fuel, repair any damage using the garage, and trade for explosives, consumables, and gear upgrades. Detailed instructions can be found at gotchiminer.rocks/howtoplay
To participate, simply go to gotchiminer.rocks and connect your wallet. Choose your Aavegotchi avatar and vote for a map to start your adventure. You can play alone or team up with up to 5 players to compete for the top rankings.
Not a Gotchi owner yet? No problem! Borrow one from aavegotchi.com/lending and join the search for ancient treasures.
Tournament Prize Pool
XP Rewards:
Earn 5 XP for any Gotchi scoring over $10k points
Earn 10 XP for any Gotchi ranking in the top 500
Earn 15 XP for any Gotchi ranking in the top 100
Top Player Rewards: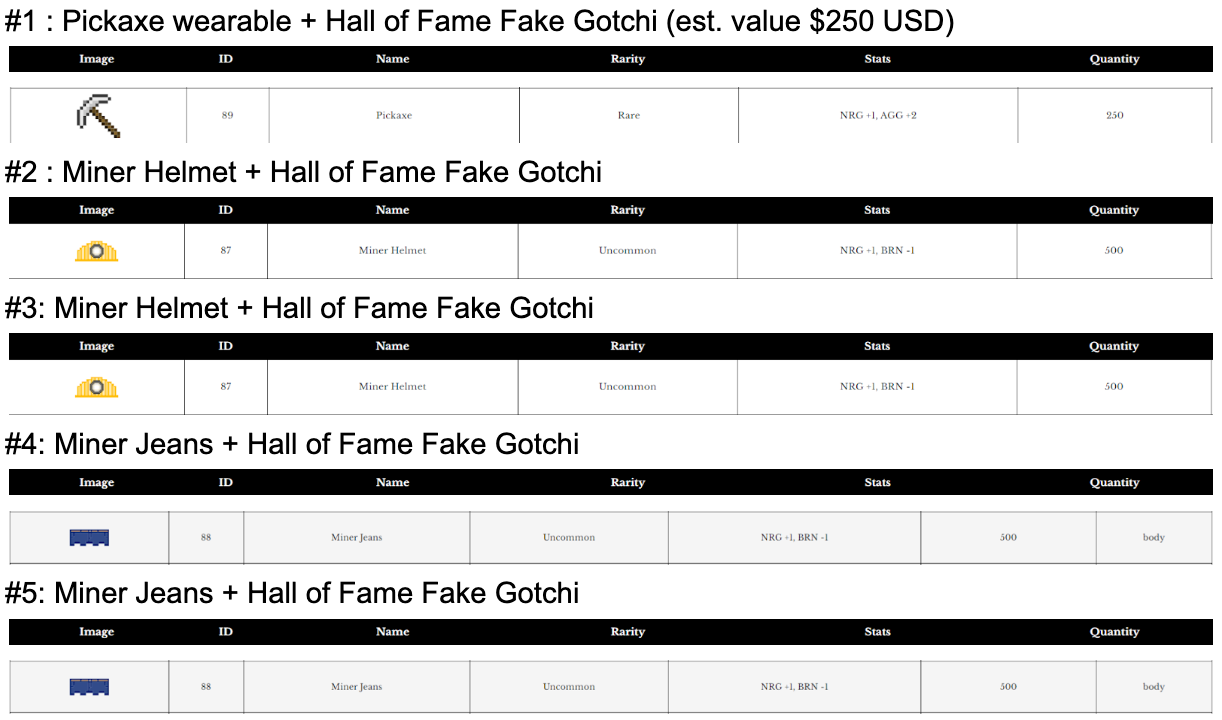 #6 to #10: Hall of Fame Fake Gotchi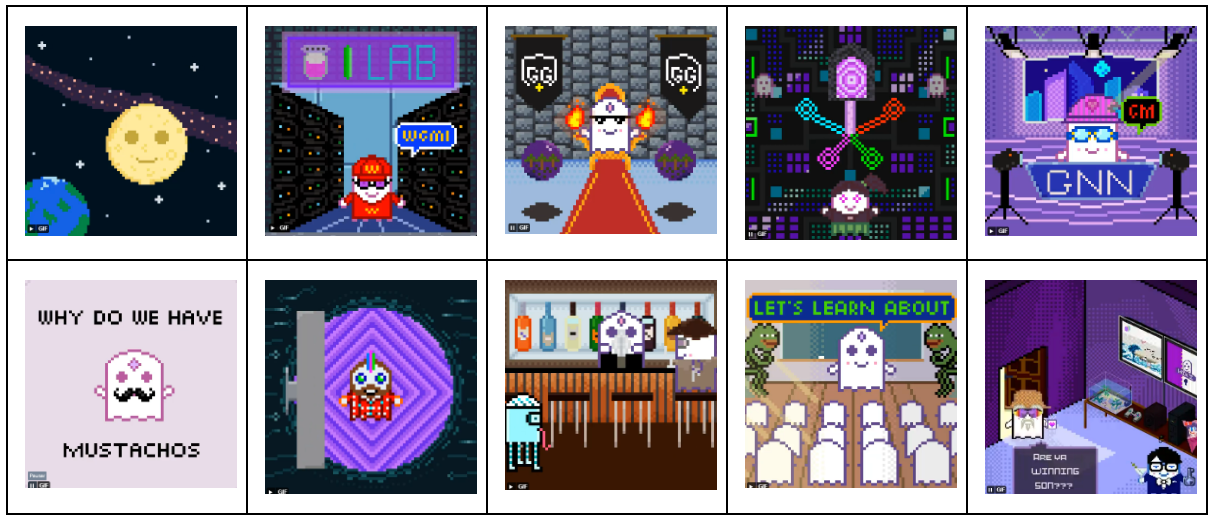 *NFT Wearables are supplied by Pixelcraft Studios and FAKE Gotchi NFTs are supplied by the ATF (Aarcade Task Force). The winners will choose a Hall of Fame FAKE Gotchi card prioritized according to their position in the leaderboard.
Onboarding
Go to gotchiminer.rocks
Connect wallet
Click PLAYChoose a Gotchi, vote on a map and press ready. You can either play alone or wait for other people to join you.
Don't have a Gotchi? Go to aavegotchi.com/lending and borrow one.
Backstory
There is a special place in the Gotchiverse where great treasures hide under the surface. Ancient civilizations flourished in the Gotchiverse by extracting buried Crypto Crystals. Come and join the search Fren, the deeper you go, the higher the risk and juicier the rewards! Don't forget to buy some items in the shop, to enhance your tools and speed up your work.
Gameplay
1. Dig: use your drill to find crypto crystals
2. Refine: convert your crystals into in-game crypto in the refinery
3. Refuel: make sure that your jetpack has enough fuel
4. Repair: use the garage to repair damage
5. Trade: purchase explosives, consumables and upgrade your gear
You can find more detailed instructions in gotchiminer.rocks/howtoplay.
About Gotchi Miner
Gotchi Miner is a multiplayer, competitive NFT game where players can cooperate or fight to mine as much crypto as possible. Be sure to follow Ghost Squad, the team behind Gotchi Miner, for all the latest gameplay news. Now, let's go mining!
Gotchi Miner Resources:
Cinematic Teaser: https://twitter.com/gotchighstsquad/status/1586371503662288896
Logo:
https://gotchiminer.rocks/static/media/logo.bd50a2d5.svg
Gameplay:
https://twitter.com/gotchighstsquad/status/1605928207844134912
Stress Test#2 competition: https://twitter.com/gotchighstsquad/status/1636477372663840770
Stress Test#1 competition:
https://twitter.com/gotchighstsquad/status/1603149146520690688
Custom Memes:
https://twitter.com/gotchighstsquad/status/1638156065131974660
https://twitter.com/gotchighstsquad/status/1608385063301050370
About Aavegotchi
Aavegotchi is an open-source, community owned NFT gaming protocol, enabling true asset ownership for gamers. Aavegotchi NFTs are on-chain collectible ghosts imbued with dynamic traits ready for play across an assortment of gaming experiences.
Compete for player rewards by earning XP, leveling up, and increasing the rarity of your Aavegotchi fren. Aavegotchi is governed by the AavegotchiDAO and the native eco-governance token GHST. Visit Aavegotchi.com today and bring your crypto to life!
Aavegotchi Resources:
Website: https://aavegotchi.com/
Blog: https://blog.aavegotchi.com/
Official Wiki: https://wiki.aavegotchi.com/
Twitter: https://twitter.com/aavegotchi
Discord: https://discord.gg/aavegotchi
YouTube: https://www.youtube.com/c/Aavegotchi
Reddit: https://www.reddit.com/r/Aavegotchi/
Telegram: https://t.me/aavegotchi
Gotchiverse:
Gameplay: https://verse.aavegotchi.com/
Gotchiverse Docs: https://docs.gotchiverse.io/
FAKE Gotchis Art Platform:
Website: https://www.fakegotchis.com/
Twitter: https://twitter.com/FAKEgotchis
Instagram: https://www.instagram.com/fakegotchis/
---
Subscribe
Join the newsletter to get the latest updates.
---