Aavegotchi Raffles Return with Gotchiverse REALM Decorations
Ready your Raffle Tickets for the first ever Gotchiverse Decorations Raffle!

Gotchiverse REALM parcels are packed with utility, but they're also a way for you and your GotchiGang to express your creative sides and stand out from the crowd. While the most famous Installations to date include farm equipment and channeling gear, today we're unveiling the very first aesthetic-focused Installations AKA Decorations! Similar to tiles, these decorative installations are purely aesthetic. At least initially ;)

Hopefully you have been staking GHST, because you'll need Raffle Tickets for a shot at winning these one time releases! If not, you've still got some time, fren. You can start staking now at https://aavegotchi.com/stake-polygon, or you can even buy Raffle Tickets directly in the Aavegotchi Baazaar.
Raffle Details
Wut
Aavegotchi's first ever Gotchiverse Decorations have arrived. This first ever release of unique designs are only available via a raffle distribution while future Decorations may see crafting or other distribution methods available. The historic set announced today feature six, aesthetic NFTs. These Decorations will be available in each of the six distinct rarity levels ranging from Common to Godlike and will never be minted again.
Wen
The first Gotchiverse Decorations Raffle is scheduled to begin Thursday, June 9th at 2pm UTC and last until Sunday, June 12th at 2pm UTC. During this period you'll be able to enter your one-time use NFT Raffle Tickets into the Raffle for a chance at winning various Decorations.
On Sunday, June 12th at 2pm UTC the Raffle will close for new entries. At this time an automated drawing powered by Chainlink's random number generator (Chainlink VRF) will select the winners.
Don't stress if you can't be online for the closing of the Raffle. Winners can claim their prize anytime after the conclusion.

How
To participate, simply get yourself some Raffle Tickets.
There are two ways:
Lossless: Stake GHST > Make FRENS > Convert to Raffle Tickets > Enter Raffle
Degen: Visit Baazaar NFT Marketplace > Buy Raffle Tickets > Enter Raffle

Gotchiverse NFT Decorations
Decorations, like any Installation in the Gotchiverse, can be equipped anywhere on your REALM parcel. Just like other Installations, you can equip them on top of your floor tiles to really make your parcel pop!
So what exactly are the Decorations? Glad you asked fren, let's take a look:
ROFL Gnome
In real life, Gnomes watch over crops and livestock. In the Gotchiverse, ROFL Gnomes watch over Alchemica and Installations. They're also said to bring good luck, so maybe try installing one to see if it helps your Alchemica reserves once it comes time to survey your parcel. Whether it does so or not, the ROFL Gnome is a must have for any serious Gotchi decoration connoisseur.

REALM Globe
Aavegotchis travel far and wide, exploring the deepest corners of the Gotchiverse, participating in quests, and working together with frens. As such, the REALM Globe is a symbol of both travel and co-existence with fellow Gotchi-Kin. Winning a REALM Globe during the first Decorations Raffle could mean the world to some members of GotchiGang, or should we say it could mean the Gotchiverse.

Smol Flower
The Gotchiverse is rich with bright Alchemica rivers, magnificent landmarks, and flashy designs. How do you encapsulate all of this beauty onto one Gotchiverse Realm parcel? With a decorative Smol Flower of course! Win a few and you can even become the Gotchiverse's first gardener.

Laava Lamp
In the Gotchiverse, rituals are important. In fact your Gotchi prefers to engage in a solo Alchemical Channeling ritual once each day. When the Lodge comes online, having your frens over for a Communal Channeling sesh can lead to even higher yields. Regardless of which type of ritual you engage in, it's important to set the mood. This groovy Laava Lamp will do just that, setting the perfect vibe for any channeling sesh, solo or communal.

Neon Light
For GotchiGang, "GM" isn't just something we say, it's a way of life. I mean clearly, we didn't top the Discord GM Index for no reason. Now you can light up your Gotchiverse REALM parcel with a frenly Neon "GM" Light for all to see. Who knows, these bright lights may even help us top a future metaverse GM Index!

Caamp Fire
Picture this: your Gotchi just got done with a long day of farming, channeling, and warding off Lickquidators. They're tired, and their HP has dropped significantly. They finally make it back to the comfort of their parcel and just want to relax, count their Alchemica, and feel loved. The perfect spot for them to do so? Around a warm Caampfire of course!

Rarity Levels
Just like with Aavegotchi Wearables, these Gotchiverse Decorations will be available in the following rarity levels: Common, Uncommon, Rare, Legendary, Mythical, and Godlike. Each Decoration will have 1,000 Commons, 500 Uncommons, 250 Rares, 100 Legendary, 50 Mythicals, and 5 Godlikes.
In order to enter the Raffle for a specific Decoration, you will need the Raffle ticket that corresponds with the rarity of the item you are trying to win. For example, any Common Decoration will require a Common Raffle Ticket, Uncommon Decorations will require Uncommon Raffle Tickets, and so on. The more rare the Decoration, the bigger the flex!
Coming to the Aavegotchi Baazaar
As with all NFTs in the Aavegotchi ecosystem, these Decorations will be fully tradable. This means that even if you don't win during the Raffle, you'll soon be able to pick up a Decoration on the Aavegotchi Baazaar. The ability to buy and sell Decorations in the Baazaar won't be available immediately after the Raffle, but we'll have it live as soon as possible.
What's Next
The Raffle begins June 9th, which gives you plenty of time to start staking GHST and earning Raffle Tickets!
Visit https://app.aavegotchi.com/stake-polygon to explore the different staking options, including single-staking GHST, double dipping FRENS with APY from Aave with wapGHST, or providing liquidity on Quickswap and Sushiswap.

Then join the frenliest community in crypto at discord.gg/aavegotchi to keep up with all the latest news about Aavegotchi.

This will be the first of several Raffles taking place during #GotchiSummer so buckle up frens!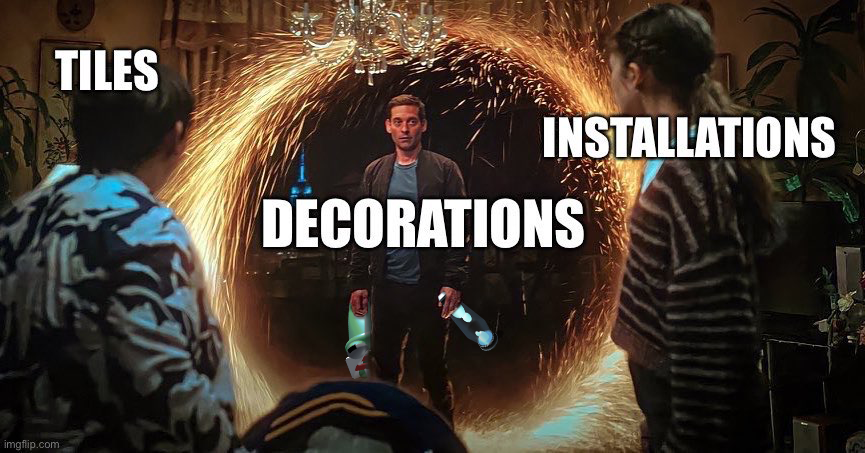 Stay Spooky,
The Aavegotchi Team
About the Gotchiverse
The Gotchiverse is Pixelcraft Studio's flagship title that celebrates the best of blockchain technology. The metaverse is built on Aavegotchi, an open-source, community owned, NFT gaming protocol that unlocks true asset ownership for gamers. In this spirit, The Gotchiverse is co-created with direct input from the community via AavegotchiDAO. Summon your first Aavegotchi today and meet us in the Gotchiverse!
Resources:
Official Website: https://aavegotchi.com/
Gotchiverse Website: https://verse.aavegotchi.com/
Official Wiki: https://wiki.aavegotchi.com
Blog: https://blog.aavegotchi.com
YouTube: https://www.youtube.com/c/Aavegotchi

Community:
Twitter: https://twitter.com/aavegotchi
Discord: https://discord.gg/aavegotchi
Telegram: https://t.me/aavegotchi
Reddit: https://www.reddit.com/r/Aavegotchi/
---
Subscribe
Join the newsletter to get the latest updates.
---