What if you could play your favorite games without any platform fees or restrictions? That's the future that HyperPlay aims to create, and we're excited to announce that Aavegotchi is joining them!
Spirit Force Arena, the first Battle Royale game from Aavegotchi, will list on HyperPlay with an exclusive early access DEMO version starting November 17th at 5PM UTC (9AM PST). Players can jump in, grab an Aavegotchi, and engage in a friendly match to the death to climb the leaderboards!
Why HyperPlay?
HyperPlay's role as a web3-native gaming pioneer aligns with Aavegotchi's vision to create fun, rewarding crypto gaming experiences. By integrating wallets, NFTs, tokens, and achievements across games, Hyperplay provides a seamless gaming environment for players.
The platform empowers both developers and players by providing its own in-app game store, the HyperPlay store, where developers are free from platform taxes and the censorship of big web2 monopolies. HyperPlay also aggregates Epic Game Store and GOG to give players the most options possible.
Furthermore, HyperPlay supports all Ethereum Virtual Machine (EVM)-compatible chains and integrates with MetaMask, offering cross-chain compatibility essential for seamless asset utilization and player flexibility.
Bolstered by a recent $12M funding round, HyperPlay will surely be a strong contender in the race to create a Web3-native gaming platform!
Partnership Details
Although Spirit Force Arena is still in early access demo mode, we are excited to begin soft-launching it to get feedback from players and grow its community.
Our partnership with HyperPlay includes:
Featuring Spirit Force Arena on the HyperPlay launcher
Showcasing SFA at the YGG Summit in Manila (Nov. 23 - 25)
Being selected as Top 10 new game titles on HyperPlay
Other co-marketing and co-branding activities
"HyperPlay is a fantastic platform to launch our demo version of Spirit Force Arena, as its built-in launcher allows us to reach a wide audience of gamers and Web3 enthusiasts," said coderdan, CEO of Pixelcraft Studios, the development team behind Aavegotchi.
"I'm extremely excited to welcome Aavegotchi into the HyperPlay ecosystem. Aavegotchi is a perfect example of why we want to create web3-native distributions channels that help gamedevs build whatever they dream. We're especially excited about to see their new game title, Spirit Force Arena, reach new heights in captivating a wider gaming audience. We are fully committed to supporting Aavegotchi in expanding its player base, enhancing player retention, and providing deeper player insights. It's thrilling to think about the future prospects for Spirit Force Arena, and we at HyperPlay are honored to be a significant part of this journey." - Jacob C, Founder of HyperPlay.

This soft rollout of Spirit Force Arena is just the first of many launches to come.
Subscribe to The Curve to ensure you get all the latest updates on gaming developments!
We'll see you on the launchpad frens!
Aavegotchi team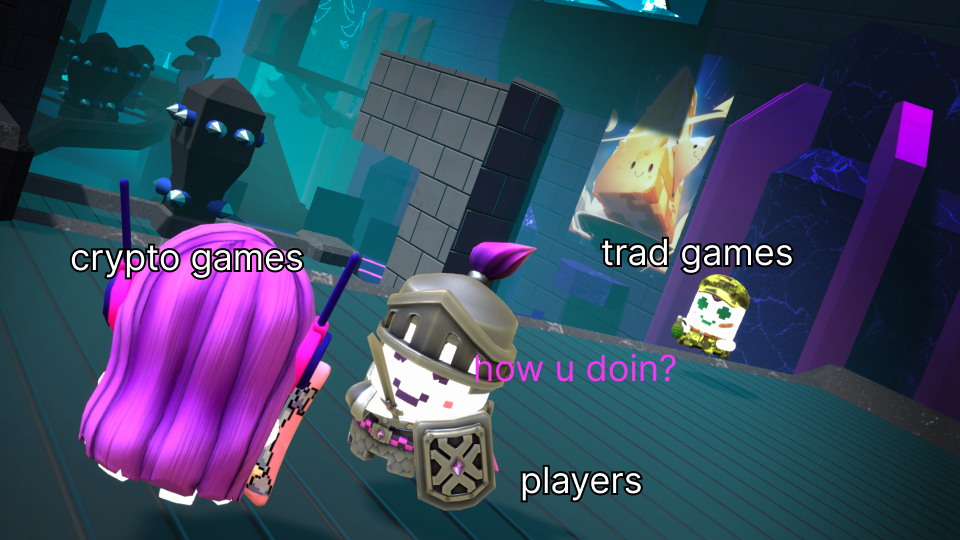 ---
About HYPERPLAY
HyperPlay is a web3-native game launcher that enables players to carry their wallet, NFTs, tokens, and achievements into every game. HyperPlay makes in-game wallet interactions seamless and intuitive.
HyperPlay aims to reverse the de-platforming of game developers and the monopolistic fees of web2 platforms. We provide a web3-native game store and aggregate the Epic Store and GOG, providing developers with maximal freedom to choose the store that works best for them.
About Aavegotchi
Aavegotchi is a community-owned gaming platform where players can game, earn, and make friends.
Powered by Web3 blockchain technology, Aavegotchi enables true asset ownership for players, heralding a new era of cooperation between developers and gamers.
Aavegotchi Resources:
Branding Kit: https://drive.google.com/drive/folders/1WVK2xDlQdKXpjNlVxrGAx3mUghrE81i0
Website: https://aavegotchi.com/Blog: https://blog.aavegotchi.com/Official Wiki: https://wiki.aavegotchi.com/Twitter: https://twitter.com/aavegotchiDiscord: https://discord.gg/aavegotchiYouTube: https://www.youtube.com/c/AavegotchiReddit: https://www.reddit.com/r/Aavegotchi/Telegram: https://t.me/aavegotchi
---
Subscribe
Join the newsletter to get the latest updates.
---