Gm Gotchigang!
We've passed the halfway point of the Year of the Gotchi, and our aavesome team has been working hard to push the Aavegotchi ecosystem to the next level!
In this month's dev update, we'll be covering the latest news on:
Gotchi Gaming
Gotchichain
Aavegotchi.com
Our EBIC brand refresh
The FIRST-EVER Aavegotchi comic book
…and of course even MOAR highlights and aalpha!
So let's get into it, shall we?!
GAMING
As we proudly announced at our third birthday party, the gaming industry legend Andy Tudor has officially joined the Pixelcraft Studios team as our Game Director for the Gotchiverse!
Andy's been in the industry for over 20 years, and his list of credits includes Fast & Furious, The Walking Dead, Need For Speed, Test Drive, and 24, as well as the crowd-funded and crowd-powered Project CARS.
Andy's games have sold over 20m copies, and now he's fully focused on web3 gaming and innovation – making him the perfect choice for Aavegotchi! You can read more about Andy's background and achievements here.
With Andy guiding the Gotchiverse's development, and of course Jason Slama (Director of Gwent, the Witcher card game) leading on Gotchi Guardians, we're now incredibly well-positioned to bring Aavegotchi gaming experiences into the mainstream.
Now, let's get into the weeds and see how the Gotchi Gaming sector is progressing!
The Aarena
Under Andy's leadership, in July the Gotchiverse team made huge strides towards building out a working Aarena prototype to "find the fun" quicker and get something out quickly that can be playtested by Pixelcraft Team members and the larger community.
After one month of intense work, we now have:
A game engine capable of producing multiple instanced battle rooms;
Rudimentary implementations of Aavegotchis and their traits in 3D, including movement speed, HP/AP, regen, and more;
A solid Aarena map suitable for deathmatch-style combat;
Flying Aavegotchis!
That's right frens, since we're in 3D and Aavegotchis are ghosts, it only makes sense that verticality is now a key component of the battle experience!
And speaking of gameplay, during our last team-wide playtest, the team recorded some videos to show off some very WIP combat to give the community a sense of what to expect in the first Aarena playtest.
No matter if your Aavegotchi is best suited for ranged or melee, offense or defense, there will be viable strategies for everyone to be Maaster of the Aarena.
But you won't be alone, dear Gotchis...
You'll also have to keep an eye out for Lickquidators, who'll constantly hunt for campers and attack any Gotchi that gets too close!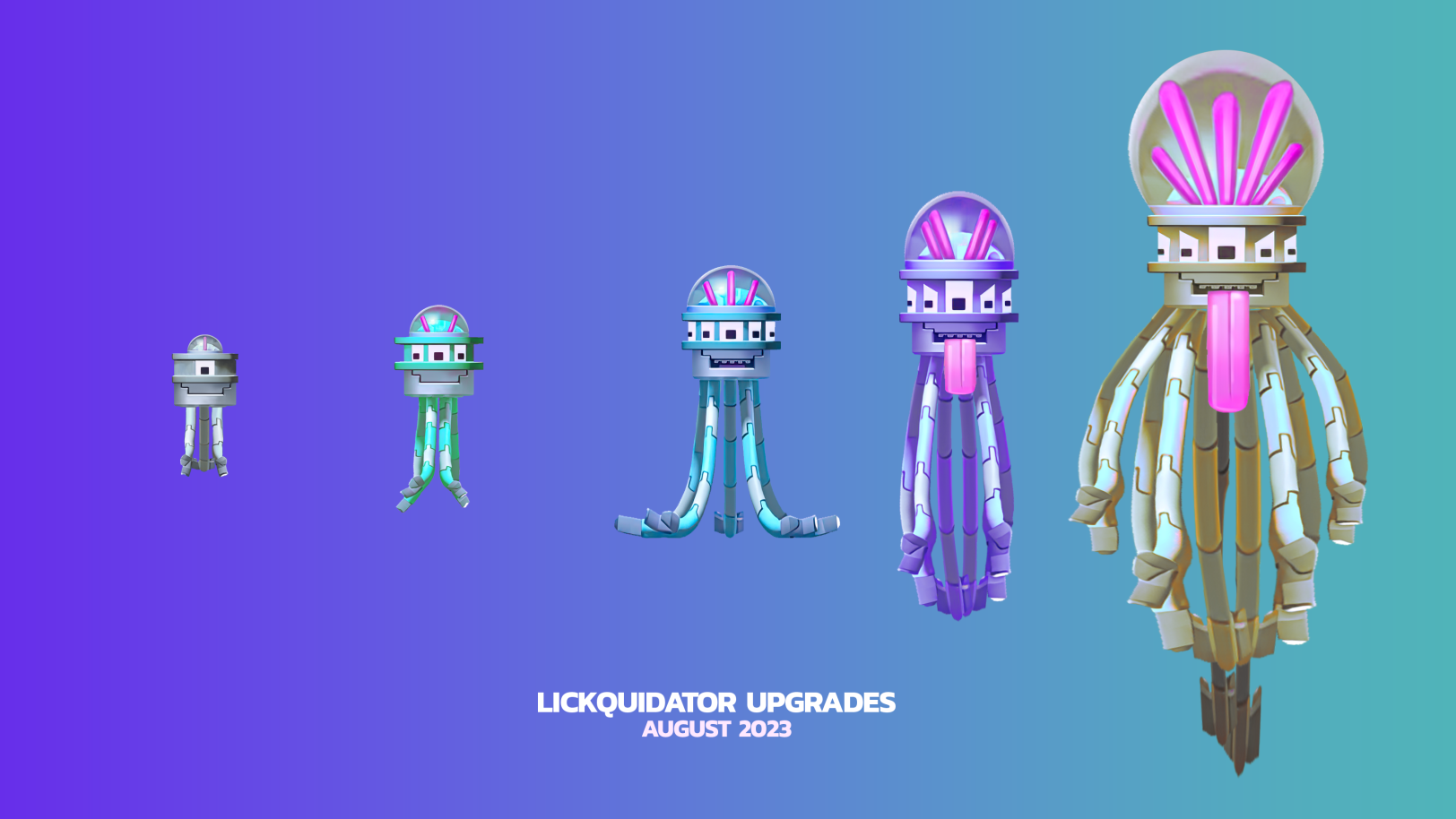 As the match progresses, the Gotchi Scientist-created "Proto-Lickquidators" will get stronger and stronger, until they all but overwhelm the poor Gotchi combatants.
All in the name of science and progress, of course...
Players will also have the option to purchase powerups and potions outside of the game using Alchemica tokens and bring a limited number of items into each match to help survive and outlast the others.
Overall, the Aarena is shaping up to be a unique combination of combat and crypto that is sure to excite both dilettantes and degens alike.
Playtest coming soon!
The Gotchiverse
Although the Gotchiverse team is primarily focusing on Aarena migration at the moment, important work in the Gotchiverse - the official Aavegotchi metaverse experience - is also happening behind the scenes.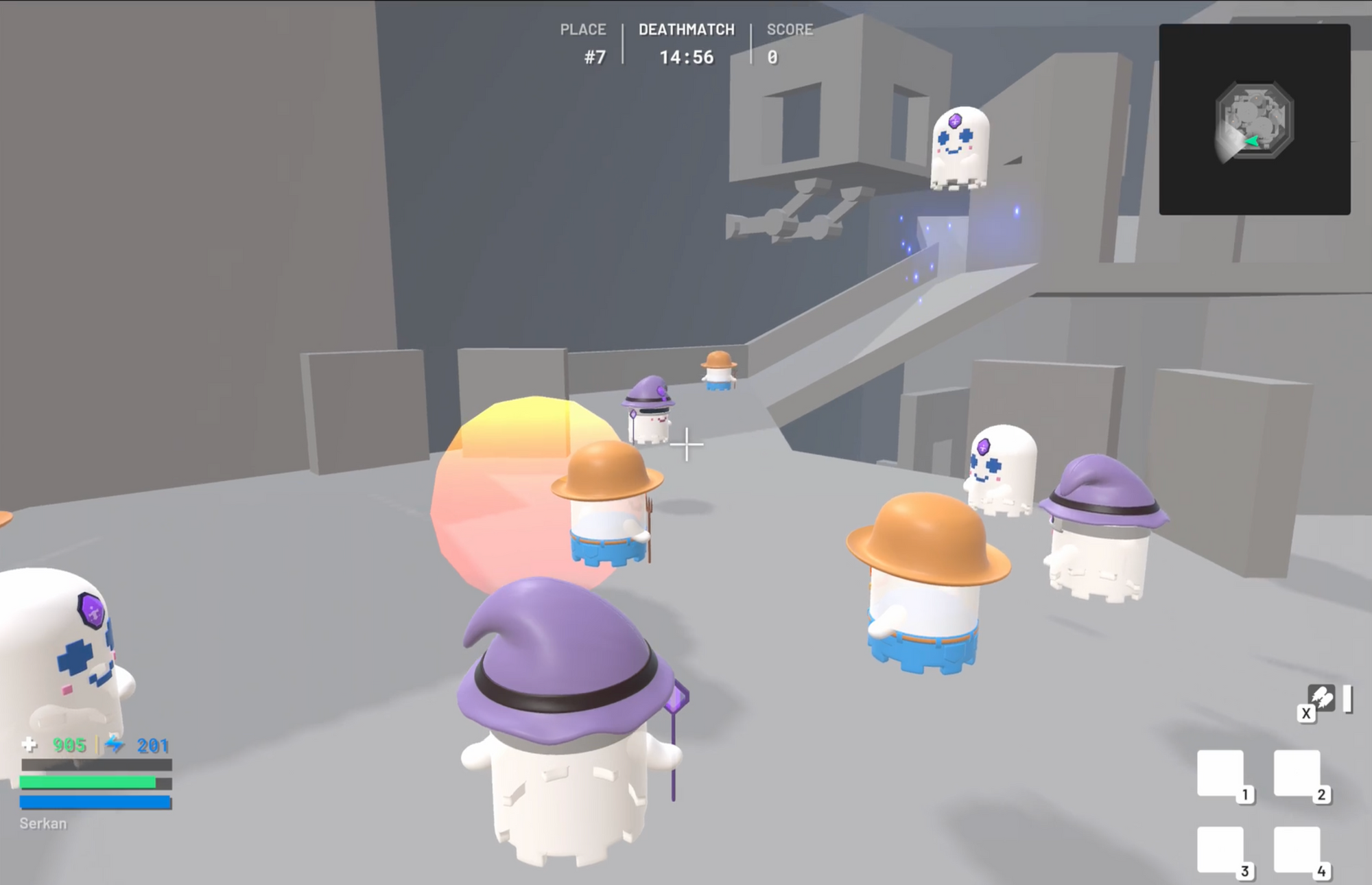 The art team is working hard to migrate all of the legacy Gotchiverse assets such as Aaltars, Reservoirs, Harvesters, etc. into Unity3D, and establishing a comprehensive Art Bible to guide the look of the Gotchiverse (and other 3D Gotchi games).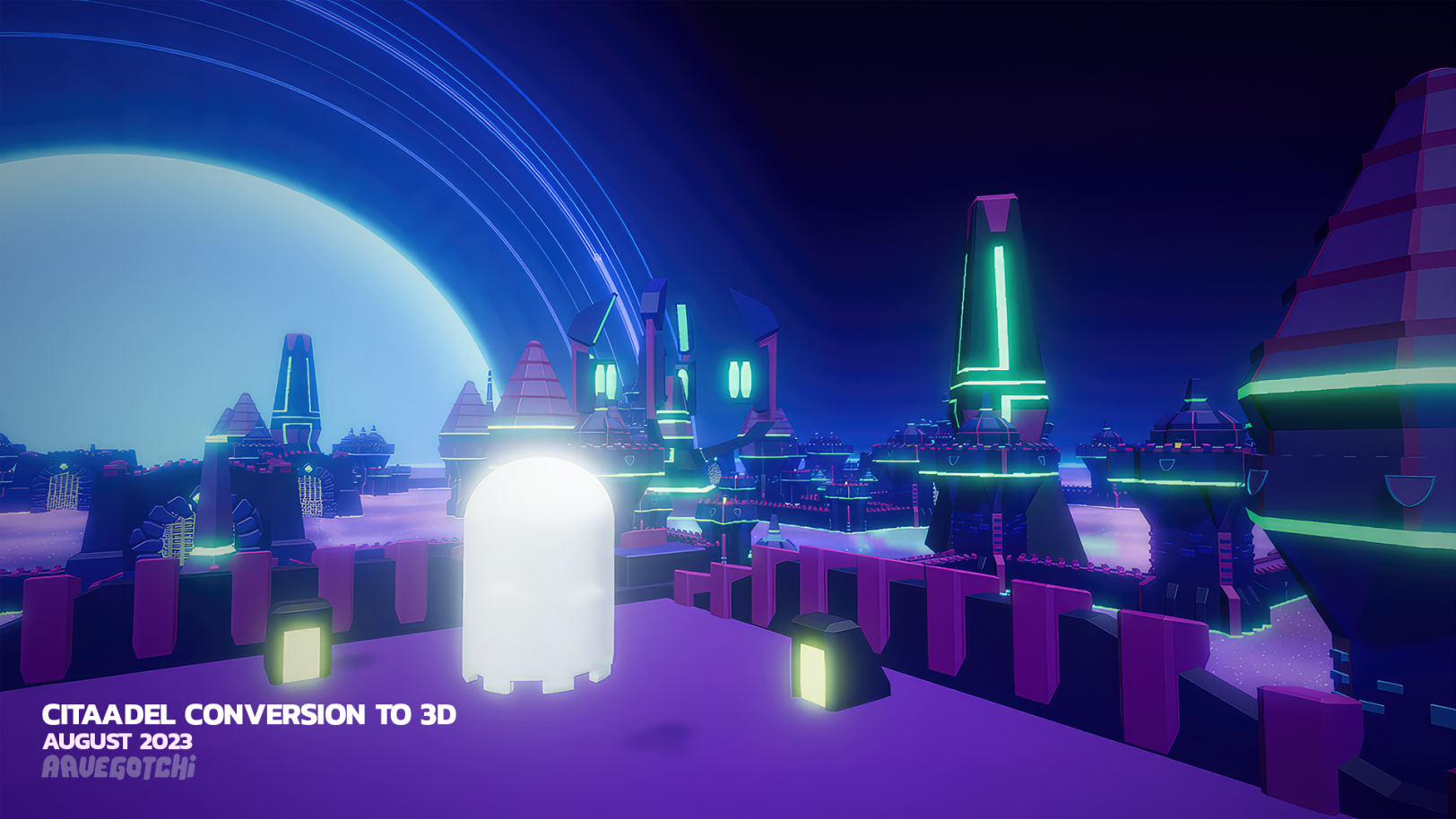 This Art Bible will ultimately be released to the community as an open-source project to help ensure that community developers have all the tools they need to design aavesome Gotchi games.
On the technical front, a large chunk of the work done for the Aarena will carry over to the main Gotchiverse, so the Gotchiverse is well on its way towards entering the Era of 3D!
Gotchi Guardians
As mentioned in last month's devlog, Jason Slama (Game Director for Gotchi Guardians) and our Co-Founder Jesse Johnson sat down for an early prototype gameplay demo!
Progress on Gotchi Guardians has been incredibly fast – and Jason's team have already created something fun and unique in a very short time. It's easy to pick up, challenging to master, and enables practically endless level configurations and strategies.
Watch the whole video update below, including:
Live gameplay footage of frenzied battles;
Our current prototype map and UI;
The strategic and economic aspects of Gotchi Guardians;
Brand-new Lickquidator designs, such as the fearsome Dire Tire!
Plus Jason picking the perfect time to play a prank on Jesse…
---
Like this content? Consider subscribing to The Curve, the official blog of Aavegotchi. It's free!
---
GOTCHICHAIN
The Aavegotchi solidity team has been hard at work during July preparing the Aavegotchi contracts for migration to Gotchichain, as well as testing the chain itself.
We had initially planned to have the full testnet launch ready in July, but due to some last minute issues with Polygon Edge, the release had to be delayed.
Despite this small setback, Gotchichain preparations are going well, and we have already completed:
A new bridge UI for bridging between Polygon and Gotchichain
Smart contract migrations for the majority of the Aavegotchi codebase and assets
Integration of $GHST as the primary gas token of Gotchichain
Deployment script for Gotchichain validators, nodes, and RPCs.
We still have one major announcement for Gotchichain incoming that we are syncing with the Polygon team on!
Make sure you're following the official Gotchichain account on Twitter/X for all the latest updates!
AAVEGOTCHI DAPP
The official Aavegotchi V2 dApp saw major milestones being hit this month, with the Kinship Burning upgrade going into effect, and Lending functionality being added to the V2 UI.
Note: The old V1 UI is in maintenance-only mode, and all major upgrades are happening on the new V2 client at https://dapp.aavegotchi.com.
Please bookmark this site and always visit it directly to minimize security risks!
The V2 team is currently working hard to add in the remaining Aavegotchi-related features to the V2 dapp, including: spending spirit points, equipping/unequipping wearables, and managing spirit force.
The Forge team has also been busy working on an updated Dressing Room addition to the new dapp.  
Once these updates have been complete, we are excited to apply the final layer of brand refresh to the Aavegotchi dapp, before finally open-sourcing it to the wider community!
AAVEGOTCHI REBRAAND
Our third birthday party was packed full of top-tier aalpha, including a big reveal six months in the making!
We finally unveiled the official Aavegotchi brand refresh, including a new logo, font, color scheme, brand kit…and of course the sleek new Aavegotchi website 😎
Now that our spectral frens are making the jump into 3D, it was time for our entire brand to follow. Hats off to our gigabrain designers for all the hard work that went into every detail of our new branding.
Want to use the assets?
Download our fully open-source brand kit here.
Feel free to use it however you like, as long as it's frenly 👻
COMIC BOOK
We officially launched MARGIN'S BLADE, the first-ever Aavegotchi comic book, at Comic-Con in San Diego this month!
From pool parties and 3D photo booths to hangouts and catch-ups with Gotchigang members old and new, Comic-Con was tons of fun – and our partners at VoyceMe are putting the final touches to the public release version of MARGIN'S BLADE as we type these words…
For a sneak preview of the lore behind MARGIN'S BLADE, take a look at this preview thread:
And if you'd like to grab your very own limited edition of the Margin's Blade prologue, here's how:
Make sure to stay tuned for more updates on Margin's Blade!
AAVEGOTCHIDAO
Thank Aavegotchi – Powered by Thrivecoin
Season 2 of our Thank Aavegotchi rewards program started this month, with a total of 15k GHST available to reward contributors to the Aavegotchi ecosystem!
0VIX Conclusion
AavegotchiDAO voted to return the funds it received from Gotchi Vault back to a multisig owned by 0VIX, Hamzah Khan from Polygon, and Benjamin from Qidao. The funds were transferred successfully, closing out the final chapter in this tumultuous saga.
New Schematics
The DAO voted in AGIP89 to add new 14 schematics that will help balance the trait meta.
Gotchi Crawler
Oliver Spoon's "Gotchi Crawler" game reached quorum on its sigprop and is now moving to CoreProp! Vote on it here to score some yummy XP for your Aavegotchis.
PAARTNERSHIPS
We're Coming to SmartCon 2023!
Aavegotchi will be almost everywhere at Chainlink's SmartCon event this year!
Coder Dan and our CMO Nigel Carlos will be speaking on at least two panels at the main event – and we'll also have 4 Aavegotchi game demo stations at the PreGame satellite event, which is FREE entry!
If you're coming to SmartCon, come say hi – and even if you can't make it, you'll be able to watch our panels (live and recorded) through Chainlink's YouTube channel.
The Gotchi French Army Prepares to Ship on The Sandbox
This year's EthCC conference in Paris marked the perfect opportunity for the Gotchigang to make a huge impact, as the awesome band of developers known as Gotchi French Army (GFA) debuted live gameplay on the showfloor alongside the Sandbox team.
The game, introduced as "Enter the Gotchiverse", offers a series of challenges for players to achieve as they explore the Gotchiverse. Specifically, the Citaadel and at least one "entirely new location of the Gotchiverse'' are confirmed to be included in the experience. Solo and multiplayer modes are being developed, although it's currently unclear if the first release will include both.
"Enter the Gotchiverse" is slated to go live this Q3, during the upcoming season of new Sandbox experiences (dates TBA).
Check out the tweets below for some cool pics from EthCC – including a very special Aavegotchi moment!
---

Welp, that's all for this month's dev update frens!
Remember to subscribe to The Curve blog to get email updates directly into your inbox, and join the Discord to attend our weekly Saturday hangouts where you can get all the alpha firsthand from Coderdan and Gldnxross!
Stay aavesome!
Aavegotchi team
---
Subscribe
Join the newsletter to get the latest updates.
---