Henlo Gotchigang!  
Gotchi Summer 2023 is in full swing so we're coming at you with another sizzling update straight from the standing desks of our lead shippooors.
In this post, we'll be sharing the progress we've made on:
Aavegotchi.com improvements
3D Aavegotchis
the migration to Unity for the Gotchiverse;
custom metaverse builds for our first 3D Gotchi meetup;
Gotchi Guardians and Gotchichain updates
June highlights
...and much much moar!
If you enjoy these updates, remember to sub to The Curve, the official newsletter of Aavegotchi, to get them delivered straight to your inbox!
AANNOUNCEMENT: Aavegotchi 3rd Aanniversary Birthday Party Incoming!
The first Aavegotchi was officially brought into this world as pixel art on July 7th, 2020 by the maestro himself, Xibot!
So much has happened in the three years since that inception, and we are truly blessed to have such an amazing community and team committed to helping our spectral frens find their way in our world.
Of course, anniversary means celebration, and we are excited to announce the official 3rd anniversary birthday party, to be held on July 8th, 2023 at 2PM UTC in the Aavegotchi Discord.
This is going to be one for the history books frens, so you definitely won't want to miss it!
NoFuturistic over at Music City Gotchi Gang will also be streaming and recording the event, in case you can't make it.
RSVP for the event in Discord here
And now, on to the dev updates!
AAVEGOTCHI DAO
Thank Aavegotchi – Powered by Thrivecoin
In June, AavegotchiDAO voted to fund a pilot for community bounties called Thank Aavegotchi, to recognize and reward contributions to the Aavegotchi ecosystem. However, community bounties are just the beginning! We are also encouraging builders to get involved with The Voltron Hackathon. This initiative aims to unite the devs of our ecosystem and harness their gigachad energy to create something truly spectacular for all gotchi-kind.
By gathering the brightest minds in the Gotchigang, we plan to establish best practices and coding standards for Aavegotchi tools & games to ensure the best chance of interoperability moving forward.
Alchemica Re-rolls Incoming
The DAO also voted to schedule regular Alchemica rerolls on Gotchiverse REALM parcels. Pixelcraft will be adhering to the wishes of the DAO and the first of these re-rolls is scheduled for July 1st, 2023. Subsequent rerolls will occur every 3 months thereafter.
Kinship Burning for Channeling
This feature voted on by AavegotchiDAO is nearing final steps for implementation and is scheduled to go live in early-mid July after final testing.

AAVEGOTCHI DAPP
Introducing Offers
Finally, Offers are here! When Aavegotchi first launched on Polygon (known as Matic back then) there was no marketplace on the chain, so we had to create our own.
We started with a simple idea – allowing sellers to list items they wanted to sell for a fixed price. In early 2023 we began adding GBM Auctions to the Baazaar, and with Offers, we complete the trinity of features that turn the Baazaar into a fully-functional onchain marketplace.
What are Offers?
With Offers, anyone can place a "buy order" on any ERC721, including Aavegotchis, Portals, REALM Parcels, and FAKE Gotchis (coming very soon).
Buy orders are fully funded, meaning that your GHST is transferred to the Baazaar contract when the offer is made, similar to how offers work on OpenSea.
When an Offer is accepted by the seller, the GHST is transferred from the contract to the seller, and the NFT is transferred to the buyer, all completely trustlessly.
We are rolling out this feature to initially support ERC721s only, but ERC1155 order books are under development as well!
Using Offers
To get started, open an ERC721 NFT detail page then click on the 'Make Offer' button. This will open the slide-in drawer where you can enter the amount you'd like to offer for the asset.

IMPORTANT NOTE: For Aavegotchis, Offers by default have built-in protection from status changes and wearable unequipping. This means if you place an Offer on a Closed Portal and the owner opens it, your offer will be invalidated and you will need to cancel it manually.
Likewise, if you place an offer on an Aavegotchi with a particular BRS and the owner changes its BRS (by equipping or unequipping wearables, or by spending a skill point) the offer will also be invalidated.
These are special features that OpenSea and other NFT Marketplaces do not offer and yet another reason why we prefer to keep our trading within our own ecosystem!
A New User Profile Page
Keeping in line with our vision to make the new Aavegotchi V2 dapp more social, we have shipped the first version of the publicly-sharable "Me" profile page, an all-in-one dashboard that contains details about all of your assets, offers, listings, sales, and purchases.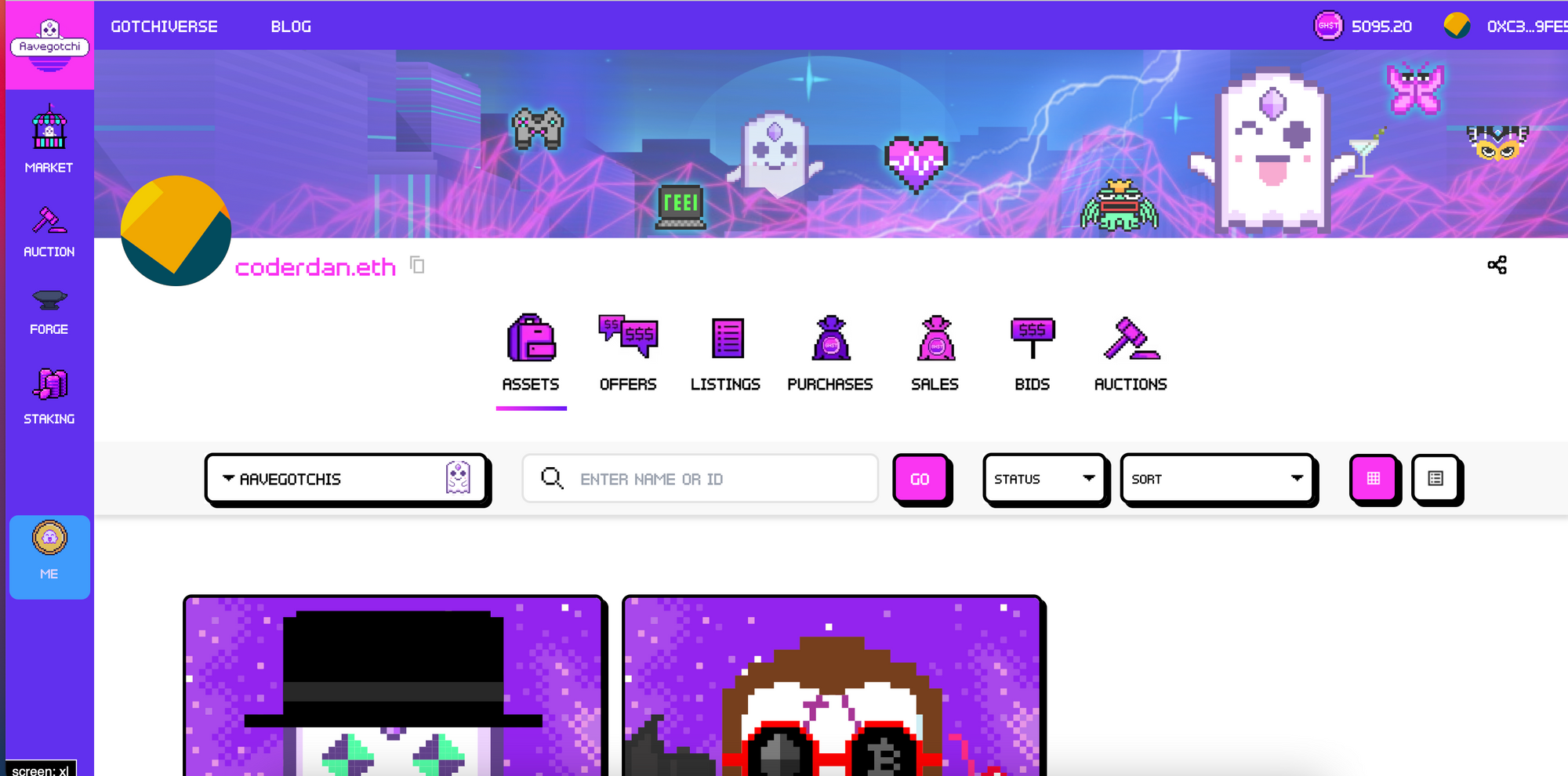 We will continue adding features to this dashboard, and as always, we welcome feedback from the community!
GOTCHICHAIN
Our developers have been hard at work preparing all of the Aavegotchi core contracts for bridging to Gotchichain. We also have some major announcements being prepared that relate to Polygon and Gotchichain, but we'll have to wait a bit longer to reveal them publicly.
Major progress is being made behind the scenes on Gotchichain that will be discussed more thoroughly in next month's dev update!

3D AAVEGOTCHIS
Gotchi Guardians Game Director Jason Slama has been making huge progress on bringing our spectral frens to life in 3D.
Initial prototypes of each of the Collaterals is complete, and he and his team are now working on converting the eye shapes to 3D.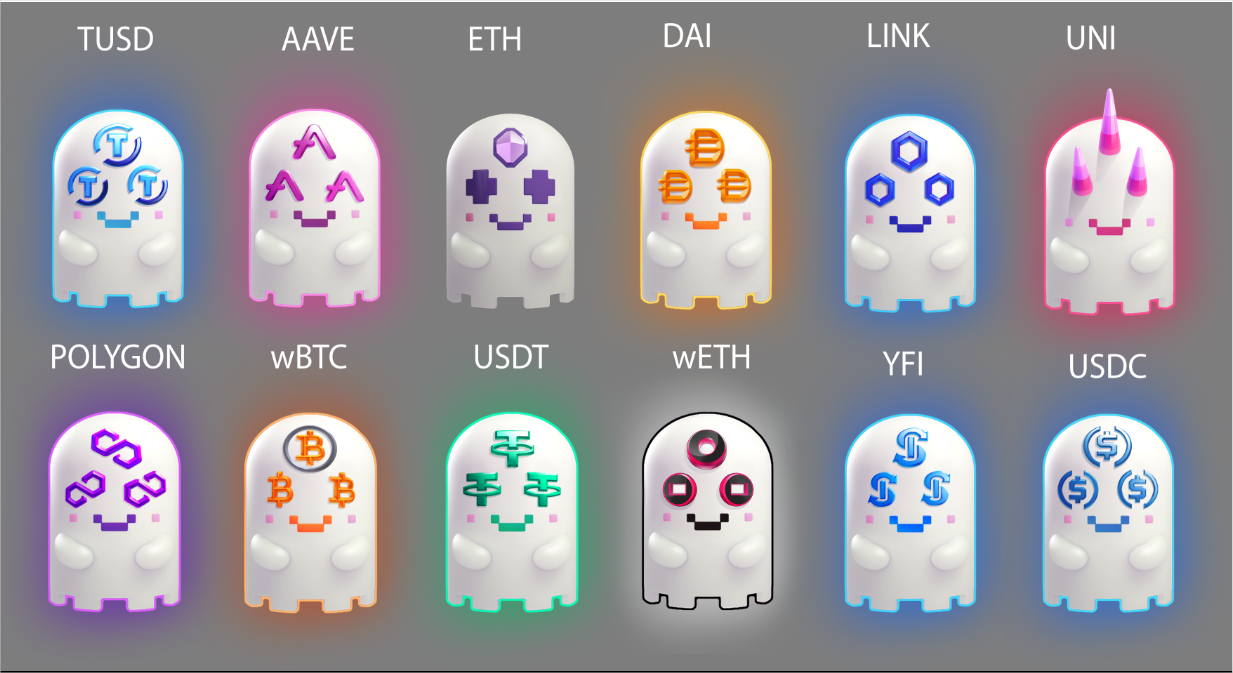 In addition, they've also been experimenting with basic rigging and animations to allow Aavegotchis to express themselves!
Finally, we also have a special sneak peek at what Wearables may look like in 3D (feat. Citaadel Knight set.)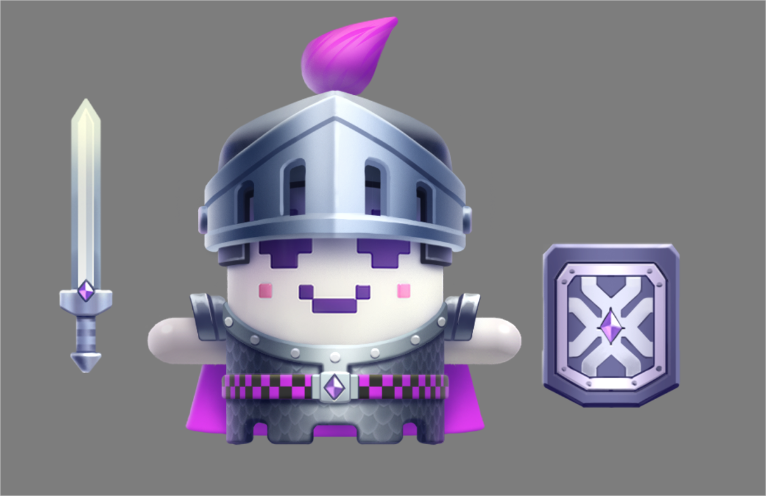 Of course, these are all still very much WIP and will likely improve dramatically before the final cut!

GAMING
Partners
June was an exciting month, with multiple big integrations realized:
Monaverse
First, we had the first preview of Aavegotchis in 3D held in the drop-in metaverse platform Monaverse. For the first time in
Aavegotchi history, collectors and players were able to interact and socialize with 3D Aavegotchis in the verse. We invited frens far and wide to the longest-running metaverse meetup and step into a drip 3D aavatar to hang out, play interactive games, hear the latest alpha from gldnXross and enjoy a live music performance in the after party.
To give everyone a taste of the 3D world we are migrating to, our team and a host of talented artists produced an immersive, live metaverse experience.
The Sandbox
In our weekly Gotchigang Hangout, The Gotchi French Army dropped some surprising, but ebic news on a partnership to allow every Gotchis holder to have a 1:1 native avatar, with their wearables, replicated in The Sandbox. Here is a clip of the announcement
By the time you read this, the first snapshot will likely have been taken, but there will be many more chances in the future to dress your Aavegotchi up for The Sandbox!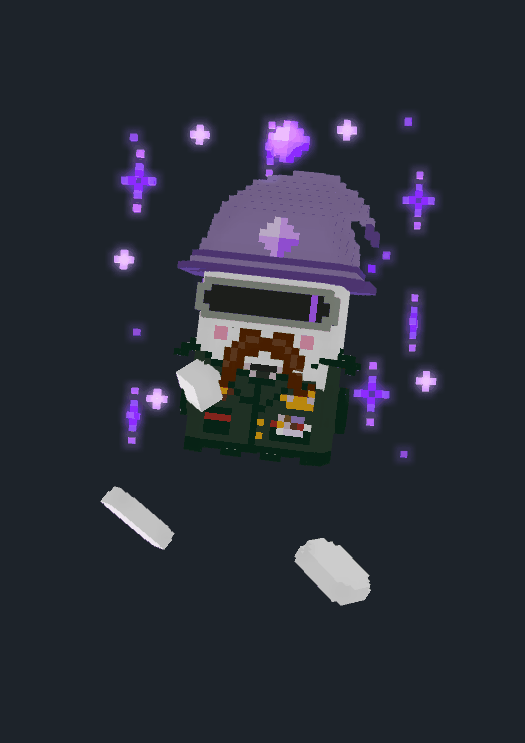 The avatars travel alongside the Aavegotchi when it's traded, so no need to worry about claiming an airdrop!
Outreach
The Pixelcraft Studios BD team is hard at work making connections with teams and partners. BD Lead Jason (@LostLocal) spread the Gotchi gospel at 3XP, hosted a mega Twitter Spaces show live from the event and made solid connections that we are continuing to follow up on.
We also continue to build strong relationships with other gaming studios, guilds and platforms. Watch this space.
From the Aavegotchi community, we also had a successful sigprop by Immaterial pass to build "Gotchi Battler". CoreProp coming soon!
Gotchi Guardians
GG Game Director Jason Slama (previous CD Projekt Red) has found his stride this month and is making solid progress on the look and development of Gotchi Guardians.
Pixelcraft COO Jesse (@gldnxross) will be sitting down with him later in July to do a full gameplay preview, but for now, he has shared some titillating tidbits to whet your appetite for the full preview:
And just look at the beautiful level of detail he's putting into this – even the tower animations are gorgeous!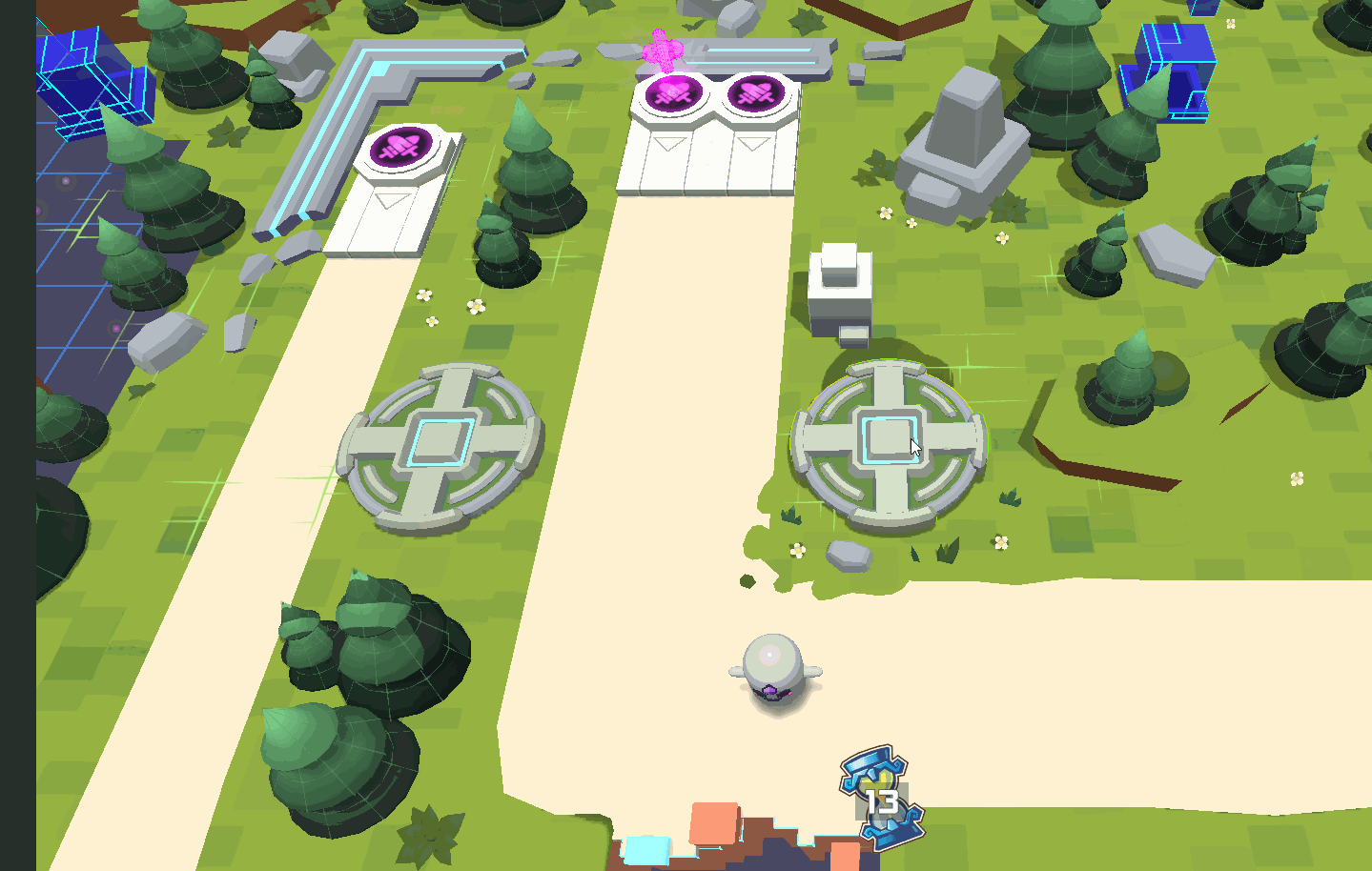 Finally, a preview of some concept art by Gotchi Guardians illustrator Davide for the "Dire Tire" – a lean, mean, licking machine: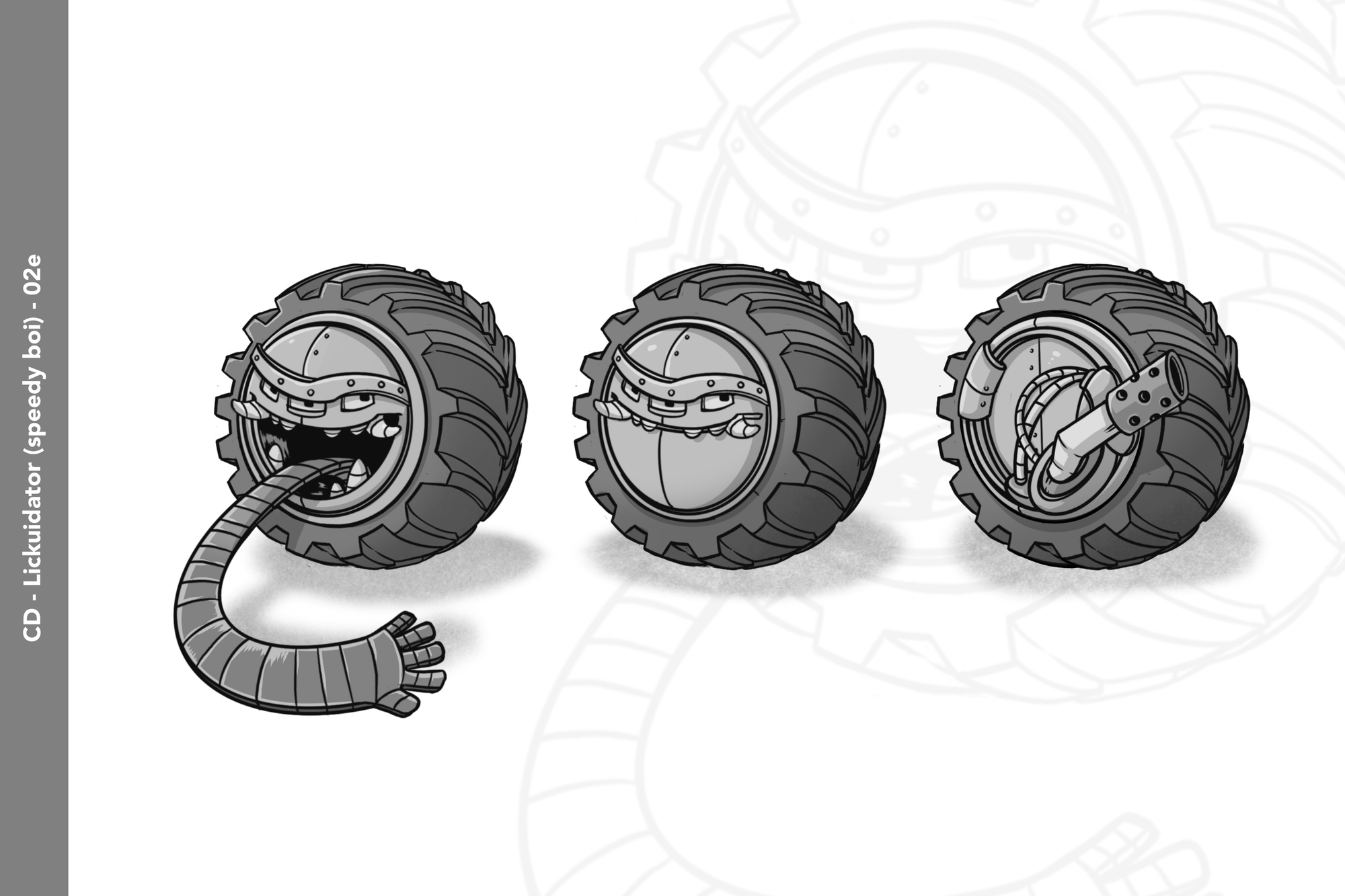 Remember to subscribe to the official Aavegotchi Youtube channel and hit the bell for notifications when the fireside chat video goes live!
Gotchiverse
In last month's devlog we shared the thinking and testing process behind our migration from the original pixelated 2D Gotchiverse, that we've all come to know and love, to a fully textured/rendered 'metaverse-ready' 3D home for our beloved spirit frens.
The first stage in this process is migrating the Aarena to 3D and launching it as a standalone experience (working title: Gotchi Brawlers).
Rapid progress is being made on this front, and we recently integrated a Unity Photon framework for multiplayer arenas called BR200 that will dramatically improve performance and reduce development time.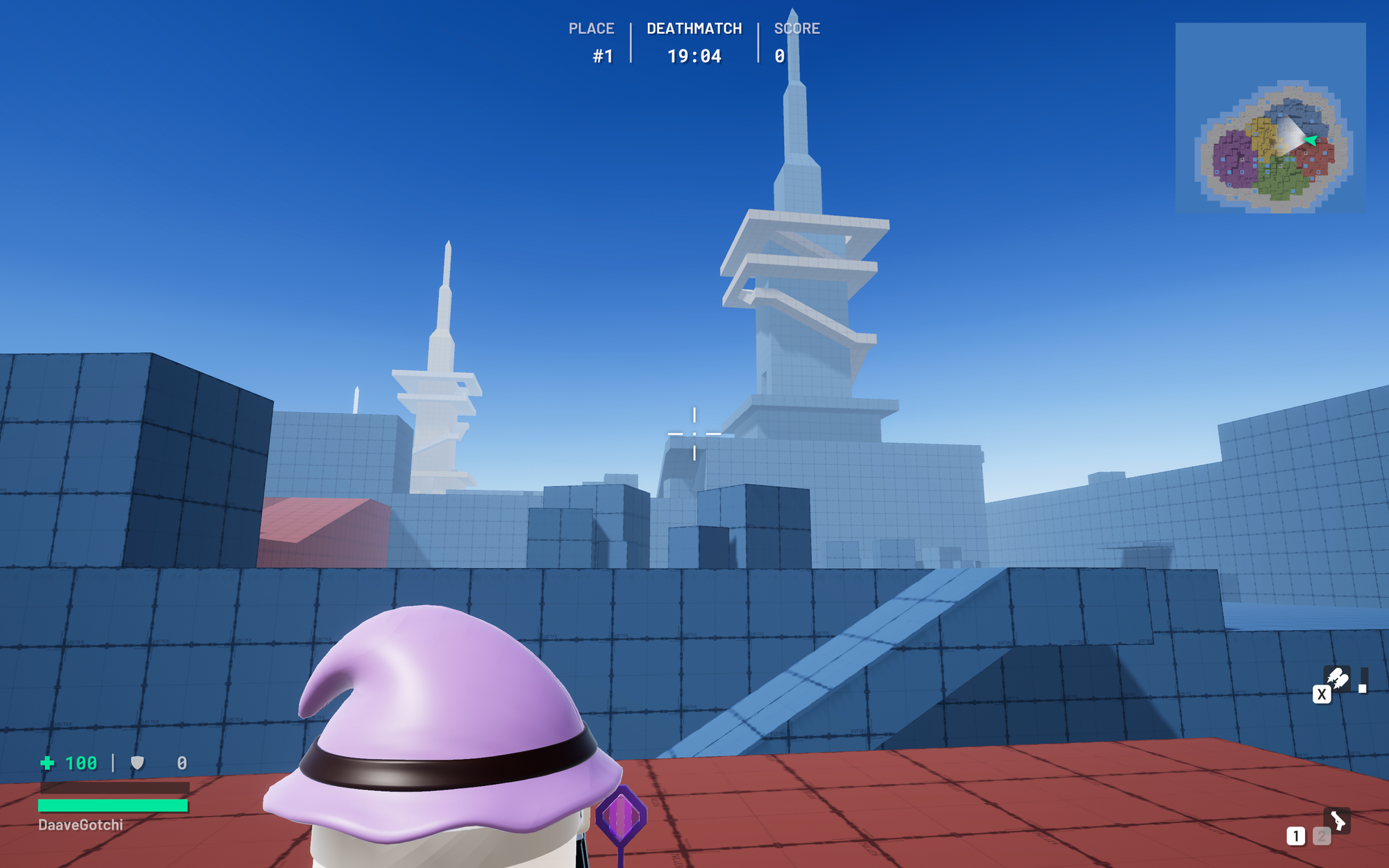 Our design team has also been busy creating new screens for Matchmaking and Room creation (still WIP, of course):
Wen Aarena playtest?
Over the next few months, our focus will be on building out the 3D Gotchiverse Aarena and preparing for an open playtest.. We can't wait to invite the community to experience the game firsthand and gather valuable feedback to enhance gameplay and address any remaining issues.
As you can see, we're 'all in' on a successful migration to Unity, and we appreciate your ongoing patience and support.  Stay tuned, or better yet, make sure to subscribe to this blog to get more updates, visual teasers, and exciting announcements delivered straight to your inbox!
What about the Citaadel?
Pixelcraft artists have already begun prepping the legacy Gotchiverse assets such as Harvesters, Reservoirs, Altars, etc. for use in Unity3D.
In parallel, we're also testing our Photon backend for compatibility with the "open-world" we envision for the Gotchiverse.
More updates on that front coming in next month's dev update!
…One More Major Aannouncement
Finally, we have one more big announcement for the Gotchiverse, but we're saving it for the birthday party.
Gotta show up if you want that AALPHA! 👀
Conclusion
That's all frens!  Thanks for getting this far, it's been a jam packed month and there is so so so much moar to come…
Remember to subscribe to this blog to get the latest updates delivered directly to your inbox.
Oh, and…stay AAvesome frens!
Pixelcraaft Studios Team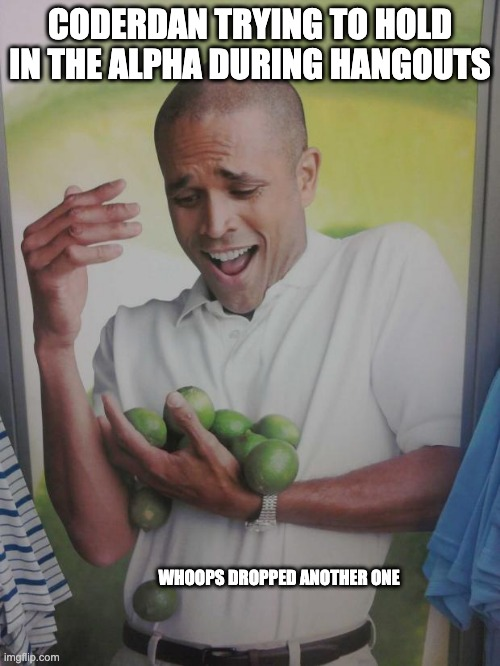 See you at the bday paarty!

---
Subscribe
Join the newsletter to get the latest updates.
---