Henlo Gotchigang 👻
Another month, another step closer to realizing our dream of bringing Gotchi Gaming to the masses!
Gotchi Devs have been sprinting through keyboard-melting coding sessions this month as we race to meet some important deadlines.
How did they do? Read on for the latest developments on:
Gotchi Gaming
Gotchichain
The latest AavegotchiDAO and dApp updates
The webcomic release of Margin's Blade
FAKE Gotchis taking over Chicago and the metaverse
Loads of exciting partnerships and events
Even MOAR aalpha
And…
…keep an eye out for the BFG! 👀
Ready, set, Gotchi!
GAMING
The Aarena
Over the last month, we've completed a full balancing pass on the first Aarena map, further improving the gameplay. Pay attention and you will notice menacing Lickquidators beginning to populate the map as well!
We've also introduced special weapon blocks that will drop from the sky occasionally. The weapon you collect from a block will depend upon a combination of luck and your position in the leaderboard (like in Mario Kart). So if you're in last place, you'll be more likely to get a very offensive weapon – but if you're at the top of the leaderboard, you'll get something more defensive.
Regardless of what you pick up, there'll always be an advantage to having a special item – whether it be a really big gun, a powerful sword, a forcefield, or a grenade bomb (to list a handful of examples).
Special weapons will definitely come in handy when you encounter Lickquidators, the Gotchis' arch-enemies! These terrifying monsters are now running and active in the Aarena, acting in a similar manner to a storm in Fortnite or a gas cloud in Call of Duty – but the Lickquidators will be far more interactive, as they hunt down your Gotchi and prevent campers from getting too comfortable.
Lickquidators currently have three modes:
"Idle Mode" (floating around);
"Alert Mode" (when they've seen your Gotchi and start chasing it);
"Evasion Mode" (when you've managed to hide from a Lickquidator, and it tries to work out where you've gone).
With Lickquidators causing chaos all over the Aarena, no two battles will ever be exactly the same!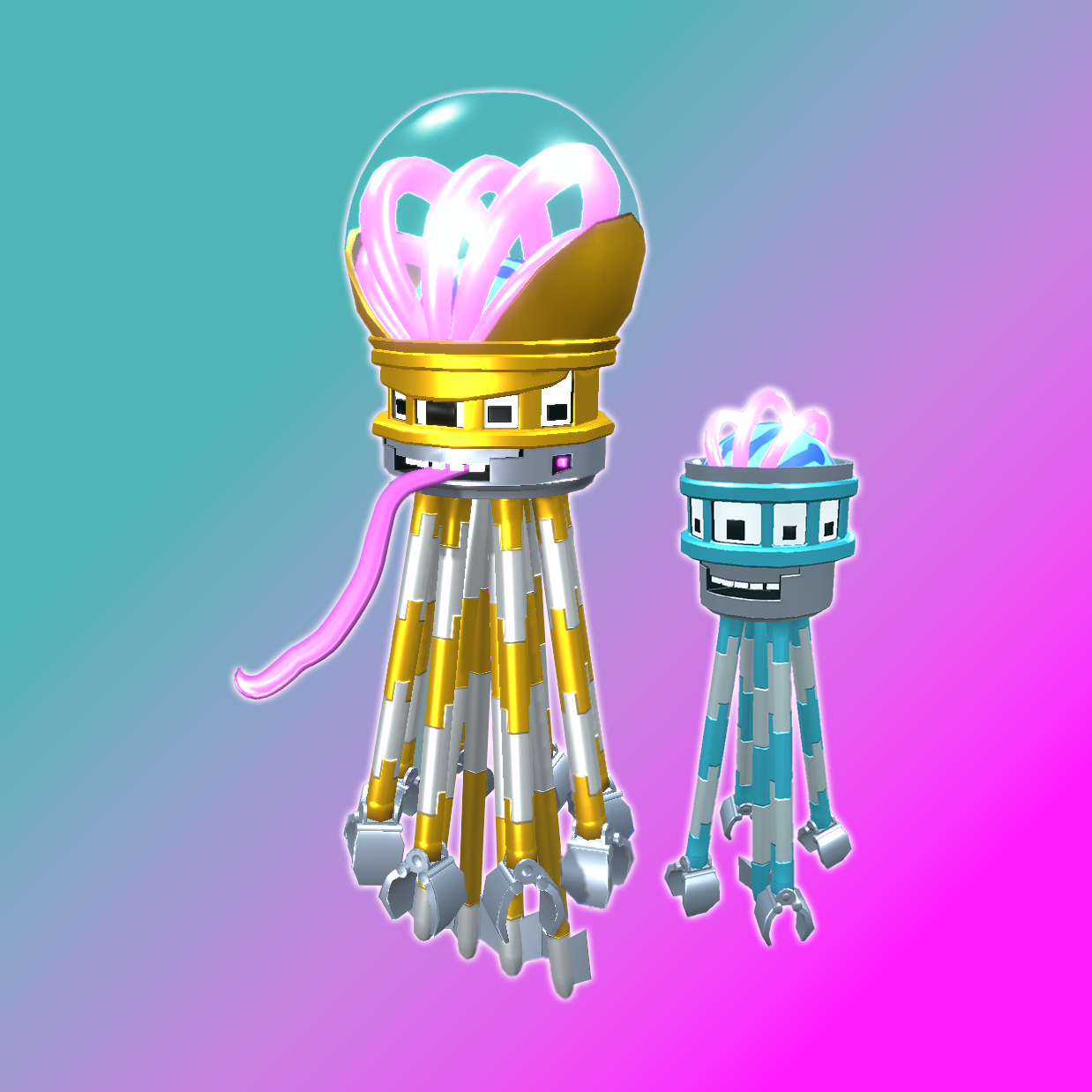 Speaking of Lickquidators and chaotic battles, it's time for a closer look at…
Gotchi Guardians
The Gotchi Guardians team – led by Jason Slama – have made some serious progress over the course of August. In particular, they've been focusing on critical features, visual details, and gameplay nuances that will make it easier to keep track of what's going on, even during the most hectic of tower-survival battles.
In that spirit, they've created a powerful upgrade system for both towers and Lickquidators that allows the team to tweak and improve them quickly. The power level of each tower and Lickquidator will be reflected in their color schemes, which match existing Aavegotchi rarities:
Level 1 (Purple)
Level 2 (Teal)
Level 3 (Blue)
Level 4 (Yellow)
Level 5 (Pink)
Level 6 (Green)
This worked particularly well for the Rofl Launchers, as these little guys now match the pet wearable designs, including wings and crowns where appropriate!
We've also increased the number of leaves as each tower levels up, making it even easier to track the current level of your Rofl Launchers:
For the Lickquidators, we've implemented two new designs which will remain shrouded in mystery for now. We'll reveal more alpha about them in our third Gotchi Guardians Devlog, so make sure you don't miss it!
In the meantime, we've added rarity color indicators to the Lickquidators' health bars and holograms, with more indicators (on the Lickquidators themselves) currently under consideration. This way, you'll be able to easily identify how powerful each enemy is – and adjust your strategy accordingly.
Although they occupy different gaming genres and have their own unique qualities, the Aarena and Gotchi Guardians will also share in-game assets – from Rofls to Lickquidators, weapons, and more! This is an important part of creating a seamless Aavegotchi gaming universe – a true metaverse where every game and world feels like part of a larger whole.
And hey – while we're talking about the metaverse, we can't forget…
The Gotchiverse
The way the Aarena develops will ultimately determine some fundamental aspects of the Gotchiverse, such as its art style and the way it feels to navigate and interact within the 3D version of our metaverse.
We're now in the process of taking all 400 Gotchiverse assets and placing them into a mockup version of the Citaadel and District 1. This is to understand how big these assets will be, what a 3D version of a land parcel will look like, how an asset like an Aaltar progresses through its upgrades, and how everything will look as one complete metaverse environment.
With so many reference sources to work from – including our community-made environment in The Sandbox, the Gotchiverse's original concept art, and the cinematic trailer for the Gotchiverse – we really can't wait to bring you the ultimate version of the official Aavegotchi metaverse!
---
Want the alpha first, directly in your inbox?  
Subscribe to The Curve, the official blog of Aavegotchi.
It's free!
---
GOTCHICHAIN
We're at a crucial and very exciting stage of Gotchichain's development right now, because we're setting up the testnet!
We anticipate having the testnet live in September, subject to some further technical considerations recommended by the Polygon team.
For some extra alpha about Gotchichain (and everything else we're working on), check out Pixelcraft Co-Founder Gldnxross's interview with one of our favorite influencers and Gotchi OGs, CAGYJAN:
The Gotchichain discussion starts at 7:52 (covering scalability, our partnership with Polygon, GHST's role as Gotchichain's gas token, and more).
AAVEGOTCHI DAPP
The alignment between V2 and V1 of Aavegotchi.com is almost complete – but that's not all!
You'll soon be able to dive into a fully rebranded version of the dApp that'll match our new 3D brand aesthetic. This will be a huge facelift and UX improvement, and we can't wait for you to check it out.
Make sure you're following Aavegotchi on X to catch the latest updates!
COMIC BOOK
Following its debut at Comic-Con, the MARGIN'S BLADE webcomic release on Voyce.Me was a big success! We're now planning our next steps, as we bring you even deeper into the lore of Aavegotchi.
Physical prints of this original run are limited to 100 – and only a few are still available for Aavegotchi Store customers who order more than $100 USD worth of Gotchi merch!
AAVEGOTCHIDAO
Gotchi Crawler
Oliver Spoon's "Gotchi Crawler" has officially passed the CoreProp stage, and we're really excited that this game will be funded by our DAO and become part of the Aavegotchi ecosystem!
You can learn all about Gotchi Crawler and Oliver's game proposal through AGIP 91 on Snapshot, and follow Oliver's development progress through his X profile here.
Alchemica Spending Competition – Season 3
This competition has now gone live, and ranks the addresses that spend the most Alchemica over the course of two one-week rounds. The winners will get some amazing prizes; for full details, check out AGIP 93.
The Forge Update
The Forge Team's latest in-depth proposal passed as AGIP 90, covering:
Multi-tier-rarity geodes;
Schematic distributions;
The last non-drop ticket raffle.
Read through the full update here!
PAARTNERSHIPS
Coming Soon: SmartCon 2023
Our frens at Chainlink granted us some speaking slots at SmartCon Barcelona this year – and we'll also be at the FREE ENTRY PreGame satellite event, where you can play some special Gotchi Gaming demos and meet our team!
You can grab tickets for PreGame here – stay tuned for more news about our panel appearances and conference preparations!
FAKE Gotchis IRL & Metaverse Showcase
Our frenly karmic art experiment, FAKE Gotchis, landed in Chicago for an ebic IRL art showcase, courtesy of imnotArt, one of the world's premiere digital art galleries!
The event also featured a 1:1 version of the gallery in the Voxels metaverse – so Gotchigang members could join the fun from across the world.
Xibot, Coderdan, and Gldnxross all made it to imnotArt's IRL gallery in person, making this a truly special evening.
Rare Evo
Our team outdid themselves at Rare Evo in Denver, creating a jaw-dropping new Aavegotchi booth and a 3D-printed Big Frenly Gotchi (BFG)!
We made loads of new frens, so look out for brand-new interview content coming soon!
Gotchis in Canada 🇨🇦
Our guerrilla Gotchi team stopped by the Blockchain Futurist Conference in Toronto, to mix and mingle with our fellow builders!
FWB Fest
As if three North American IRL appearances weren't enough, we also popped up at the super-exclusive FWB Fest in California! A big shout-out to the teams at Polygon and Uniswap for the collab opportunity and making us feel welcome 💜
Running Pops
Aavegotchi is an official Season 2 partner of the thrilling free-to-play infinite running game Running Pops! Our partnership will include:
Integration of 3D Gotchis within the game environment
Custom character animations
A dedicated mini-tournament for the Aavegotchi community
In-game ads for Aavegotchi
A feature spot in Running Pops' upcoming animated series (scheduled for Q1 2024)
The next full-scale Running Pops tournament will also include a 1 BTC prize for the winning community's treasury, as well as individual player rewards!
Game Launcher Partnerships
One trend we're following closely is the proliferation of Web3 game launchers competing to be the "Steam of Web3". These launchers provide great visibility for live and upcoming games, and will be a key component of the go-to-market strategy for our upcoming Aavegotchi games.

So far we've announced partnerships with 1Kin, HyperPlay, Versagames, and Polkastarter, but many more are in the pipeline! Expect to start seeing some Gotchi Games in your favorite Web3 game launchers soon.
---
And that's everything for Gotchi Summer, frens!
On to Gotchi Aautumn next 🍁
You won't want to miss out on all the alpha we'll be dropping over the next few months – so subscribe to The Curve (our official newsletter and blog) to get email updates directly into your inbox!
If you want to get more interactive, you'll always be welcome in our Discord – home to the frenly #GotchiGang – where you can attend our weekly Saturday hangouts and get the very latest alpha directly from Coderdan and Gldnxross!
Stay aavesome!
The Aavegotchi Team
---
Subscribe
Join the newsletter to get the latest updates.
---