Aavegotchi, an NFT gaming protocol featuring the Gotchiverse farming game, has expanded the use of Chainlink Verifiable Random Function (VRF) on Polygon mainnet. By leveraging the industry-leading decentralized oracle network, the protocol has access to a tamper-proof and auditable source of randomness needed to help determine the base amount of Gotchus Alchemica tokens stored in a parcel of land in a provably fair and transparent manner. Ultimately this helps create a more exciting and engaging gaming experience as the number of tokens players can harvest and extract from a parcel of land they mint is unpredictable.
Aavegotchi is an open-source, community-owned NFT gaming protocol featuring yield-generating NFTs that double as digital pets. The GameFi platform previously integrated Chainlink VRF to help power its dynamic NFTs and provide a provably fair, low-fee user experience.
Gotchiverse is a metaverse built on Aavegotchi. A key part of the Gotchiverse economy is Gotchus Alchemica—four raw elements (FUD, FOMO, ALPHA, and KEK) that are freely tradable between players as ERC-20 tokens. Half of all Alchemica tokens have been earmarked to be included with land parcels purchased in the Gotchiverse.
The exact amount of Alchemica tokens distributed with a purchased parcel of land is calculated using verifiable randomness supplied by Chainlink VRF. Aavegotchi selected Chainlink VRF as its secure RNG because it's based on cutting-edge academic research, supported by a time-tested oracle network, and secured through the generation and on-chain verification of cryptographic proofs that prove the integrity of each random number supplied to smart contracts.
Along with the secure RNG, the Gotchiverse smart contracts use a binomial distribution and max/min parameters to generate the number of tokens included with a parcel of land, helping ensure the game is enjoyable and fair. For example, when a user mints a Humble land parcel, they'll be able to harvest and extract a minimum of 60% of the average and a maximum of 800% of the average for each token type, with the specific amount helped to determine using Chainlink VRF.
Chainlink VRF works by combining block data that is still unknown when the request is made with the oracle node's pre-committed private key to generate both a random number and a cryptographic proof. The Gotchiverse smart contract will only accept the random number input if it has a valid cryptographic proof, and the cryptographic proof can only be generated if the VRF process is tamper-proof. This provides users with automated and verifiable assurances directly on-chain that the number of Alchemica tokens included with land parcels is provably fair and was not tampered with by the oracle, outside entities, or the Aavegotchi team.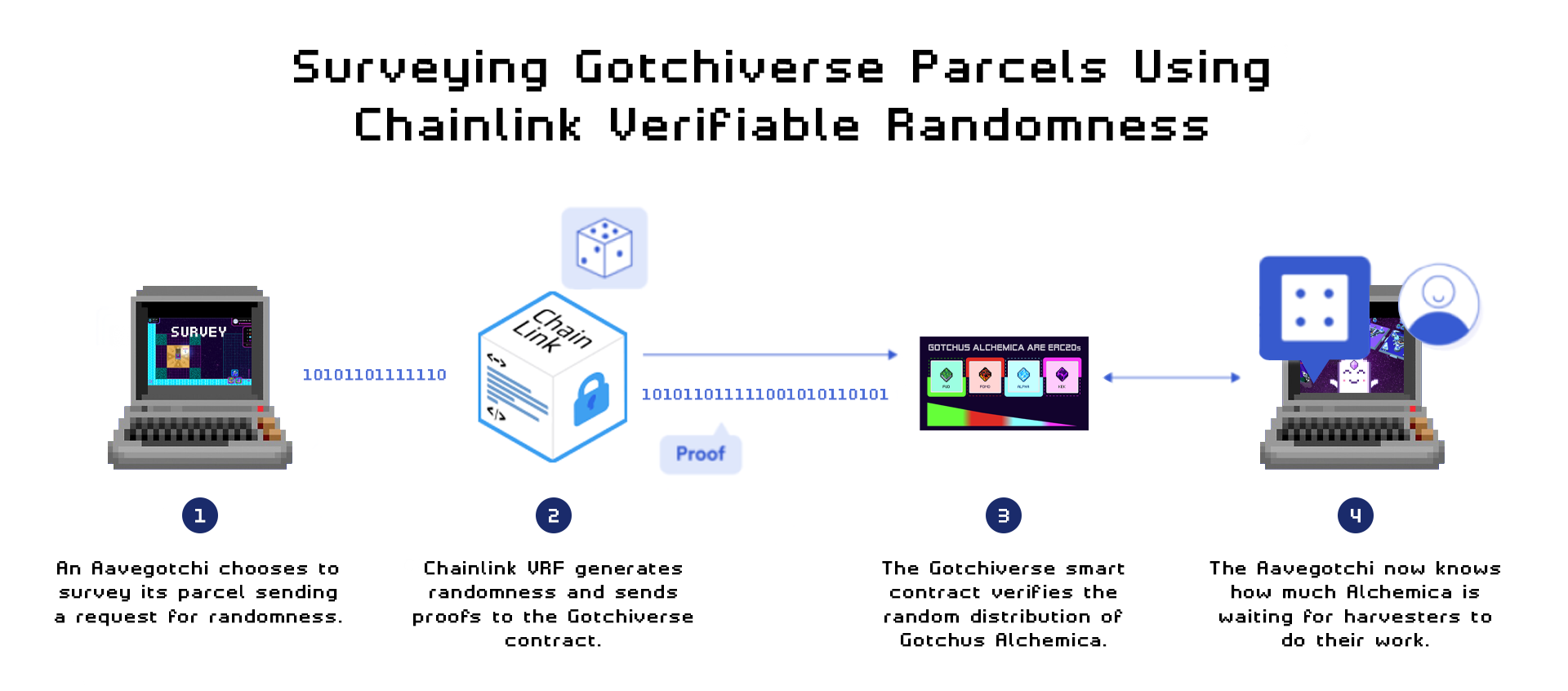 "We're excited to be using Chainlink VRF to help determine an unpredictable amount of Alchemica tokens that users can harvest when they mint a parcel of land in the Gotchiverse," said founder and COO of Pixelcraft Studios, Jesse Johnson. "Not only do the randomized token allocations make our game more engaging, but using a secure source of on-chain randomness helps make our project more transparent."
"We're pleased that Aavegotchi is using Chainlink VRF to help power Gotchiverse land parcels,"  stated Tomasz Wojewoda, Head of Global Sales at Chainlink Labs. "By accessing a highly secure and tamper-proof source of randomness, users will be able to enjoy the excitement created by unpredictable in-game outcomes."
About Chainlink
Chainlink is the industry standard for building, accessing, and selling oracle services needed to power hybrid smart contracts on any blockchain. Chainlink oracle networks provide smart contracts with a way to reliably connect to any external API and leverage secure off-chain computations for enabling feature-rich applications. Chainlink currently secures tens of billions of dollars across DeFi, insurance, gaming, and other major industries, and offers global enterprises and leading data providers a universal gateway to all blockchains.

Learn more about Chainlink by visiting chain.link or reading the developer documentation at docs.chain.link. To discuss an integration, reach out to an expert.
About Aavegotchi

Aavegotchi is an open-source, community owned NFT gaming protocol, enabling true asset ownership for gamers. Aavegotchi NFTs are on-chain collectible ghosts staked with Aave's interest-generating aTokens.

Compete for player rewards by earning XP, leveling up, and increasing the rarity of your Aavegotchi fren. Aavegotchi is governed by the AavegotchiDAO and the native eco-governance token GHST. Visit Aavegotchi.com today and join the future of DeFi-staked NFT avatars!
Resources:
Official Website: https://aavegotchi.com/
Gotchiverse Website: https://gotchiverse.io
Official Wiki: https://wiki.aavegotchi.com
Blog: https://blog.aavegotchi.com
Medium: https://aavegotchi.medium.com
YouTube: https://www.youtube.com/c/Aavegotchi

Community:
Twitter: https://twitter.com/aavegotchi
Discord: https://discord.gg/aavegotchi
Telegram: https://t.me/aavegotchi
Reddit: https://www.reddit.com/r/Aavegotchi/
---
Subscribe
Join the newsletter to get the latest updates.
---