Hope you've been stacking Alchemica frens, because Gotchi Summer is starting to heat up. A whole new series of exclusive NFTs are coming to the Gotchiverse with Crafting Wednesdays!
Two types of brand new, limited edition aesthetic NFTs are here to color in the Gotchiverse! Introducing LE Grass and LE Rugs, two equippable ERC-1155 NFTs that will make your parcel stand out in your district. With a new craftable piece of aesthetica dropping every Wednesday, you'll have plenty of unique ways to design your land!
Touch LE Grass
Lawn care is something that's especially important during the summer. Depending where in the world you live, watering, cutting, and pulling weeds are all part of the summer regiment.  Luckily, in the Gotchiverse, LE Grass doesn't actually grow, so there's no such maintenance needed.
All LE Grass NFTs will be available for a one month period after the minting window for each rarity level opens. They will fit onto a 4 x 4 space on your Gotchiverse REALM parcel and you will be able to place Installations on top of them.
The first new aesthetic NFT featured on Crafting Wednesdays will be LE Purple Grass #1! The minting window will begin Wednesday, June 15th at 10am EST. Two weeks later, on June 29th, Crafting Wednesday will feature LE Cyan Grass #1. More colors and editions of LE Grass will be announced in the future, so stay tuned!
Stretch out on LE Rug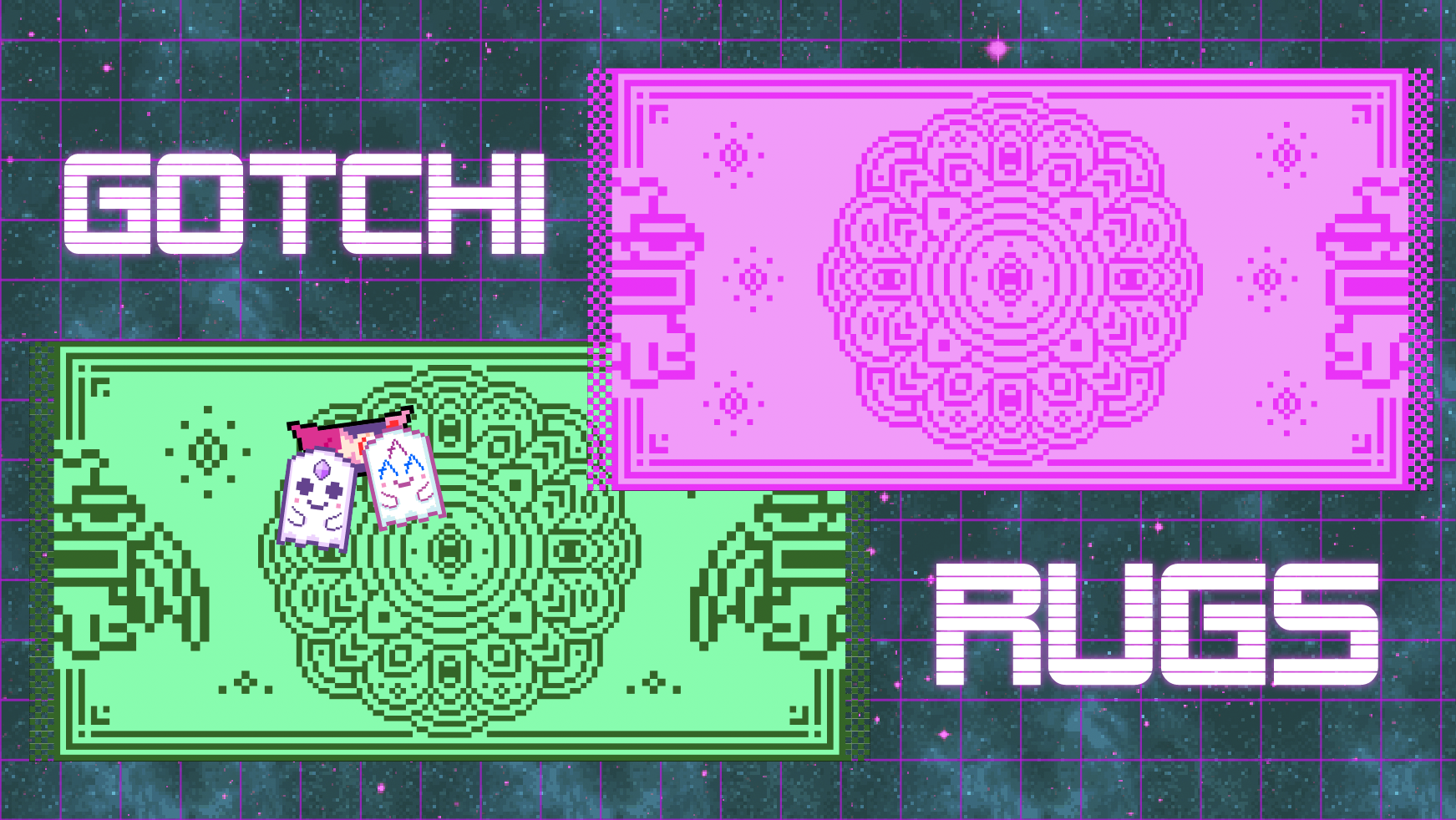 We can confidently say that the Gotchiverse's LE Rugs are the only NFT project associated with the word "rug" that you'll be happy to participate in. The rugs fit onto a 16 x 8 area on your Gotchiverse REALM parcel, meaning they cannot be equipped on a Humble Parcel but will fit just fine on a Reasonable or Spacious. You will be able to place your Aaltar and other Installations on top of LE Rugs as well.
Reverse Rug
The LE Mythical ROFL Rug will become available on Wednesday, June 22nd, followed two weeks later, on Wednesday July 6th, by the Godlike version. Unlike previous LE aesthetic Installations, the LE Rugs will NOT have a set end date. The devs will randomly be pulling the proverbial "rug" on crafting, whenever they feel like it. Craft your rug ASAP, to make sure you don't get rugged!
Recipes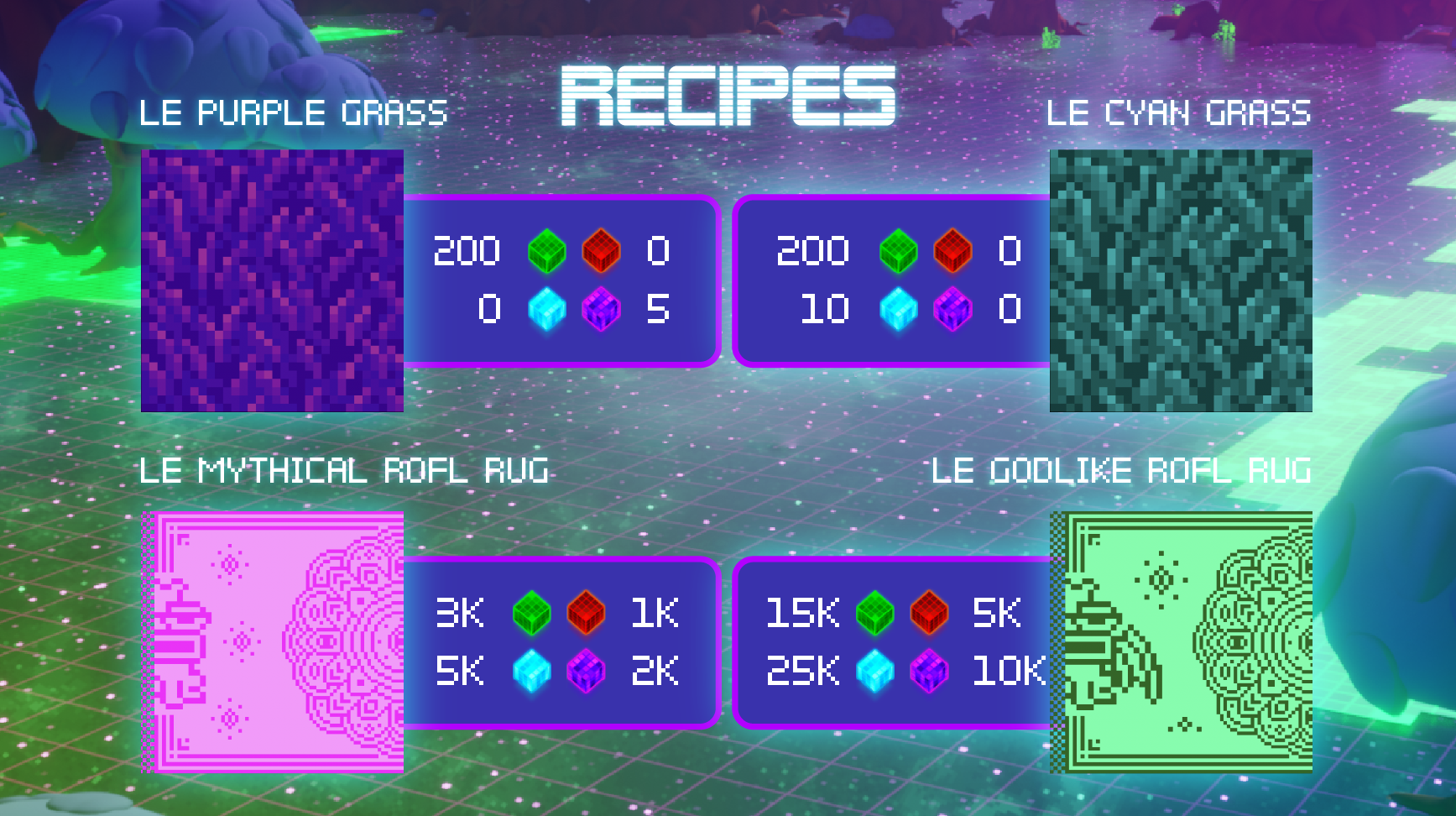 Each of these equippable Tile NFTs will have a unique recipe. For the LE Rugs, the rarer the rug, the higher the amount of alchemica required to craft. Channel on your land parcel daily, gather spillover, or buy some on Quickswap to ensure you're ready for Crafting Wednesdays!
Crafting Wednesdays June Schedule

June 15th: LE Purple Grass #1
June 22nd: LE Mythical ROFL Rug
June 29th: LE Cyan Grass #1
July 6th: LE Godlike ROFL Rug
Gotchiverse Aesthetica NFTs
Like the LE Golden Aaltar and LE Golden Tiles, these new aesthetica NFTs will never be available again after the minting period ends. This means you can be one of few to own some of the earliest aesthetic NFTs in the Gotchiverse.
LE Grass and LE Rugs can be equipped anywhere on your Gotchiverse REALM parcel, while Aaltars and other Installations can be placed on top of them. They can also be unequipped and moved at your leisure without being burnt, allowing you to test different placements to see what looks best!
Start Crafting Now
The Gotchiverse is a blank canvas and Crafting Wednesdays will beautify the scenery. The LE Purple Grass #1 will be available for crafting on June 15th for one month only. Ready your Alchemica, enter the Gotchiverse, and hit the crafting table!
About The Gotchiverse
The Gotchiverse is Pixelcraft Studio's flagship title that celebrates the best of blockchain technology. The metaverse is built on Aavegotchi, an open-source, community owned, NFT gaming protocol that unlocks true asset ownership for gamers. In this spirit, The Gotchiverse is co-created with direct input from the community via AavegotchiDAO. Summon your first Aavegotchi today and meet us in the Gotchiverse!
Resources:
Official Website: https://aavegotchi.com/
Gotchiverse Website: https://verse.aavegotchi.com/
Official Wiki: https://wiki.aavegotchi.com
Blog: https://blog.aavegotchi.com
YouTube: https://www.youtube.com/c/Aavegotchi
Community:
Twitter: https://twitter.com/aavegotchi
Discord: https://discord.gg/aavegotchi
Telegram: https://t.me/aavegotchi
Reddit: https://www.reddit.com/r/Aavegotchi/
---
Subscribe
Join the newsletter to get the latest updates.
---