Hey frens, this guide will teach you how to make your voice heard by participating in governance through AavegotchiDAO, the world's most active DAO! The AavegotchiDAO makes key decisions for the Aavegotchi Protocol and Gotchiverse game.
Meet AavegotchiDAO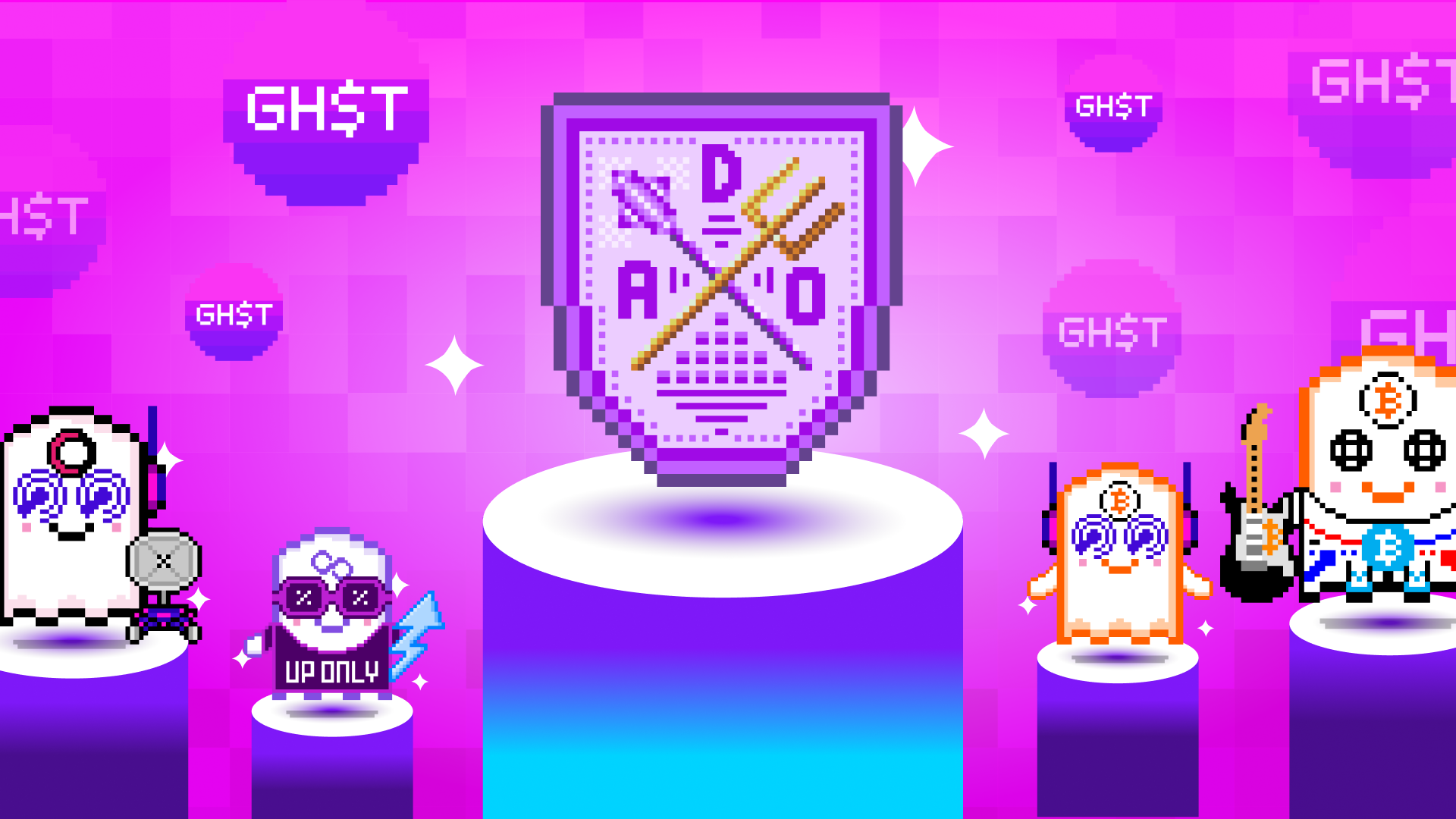 With over 5.6 thousand Snapshot members, AavegotchiDAO is the second largest DAO on Polygon network, and consistently one of the most active DAO's in the world. Aavegotchi has succeeded at gamifying the process of participating in the DAO. When votes reach quorum and vote differential requirements are met, voters receive XP (Experience Points) for all Aavegotchi NFTs held in their wallet.
AavegotchiDAO is on a three phase track of gradual decentralization, eventually culminating in full decentralization of the Aavegotchi protocol with multisigs completely handed over to the DAO. Aavegotchi moves closer to full decentralization each day with the introduction of major Gotchiverse game decisions via "paatch" votes.  
AavegotchiDAO currently has two important committees, the FRENS Committee and the Wearables Task Force (WTF). The FRENS Committee maintains accurate FRENS rates for stakers and the Wearables Task Force helps with Wearables supply and trait distribution. A third committee dedicated to treasury management is also in the works: DAO Treasury Force (DTF).
AavegotchiDAO has existed for more than a year and a half, flourishing on sound mechanics, gamified incentives, and a shared vision for permissionless digital life.
The AavegotchiDAO Forum:

Whether you have an idea for a proposal yourself, or you simply want to see what other community members are discussing, the place to begin is the AavegotchiDAO Forum. The goal of this forum is to focus discussion on important topics related to Aavegotchi game mechanics, funding requests, and other proposals. You can also discuss ideas on the Aavegotchi Discord server in the DAO Discussion channel. Regardless, it is always a good idea to gauge community response before posting a proposal to snapshot. It is also good practice to read through discussion on an active proposal before voting, as there may be factors or information that one may have not yet considered. Visit the AavegotchiDAO Forum at dao.aavegotchi.com.
Creating Signal Proposals
After discussing your proposal with the community, the next step is to create a signal proposal (SigProp) on Snapshot. Visit the Aavegotchi Snapshot page here.
Required format for creating a signal proposal:
Author + Gotchi ID
Link to matching discourse thread in the AavegotchiDAO Forum (proposals without significant discussion in the forums will be automatically removed from Snapshot)
Summary of proposal (including rationale, timeline, goals, and key performance indicators)
Effect of proposal
Highlight end goal/benefits
Acknowledge potential risks or unintended consequences
Any alternative paths (Plan B, Plan C, etc.)
The end time of a proposal should not be more than 30 days from its starting time
How Signal Proposals Become Core Proposals
A signal proposal is created by a community member and must reach a 20% quorum in order to become a core proposal. Quorum percentages are calculated from the amount of circulating GHST eligible to vote on Polygon. Any signal proposal that achieves this will be reintroduced under the Snapshot Core tab, where it must again reach quorum in order to be approved and implemented. Any community member who posts a signal proposal that is successfully upgraded to a core proposal will receive 150 XP for the Aavegotchi they have noted in their signal proposal (XP amount subject to change).
Core Proposals
Core proposals (CoreProps) are official proposals that have binding effects on Aavegotchi. News of any core proposals will be published across Aavegotchi's major social networks to ensure the community is aware of the vote. There are three types of Core Proposals: smol votes, medium votes, and galaxy votes. Smol votes require 5% quorum, medium votes require 10% quorum, and galaxy votes require 20% quorum.
Examples of smol votes:
Proposal to introduce a cosmetic feature to the game, not the Aavegotchi itself
A proposal for a marketing strategy
Examples of medium votes:
A proposal to introduce a new game item
A proposal involving the allocation of XP to some item or event
A proposal to change something about an Aavegotchi that doesn't affect its rarity score
Examples of galaxy votes:
A proposal for a new Aavegotchi Haunt
A proposal for changing something about Aavegotchis that affects its rarity score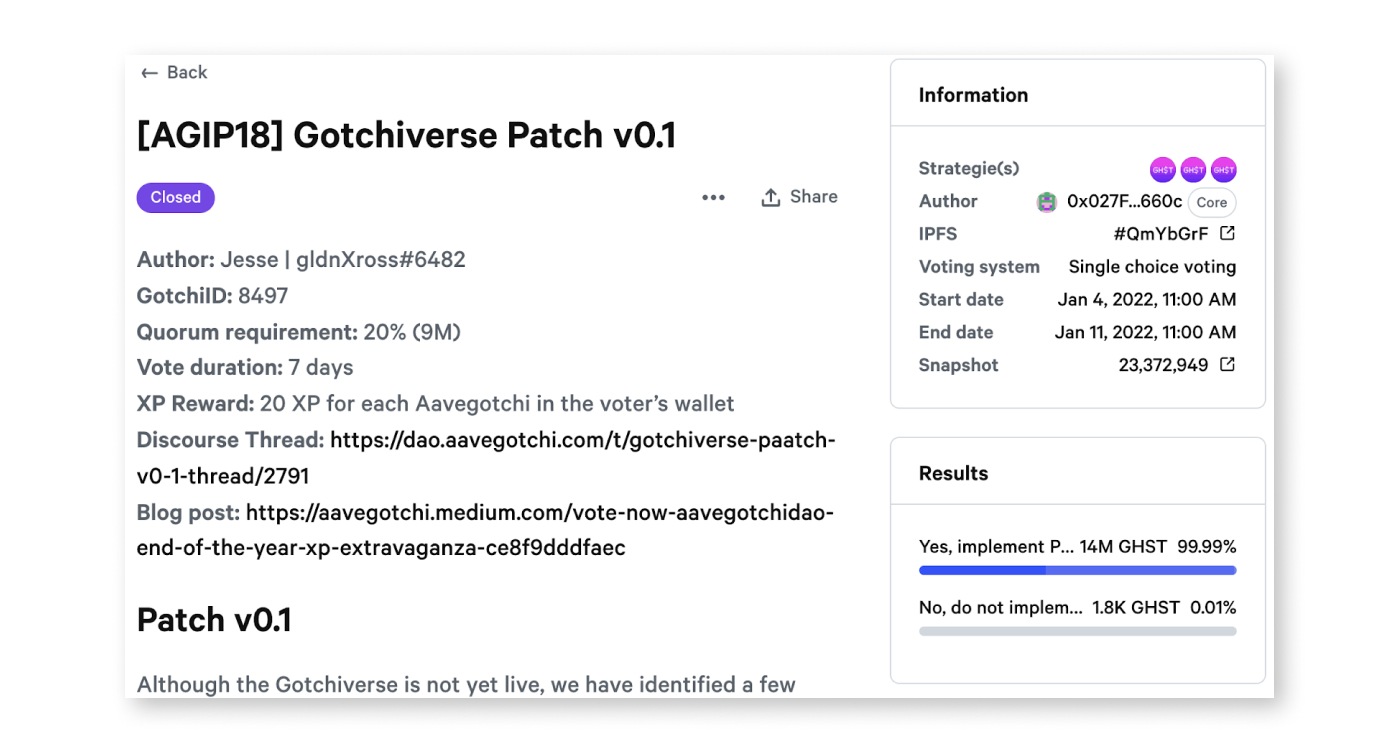 Voting Differential
Core proposals must also reach required voting differential percentages to ensure a reasonable consensus has been achieved. Voting differentials are the difference between the top two options. A core proposal with two options must achieve 10%, three options must achieve 15%, and four options must achieve 20%.
For example, a proposal with three options where option A receives 25%, option B receives 35%, and Option C receives 40% of the vote would not pass because the difference between the two most popular options is only 5%. Any core proposal that has successfully reached quorum and voting differential requirements will be implemented by Aavegotchi!
How to Vote
Ready to make your voice heard, fren? Here's how:
Go to an open proposal on the Aavegotchi Snapshot page
Connect your web3 wallet
Read through the proposal and discussion surrounding it
Select which option you would like to vote for and click vote
A pop-up will appear to confirm your choice
Sign the transaction
Congratulations, you've just cast your first vote in the AavegotchiDAO. Remember to check the DAO discussion forum and snapshot frequently to stay up to date on new proposals. Any signal proposal you vote on that becomes a core proposal will earn 10 XP for each Aavegotchi you own and any core proposal that reaches quorum will earn 20 XP for each Aavegotchi you own.

That's everything you need to know about participating in governance with the AavegotchiDAO! For more information visit the official Wiki or simply jump into the very active #DAO channel in the Aavegotchi Discord.
---
About Aavegotchi

Aavegotchi is an open-source, community owned NFT gaming protocol, enabling true asset ownership for gamers. Aavegotchi NFTs are on-chain collectible ghosts staked with Aave's interest-generating aTokens.

Compete for player rewards by earning XP, leveling up, and increasing the rarity of your Aavegotchi fren. Aavegotchi is governed by the AavegotchiDAO and the native eco-governance token GHST. Visit Aavegotchi.com today and join the future of DeFi-staked NFT avatars!
Resources: ‌
‌Official Website: https://aavegotchi.com/‌
‌Gotchiverse Website: https://gotchiverse.io‌
‌Official Wiki: https://wiki.aavegotchi.com‌
‌Medium: https://aavegotchi.medium.com‌
‌YouTube: www.youtube.com/c/Aavegotchi
Community: ‌
‌Twitter: https://twitter.com/aavegotchi‌
‌Discord: http://discord.gg/aavegotchi‌
‌Telegram: https://t.me/aavegotchi‌
‌Reddit: https://www.reddit.com/r/Aavegotchi/
---
Subscribe
Join the newsletter to get the latest updates.
---