2023 is off to a hot start for GotchiGang! Let's take a look at what we accomplished in January!
2023 Roadmap Reveal
2023 is officially the Year of the Gotchi! We revealed our ambitious 2023 roadmap during the GotchiGang hangout on January 28th. Missed the hangout? No sweat fren, check out our roadmap blog post!
Pixelcraft Studios Hires New CMO
We're excited to welcome Nigel Carlos to the Aavegotchi team as our new Chief Marketing Officer! Nigel comes to the Aavegotchi Protocol with a proven track record of success and accomplishments across both traditional and web3 gaming. See our introductory blog post to learn more about Nigel and how he'll be helping us take Aavegotchi to the next level! This news was also picked up by the wider crypto media, with coverage from Blockleaders, Block Telegraph, and Bitcoin World Report!
The Forge 101
The Forge is coming soon! In January the Forge team put together a comprehensive guide covering everything you need to know to get started once it launches. Read all about it in their blog post and get ready to forge!
Alchemica Spending Competition Begins
The Gotchiverse Alchemica Spending Competition began in January. 80,000 GHST in total rewards are up for grabs over the four week competition, with 20k paid to the top 50 builders each week. The final week of the competition ends on Sunday, February 12th at 12am UTC. Learn how you can participate before it ends by checking out the community-built Gotchiboard site!
Wearables in the Aavegotchi Auction House
Wearables are now live in the Aavegotchi Auction House! You can start and participate in bid-to-earn auctions for Aavegotchi Wearables 24/7. Enter the Auction House now to get in on the action, or should we say auction!
Aavegotchi Twitter Spaces
Every Wednesday at 9pm EST / 2am SGT we host a Twitter Spaces on the official Aavegotchi Twitter account! January's Spaces included:
GBM Auction Scheduling
The Aavegotchi Auction House has added an aavesome new feature! You can now schedule GBM Auctions in advance. This feature is perfect for building hype, or scheduling an auction to start when you are offline. Click here to check out currently scheduled auctions now!
FAKE Gotchis X Wert
FAKE Gotchis are for everyone! Now you can buy FAKE Gotchis using your credit card thanks to our integration with Wert. Simply head to fakegotchis.com, find the FAKE you want, and click the "Buy With Credit Card" option!
FAKE Gotchis Collectors Leaderboard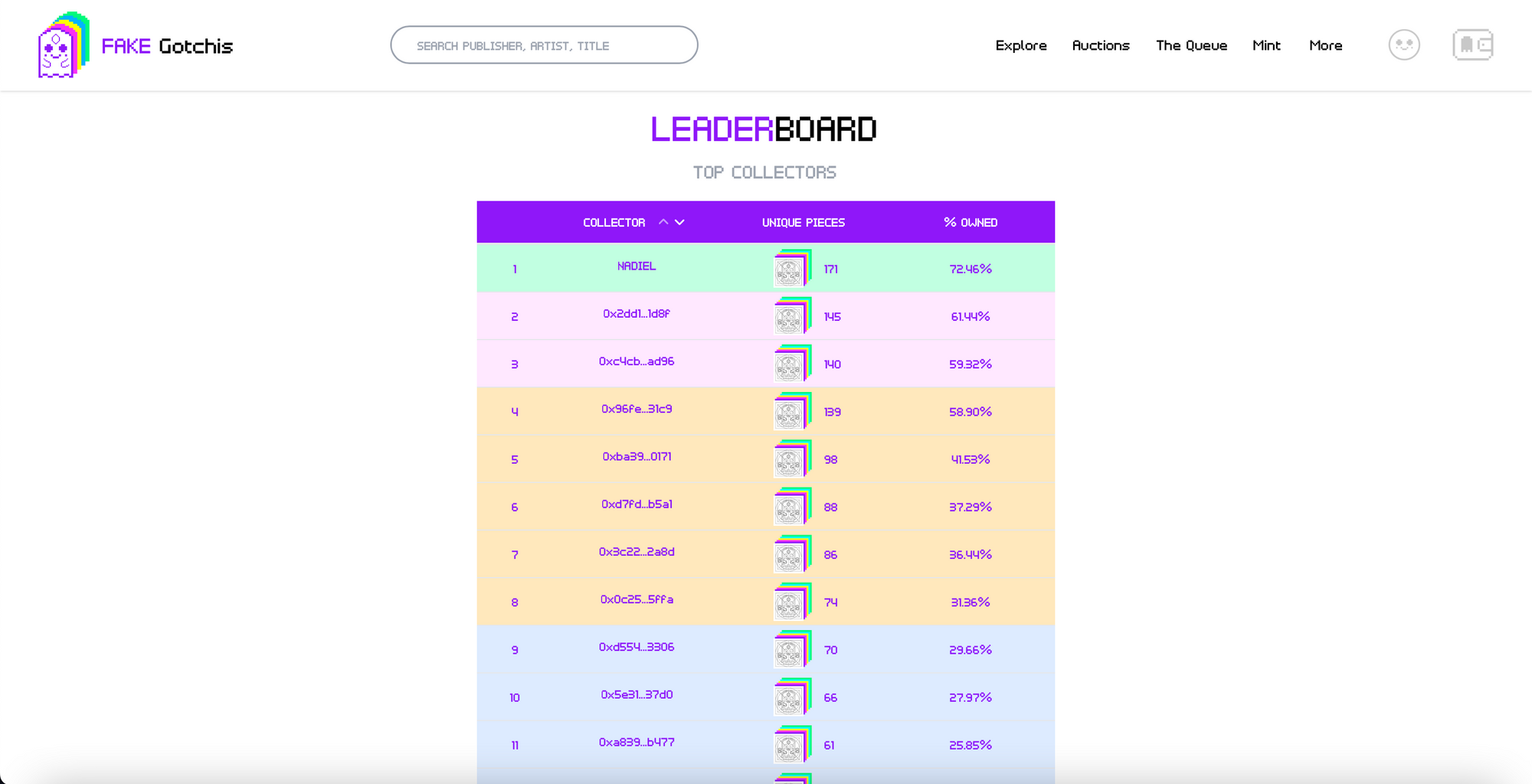 The FAKE Gotchis collectors leaderboard went live in January! The leaderboard ranks collectors based on how many unique FAKEs they've collected. Check it out here and start climbing your way to the top!
Aavegotchi Baazaar Update
Our first ship of the new year was an update to the Aavegotchi Baazaar! The Baazaar now supports buying/selling LE Golden NFT Displays, Halloween Decorations, and Christmas Decorations. Start browsing the updated Baazaar now!
AGIPs 51 & 54-56 Passed
Four CoreProps successfully reached quorum and were passed by the AavegotchiDAO in January! AGIP 51 to elect DAO foundation directors/multisig-signers (revote), AGIP 54 to create the ATF, AGIP 55 to require the use of 'weighted voting,' and AGIP 56 to fund an Alchemica spending competition were all approved! You can learn more about each of these proposals here.
Aavegotchi Explores Narval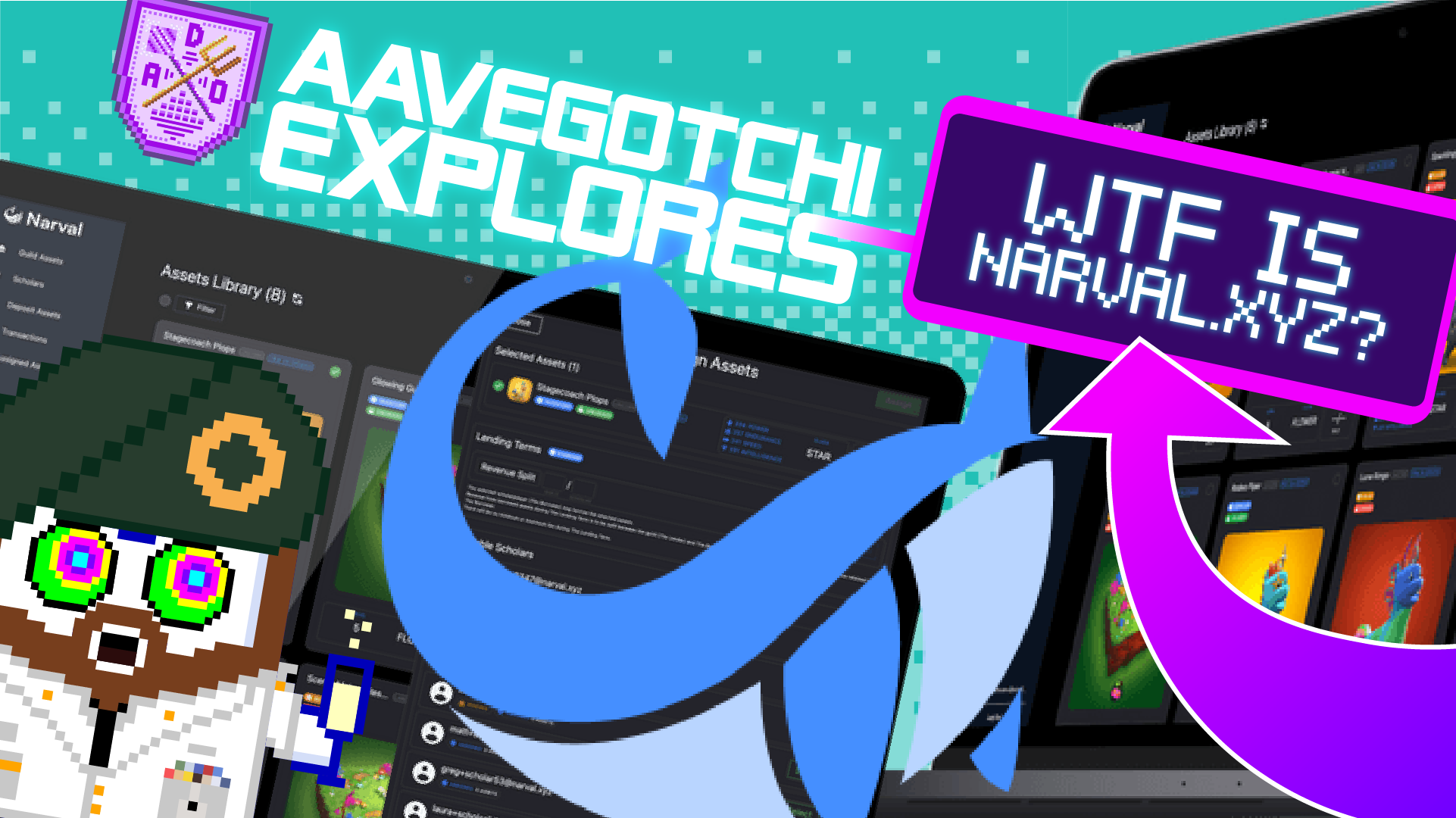 Lead-summoner gldnXross went live in January with another episode of Aavegotchi Explores! This time we talked with Narval to learn about their multiplayer web3 wallets. You can check out a recording of the livestream on the Aavegotchi Youtube channel.
Rarity Farming Season 4 Baadges Airdropped
Baadges have been distributed to the winners of Rarity Farming Season 4. Check your Gotchi's pockets and see if you earned one. Best of luck in season 5, frens!
January was a month full of excitement and progress for the Aavegotchi team, and we're keeping the momentum going all year long! Here's what you can look forward to in February:
A Preview of February:
Rarity Farming Season 5
Continuous Bug Fixes/Optimizations
Moar Aavegotchi Twitter Spaces
GotchiGang at ETH Denver
Much Moar
Stay spooky frens,
Aavegotchi Team
About Aavegotchi

Aavegotchi is an open-source, community owned NFT gaming protocol, enabling true asset ownership for gamers. Aavegotchi NFTs are on-chain collectible ghosts staked with Aave's interest-generating aTokens.

Compete for player rewards by earning XP, leveling up, and increasing the rarity of your Aavegotchi fren. Aavegotchi is governed by the AavegotchiDAO and the native eco-governance token GHST. Visit Aavegotchi.com today and join the future of DeFi-staked NFT avatars!
Aavegotchi Resources:
Website: https://aavegotchi.com/
Blog: https://blog.aavegotchi.com/
Official Wiki: https://wiki.aavegotchi.com/
Twitter: https://twitter.com/aavegotchi
Discord: https://discord.gg/aavegotchi
YouTube: https://www.youtube.com/c/Aavegotchi
Reddit: https://www.reddit.com/r/Aavegotchi/
Telegram: https://t.me/aavegotchi
Gotchiverse Resources:
Website: https://verse.aavegotchi.com/
Gotchiverse Docs: https://docs.gotchiverse.io/
Fake Gotchi Resources:
Website: https://www.fakegotchis.com/
Twitter: https://twitter.com/FAKEgotchis
Instagram: https://www.instagram.com/fakegotchis/
---
Subscribe
Join the newsletter to get the latest updates.
---