"Beyond the human realm lies the Ether realm, where smart contracts twinkle and dark forests lurk.  Travel a bit further down the rabbit hole, and one eventually discovers the Gotchiverse Realm."
Allow me to take you even further down the Aavegotchi rabbit hole. I'll explain why I think the Gotchiverse Realm will be the go–to hub for gaming, earning, socializing and creating on Polygon for years to come.
Play-to-earn gaming is just beginning to reach the masses, as more people are becoming aware of its existence everyday. Over the coming years we will see many launches and just as many rug-pulls, as players discover which games have built robust ecosystems with staying power, and which have not. Below I explain the aspects that will make Aavegotchi a winner and, more importantly, a base layer in this space.
Gaming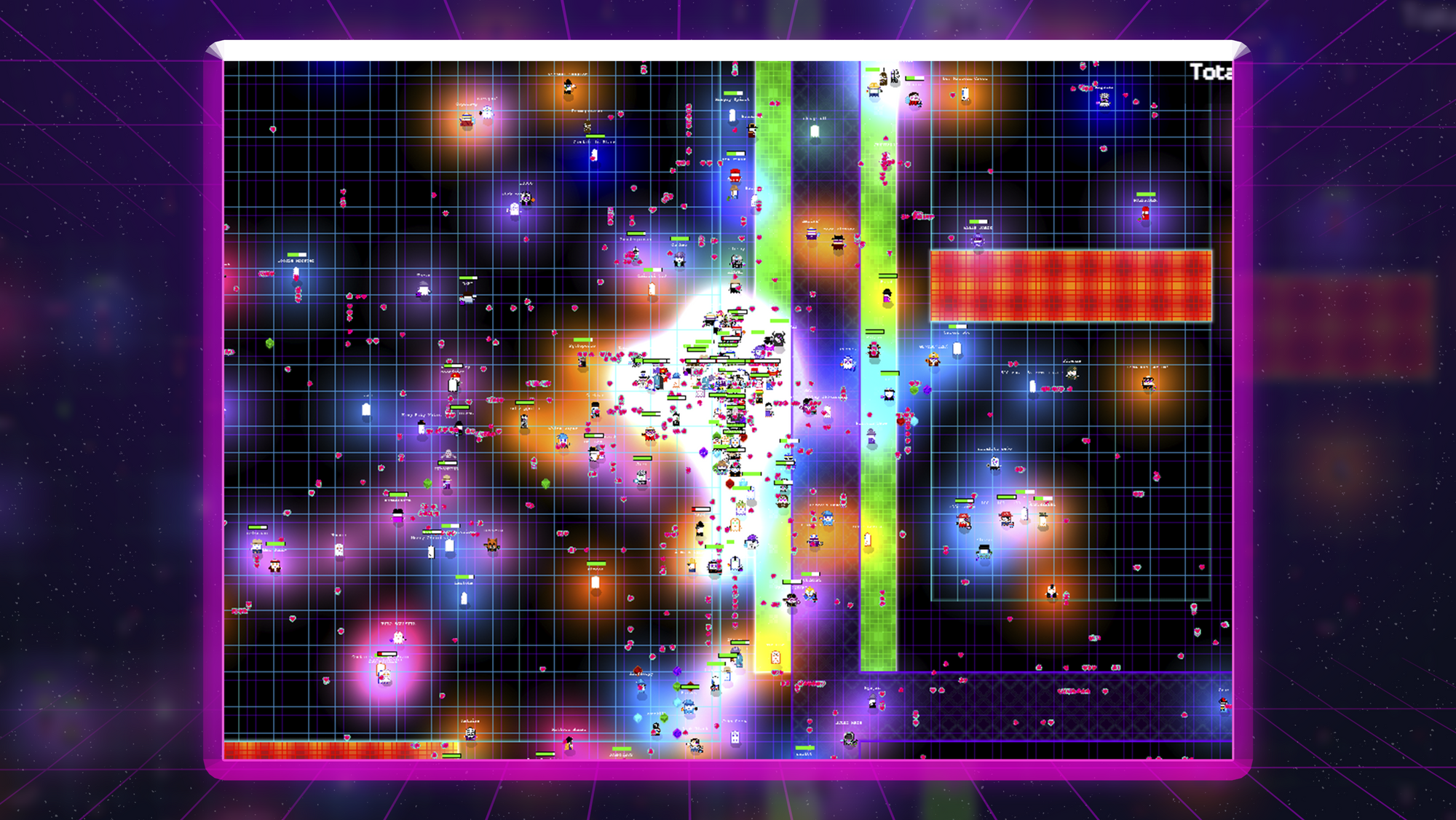 When it comes to open world MMORPG games, player retention is everything. Games today are made with maximum player value extraction in mind. You don't own anything in these games and any time-sinks reward you with valueless items with unprovable ownership. Publishers can change the rules at a moment's notice, and the governance of game economy decisions are made by only a handful of people.
Do players even have a choice? Can they opt out of this one-sided agreement? No, at least not until the recent rise of play-to-earn gaming, where your contributions can create incredible value for your time.
With all game assets stored 100% directly on the blockchain, it is easy to use Aavegotchi NFT assets to develop unique mini games. These games are often created by community members themselves. Additionally, players who own specific wearables may have advantages in these mini games allowing a greater earning potential with those items. These items may also have gating functions allowing players to access certain quests and events.
It is understandable that some of these items will become unaffordable for the average player to own. So game designers will have to create innovative low barrier methods for players to enter the ecosystem. The Galaxy brains at Aavegotchi will be rolling out a fully on-chain lending program. Players who are curious to participate in Alchemica collecting and events can rent an Aavegotchi for a small fee determined by the lender. A curious player can get a feel for the game and earn while allocating funds for their own Aavegotchi. We now have the ability to help build play-to-earn economies that everyone can earn and participate in.
Earning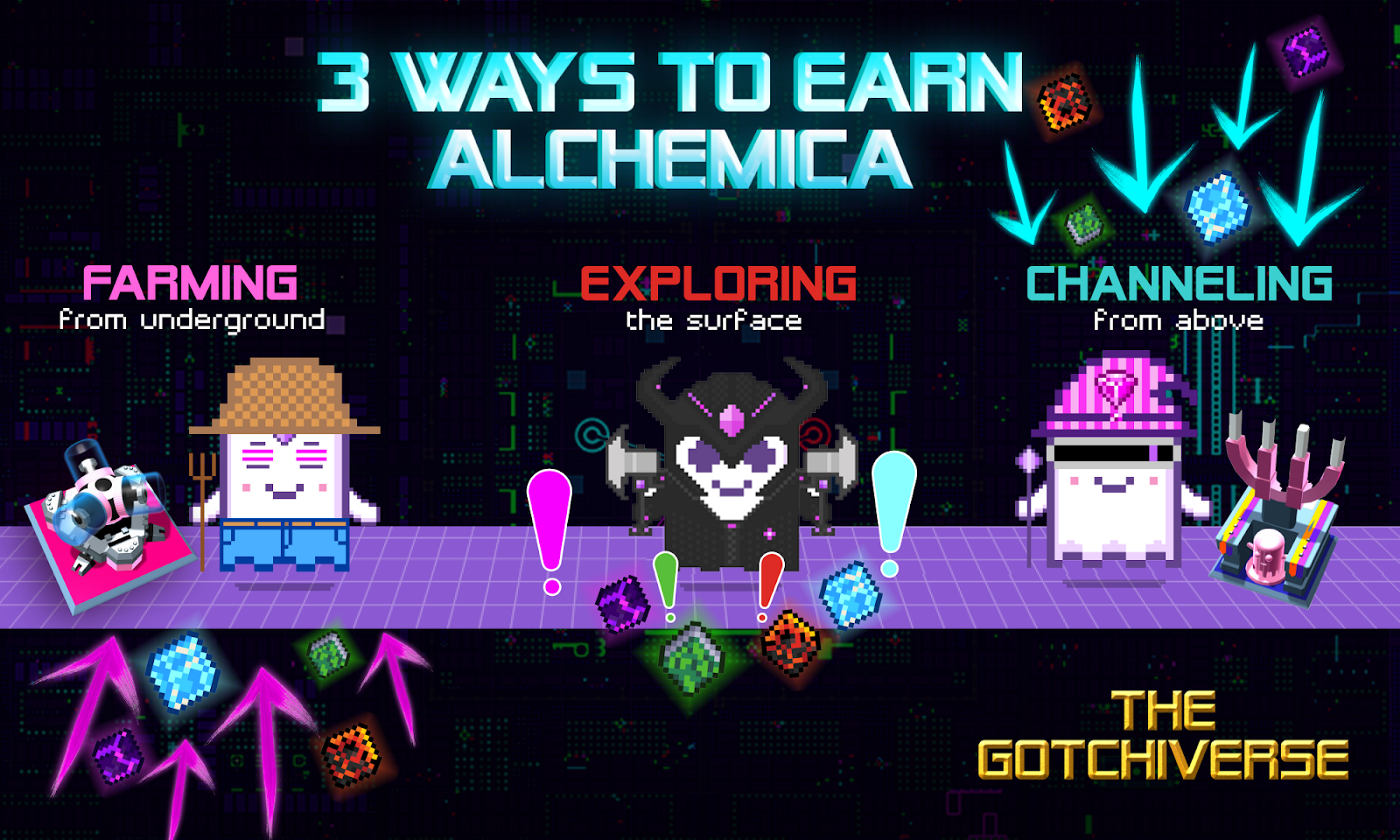 Many current play-to-earn games only leverage "crypto as a feature." With the launch of the Gotchiverse Realm, Aavegotchis from all over the globe will come together in one persistent and evolving world. The Gotchiverse will include participation in the collection of raw building materials called Gotchus Alchemica, turning bare plots of land into magnificent attractions and highly functional farming operations.
Gotchus Alchemica are ERC-20 tokens you are all familiar with. Collecting Alchemica through means of exploring the surface, crafting farming installations, and participating in channeling ceremonies with guilds will become the primary means of earning in the Gotchiverse Realm.
There are secondary means of earning in the Gotchiverse such as Rarity Farming, participating in GBM bid-to-earn auctions, buying and selling NFTs in the Aavegotchi Baazaar NFT Marketplace, as well as other means we haven't discovered yet. There are also multiple games in development using Aavegotchi assets that will be accessible through Dapps in the virtual world and will have their own in-game rewards.
It is not only the Aavegotchis who will have earning abilities; A free to play character known as the Lickquidator will enable anybody to start collecting Alchemica. These Lickquidator characters will not have the infinite life spans of an Aavegotchi, but instead will allow curious players to "test the waters" in the Aavegotchi economy and earn some Alchemica tokens in the process. Keep an eye out for these invading the Gotchiverse sometime later this year.
Socializing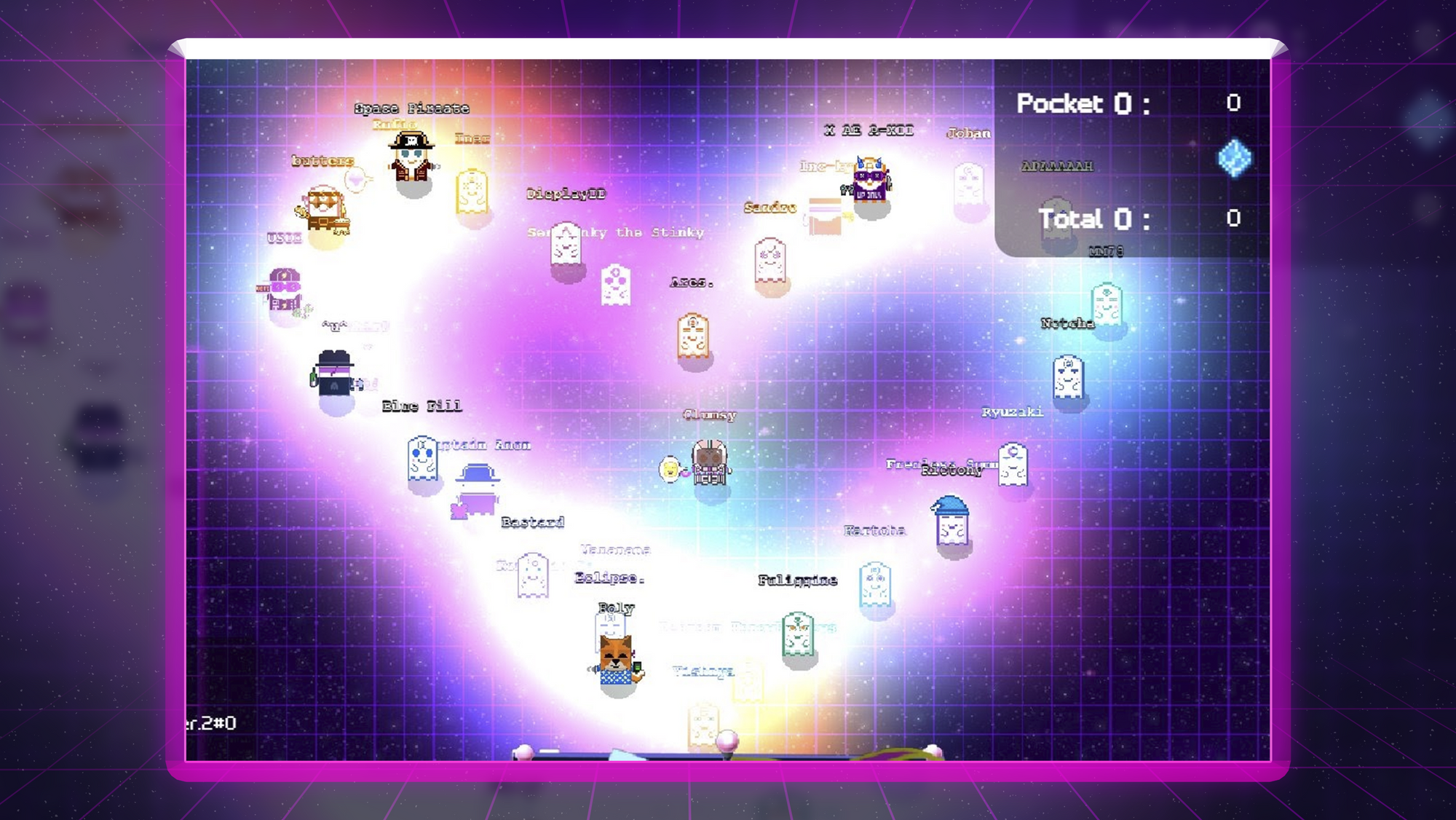 At the heart of every good MMORPG is a way to build social value with each other while we play. A good litmus test for the strength of any crypto or gaming community is to hop into the Discord, ask some questions, and note the speed of replies and quality of responses. Do this little test if you're curious about some Aavegotchi related stuff and I guarantee you won't be disappointed.
There are a ton of gaming guilds and DAO's interested in this space, and they typically have large player bases. A significant number of these guilds have joined in recent months, which tells me they see great social value in the platform. However, something unique about Aavegotchi; players within the community have formed their own guilds around the game itself! Many of these are "Wearable guilds", consisting of like-minded people who have agreed to dress their Aavegotchis with a Wearable insignia unique to their guild. This allows the guilds to participate in "channeling ceremonies" where they are rewarded Alchemica tokens! I can envision these ceremonies becoming social events where you can catch up with your frens while earning some tokens in the process.
Creating
The permissionless nature and community ownership of Aavegotchi ensures the best ideas are always brought forth and even implemented in the design process by voting through the AavegotchiDAO. As mentioned before, there is no harm in taking Aavegotchi assets and using them to build your own games and experiences.
Constantly evolving games rotating through the Aavegotchi platform will attract new users as well as driving even more engagement for the existing community. The open-source SDK release will allow developers to create in-game Dapps in the form of NPC's on their parcels, expanding the possibilities for what can be built.
However, permissionless creations don't stop at mini-games and experiences, the framework for Aavegotchi lore has been laid out for us in the Gotchiverse Lite Paper with some gaps in detail. It feels like an open invitation to talented creative writers and storytellers who may want to add depth through their own fan fiction series. In the decentralized nature of things, we welcome the great writers and storytellers of the Gotchiverse to share the prophecy!
Conclusion
I am incredibly excited for the official launch of the Gotchiverse Realm in the next few months. In the meantime, pet your Aavegotchis, farm FRENS, and participate in the upcoming Gotchiverse stress tests. The best is yet to come!
If you like what I'm putting out, follow me on Twitter at @AavegotchiS and check out the Aavegotchi Pacific Chapter YouTube Channel for more content!
For more information on Aavegotchi, and to join the frenliest community in crypto click the links below.
---
About Aavegotchi

Aavegotchis are on-chain collectible ghosts staked with Aave's interest-generating aTokens.‌
‌‌
‌Compete for player rewards by earning XP, leveling up, and increasing the rarity of your Aavegotchi fren. Owned by the community, Aavegotchi is governed by the AavegotchiDAO and the native eco-governance token GHST. Visit Aavegotchi.com today and join the future of DeFi-staked NFT avatars!
Resources: ‌
‌Official Website: https://aavegotchi.com/‌
‌Gotchiverse Website: https://verse.aavegotchi.com/
‌Official Wiki: https://wiki.aavegotchi.com‌
‌Medium: https://aavegotchi.medium.com‌
‌YouTube: www.youtube.com/c/Aavegotchi
Community: ‌
‌Twitter: https://twitter.com/aavegotchi‌
‌Discord: http://discord.gg/aavegotchi‌
‌Telegram: https://t.me/aavegotchi‌
‌Reddit: https://www.reddit.com/r/Aavegotchi/

---
Subscribe
Join the newsletter to get the latest updates.
---