NFTs and the metaverse have become major buzzwords over the last year. Huge brands like Adidas and Pepsi are making NFTs, companies like Meta (formerly Facebook) are leaning into the metaverse revolution, and every week there's a new 10k generative NFT profile picture project based on popular animals. What if I told you that through all the noise there was one project that combines the best aspects of NFTs and DeFi, complete with a self-sustaining ecosystem and soon to be released metaverse? You'd be interested right? Well keep reading.
When has Facebook given the average user the ability to earn a passive decentralized income? Matter of fact, when has Facebook done anything but take your privacy, your time, and your brain cells? There is no reason to expect anything different from Zuck's metaverse. If your idea or vision doesn't meet institutionalized standards, well sorry that's what happens in a centralized metaverse. Any play-to-earn opportunities and business models in that metaverse will have to be approved (and not by a DAO collective!).
So how is Aavegotchi different?
Enter the Gotchiverse: Aavegotchi's Metaverse

The Gotchiverse is Aavegotchi's truly magical virtual world where nobody will steal your data, fill your feed with politics, or spam you with nonsense. Governed by a truly decentralized entity, the AavegotchiDAO gives GHST token holders (the community) the power to vote on decisions and share their voice equally. All game mechanics, smart contracts, and funding of Aavegotchi and the Gotchiverse are governed by the DAO. Zuck can't say the same about his metaverse business endeavors, where he and his corporate cronies will have unchecked decision making power.
In the Gotchiverse , players can explore, craft NFTs, battle, earn, and socialize. Think of a mix between Clash of Clans, with the various installation NFTs, and an exotic version of Pacman, with players running around the map collecting play-to-earn tokens. It's an MMORPG on acid. Earn passive income, build something amazing, or simply have your own space to socialize with friends. In the Gotchiverse, you create your own experiences and play the game how YOU want. Most importantly, no single person is able to take that away from you!
How do I Play-to-Earn With Aavegotchi?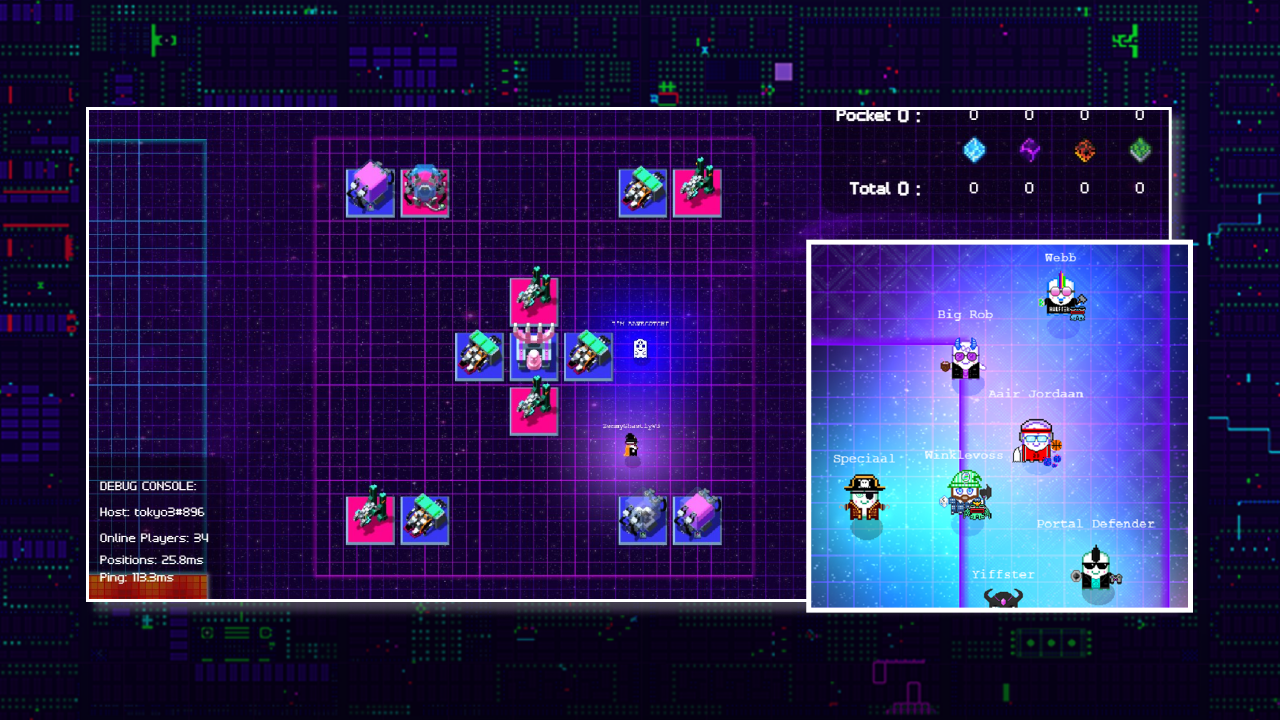 In its current form, Aavegotchi's play-to-earn aspect comes through Rarity Farming. Rarity Farming is an innovative game mechanism pioneered by Aavegotchi that strives to reward the users who are the most thoughtfully and enthusiastically engaged with the Aavegotchi ecosystem. As its name suggests, this is a process where you attempt to raise the rarest Aavegotchis, and get rewarded for doing so. Rarity Farming pays out a hefty bag of GHST the leaders in three categories: base rarity score (BRS), kinship, and experience.
So how does this tie into a truly decentralized metaverse experience far different than the mundane, life sucking corporate meta experience?
With the current play-to-earn aspects of Aavegotchi already in place, the Gotchiverse introduces several more ways to play-to-earn with Aavegotchi NFTs. In the Gotchiverse, you can play your way, and EARN your way.
Players can collect Gotchus Alchemica, the four elements of the Gotchiverse. Gotchus Alchemica are brand new ERC20 Tokens that can be used to craft installation NFTs to improve your REALM parcel, which help you farm faster and defend against intruders within the Gotchiverse. Since installations are also ERC721 NFTs, you can also sell them on the Aavegotchi Baazaar if that suits your strategy better.
The Gotchus Alchemica harvested and gathered within the Gotchiverse will be exchangeable through our native decentralized exchange: The Gotchus Alchemica Exchange (GAX). To incentivize liquidity on the GAX, players will earn GAX reward tokens for LPing their Alchemica tokens.
There are three distinct ways to earn Gotchus Alchemica in the Gotchiverse. Players can earn Alchemica by Farming from underground, exploring the surface of the Gotchiverse, and through channeling from the skies above. Beyond that, players will have more creative options to earn in the Gotchiverse through the ability to create NPCs as dApps. Players can create a dApp for anything from an NFT art gallery to a minigame which charges players a small amount of GHST to play, allowing you to earn passively with a popular game. With NPCs as dApps, the possibilities to earn in the Gotchiverse are truly endless.
Other options are highlighted in the Gotchi Lending program, a revolutionary play-to-earn concept that eliminates the need for a middle-man in the process of earning payouts. This eliminates delays, confusion, and possible foul play. Players can simply lend out Gotchiverse REALM parcels or Aavegotchis for others to use, and split the Alchemica gathered by the borrower.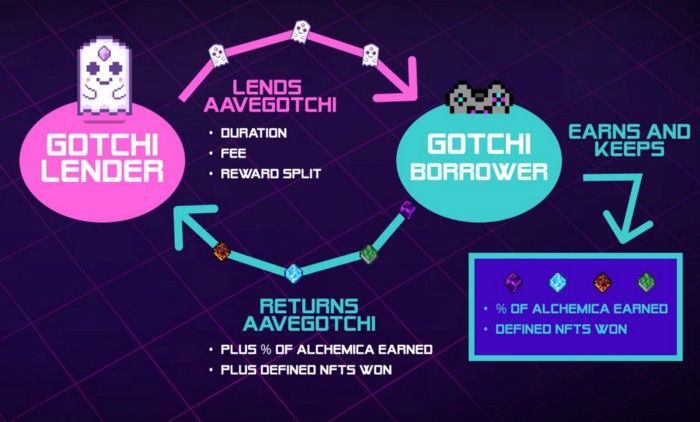 The Aavegotchi Ecosystem

Aavegotchi's native token, the GHST Token, is the fuel for the Aavegotchi ecosystem. You can stake GHST to earn FRENS, which are loyalty points used for participating in NFT Raffles, or spend GHST in the Aavegotchi Baazaar, the most active NFT marketplace on Polygon.

Staking GHST is a great way to dip your toe into the game and learn the ropes. Single-staking GHST is our most popular option, and we also offer incentivized liquidity pairs for GHST-USDC, GHST-ETH,  GHST-QUICK, and GHST-MATIC.
FRENS points can be converted into Raffle tickets for entry into our famous NFT Raffles. Prizes up for grabs include Wearables, Aavegotchi Portals, and Gotchiverse REALM land parcels.
Earning yield in the Gotchiverse certainly sounds a lot better than a soul-sucking corporate metaverse created by you know who. Sorry Zuck, but the metaverse revolution isn't about paid ads and censorship, it's about empowering the creator economy and the average user through freedom of expression and verifiable, immutable ownership.
When does the Gotchiverse Launch?

Phase one of the Gotchiverse is slated to launch in Q1 of 2022. The anti-Zuckerberg metaverse will be here before you know it! For more specific dates and to stay up to date on all the latest Aavegotchi news join the frenliest community in crypto at the links listed below. See you in the Gotchiverse!
About The Gotchiverse


The Gotchiverse is Pixelcraft Studio's flagship title that celebrates the best of blockchain technology. The metaverse is built on Aavegotchi, an open-source, community owned, NFT gaming protocol that unlocks true asset ownership for gamers. In this spirit, The Gotchiverse is co-created with direct input from the community via AavegotchiDAO. Summon your first Aavegotchi today and meet us in the Gotchiverse!
Resources:
Official Website: https://aavegotchi.com/
Gotchiverse Website: https://verse.aavegotchi.com/
Official Wiki: https://wiki.aavegotchi.com
Medium: https://aavegotchi.medium.com
YouTube: www.youtube.com/c/Aavegotchi
Community:
Twitter: https://twitter.com/aavegotchi
Discord: http://discord.gg/aavegotchi
Telegram: https://t.me/aavegotchi
Reddit: https://www.reddit.com/r/Aavegotchi/
---
Subscribe
Join the newsletter to get the latest updates.
---